Getting Started In Shockoe: An Interview With Small Friend Records & Books
When you walk into a house and scan the walls and shelves for the first time, you learn a lot about the people who live there.
In that sense, Small Friend Records & Books, which opened its doors on 17th Street in April, feels as much like a home as a place you'd go to buy albums or novels. Everything you see is a reflection of owners Zoe Golden and Jordan Pulaski.
"There's that part in High Fidelity," Golden described, "when John Cusack says [that] it's not what you are like that matters, but what you like. That has always struck a chord with me. I feel like that's part of what we're doing here… I want to surround myself with stuff that I like and share it with other people."
Golden and Pulaski can't remember a specific moment when their plans to open a store crystallized. The three of us spoke recently, and the more we talked, the more Small Friend seemed like an inevitable extension of who they are.
"You always wanted to work at a bookstore," Golden said to Pulaski, "and I always wanted to work at a record store. The thing about those jobs is that they're so cool that when you get them you hold onto them, so those openings don't come up very often."
"I wasn't an English major in college," Pulaski explained, "so it's hard to find a job at a good independent bookstore when you don't have that background. So I was approaching it in that DIY sense. 'If I can't get a job doing that then we can just do our own thing.'"
Golden is a longtime Richmond resident raised among music fans and makers. "My dad's been in bands my whole life," Golden remembered. "My parents were in a band together in college and after college, and my mom's parents were really into music… My parents were in high school in the late 1970s, early 1980s around D.C., so they saw the whole hardcore scene unfold."
Pulaski grew up in Harford County, Maryland, and while his parents weren't as passionate about music, he followed the breadcrumbs laid down by CD liner notes en route to some of the same artists Golden's parents saw firsthand in high school. He and Golden met five years ago as coworkers at Relay Foods. They've since married, and while they briefly considered setting up shop in Philadelphia and Pittsburgh, they chose Richmond as the place they'd become their own bosses and foster a community of independent thought.
"I wanted to stock certain books," Pulaski affirmed. "Obviously I want to have a mix of everything, but [also] certain books that go against the established order. Because to me books are more than just literature. I like books that make you want to effect social change."
Their social awareness isn't limited to inventory. When deciding on a location, the owners of Small Friend weighed budgetary limitations with the ripple effects that opening could have on the surrounding neighborhood. Golden posed this question: "How can we best handle fitting into this community without disrupting people who were already here?"
One way is to provide a space for people to come together. "We would love to be able to offer meeting space to groups who need it, or smaller gatherings of people," Golden mentioned. "We've got the zine table — we've talked about doing meetups for people to work on zines and swap them… Giving people space to hang out instead of necessarily needing to buy something."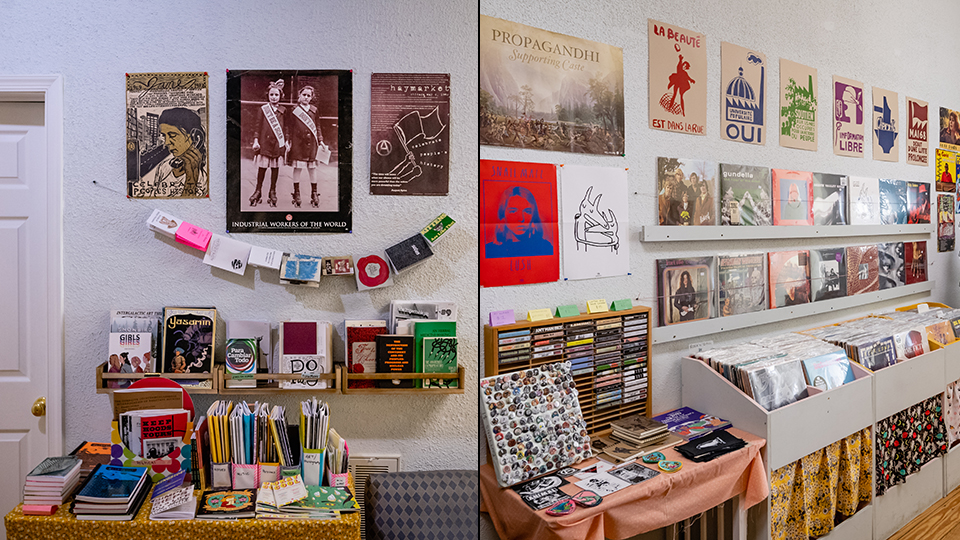 "We want locals — people in Shockoe and Church Hill and elsewhere — to come down here," Pulaski explained. Unfortunately, foot traffic has been problematic. Small Friend is adjacent to the 17th Street Farmers Market, which has been in various stages of construction for most of 2018. While the reimagined market has the potential to boost business, project delays have been a source of frustration.
According to Mayor Levar Stoney, the market's facelift has involved a "perfect storm" of permitting complications and weather-related factors. "It didn't start until July 2017," Stoney stated, "and then we got to a winter cycle which is always rough for construction." Mayor Stoney cited the 20 inches of rain the city's received this year, as well as the project's scope and location. "The larger the project, the more moving parts that come along as well… Nevertheless, as an administration, we will do a better job at projecting out our timelines on projects."
To bridge the gap, Small Friend turned to supporters via GoFundMe, successfully raising a month's rent. "A lot of our friends live far away," Golden explained, "or have worked super-busy schedules and [said] 'We haven't been able to make it to the store yet. Is there another way we can help?' I'm very grateful…. I wish we hadn't needed to do it, but we can't turn our noses up at any potential source at this point."
"We're just doing what we have to do to make it until that finishes," she added, stressing the market's importance to the place she and Pulaski chose to call home.
Small Friend Records & Books is located on 17th Street in Shockoe Bottom between East Franklin and East Grace Street, one block from the Farmers Market and Main Street Train Station. They are open Wednesdays through Mondays from 11 AM to 6 PM. For more information on the store, please visit their website by clicking here.
All photos courtesy of Jake Cunningham. Additional reporting by David Streever.