The 50 Best Richmond Records Of 2018
It's been an impressive and eventful year for the Richmond music scene, with the local hip-hop community offering great record after great record, the noise and avant-garde scenes continuing to garner national acclaim, the return of some local heavyweights with outstanding albums, and the debut of a new class of talented musicians ranging from expansive singer-songwriters to experimental R&B.
We've been keeping a close ear out for all Richmond records this year, compiling a list of close to 1,000 records that you can view at this link, and as we officially move on from 2018 to 2019, we'd like to highlight the best records we heard come out of the city in the past year, from a variety of voices, genres, and backgrounds, all of which made 2018 an unforgettable year for Richmond music.
Hopefully 2019 will continue to raise the bar – we'll be there along the way, documenting every piece of music that's released every single week. But until then, here's some truly spectacular music for you to wrap your ears around if you haven't already, or revisit because they're just that good.
Here are the 50 Best Richmond Records Of 2018.
Doug Nunnally
The Auricular Editor
---
Aces Low by Sinister Purpose
Release Date: July 7, 2018
Bandcamp
Vinyl Conflict rose its stature considerably in 2018 with solid releases by Lipid and Serqet, but for my money, the real gem of their most recent discography is the party thrash chaos provided to us by Sinister Purpose. Aces Low, a six song release that came smack down in the middle of summer, offers plenty of hardcore calamity for thrash fans to enjoy, but also reins in enough of it that less inclined punk fans can find plenty of high points throughout the short run-time. It's a party atmosphere throughout, granted one that's going to end in thousands of dollars of damages, not to mention a few bruises and black eyes. "Supercharger" is the galvanizing ignition to the record, serving as a turbulent entrance to the distorted consonance the band expertly wields. From there, it's off to the races with rabid songs and fierce breakdowns flaunting the band's skill and talent. "Man Of Sin" halts the onslaught for a moment, with a sustained, drawn out thudding sound that can't be contained forever — one minute in and the band is right back to their pummeling sound. And then "Speed Demon (Red Rover)" comes skidding by with its roaring sound, and blistering guitar tone, setting it apart from the record and also serving as its best and most logical conclusion. —Doug Nunnally
Key Track: "Speed Demon (Red Rover)"
---
Antiphone by Trey Pollard
Release Date: November 16, 2018
Spotify | Bandcamp
One of the year's most singular and magical musical moments transpired on Wednesday, November 13 inside the Hofheimer Building on Broad Street. That's when and where Trey Pollard debuted pieces from a collection of contemporary chamber works called Antiphone, which was set to be released the following Friday. Being there meant witnessing a transformation. Pollard has served a number of roles in the Spacebomb Records production house, from crack session guitarist to touring band member to arranger. But with Antiphone, Pollard stepped forward into the spotlight and brought his compositional toolkit to bear like never before, writing a series of paired fugues and preludes, as well as two longer "Fixed Ideas" pieces that bookend the album. He even gave listeners a glimpse of how he works by streaming a portion of the recording process live from Montrose Studios. I had the good fortune of interviewing Pollard for The Auricular in advance of the album's release, and he talked about "changing the focus" — how, in comparison to his arranging work, Antiphone allowed him to zoom in on "more esoteric, nuanced details of the music." And that's where the album's richness blossoms — when you follow the germ of an idea through the filter of form and come out the other side with a greater understanding of how Pollard hears and envisions sound, and of just how inventive one of Richmond's most gifted musical minds truly is. —Davy Jones
Key Track: "8 Pairs: Fugue VI. Very Slowly"
---
Backyard Boogie by Fly Anakin & Ohbliv
Release Date: April 20, 2018
Spotify | Bandcamp
Make a list of the top producers and top MCs in the area and near the top, you'll find Ohbliv and Fly Anakin time and time again. Naturally then, a collaboration between the two of them is going to be something to check out. But Backyard Boogie is more than something to just check out — it's something to analyze, to experience, maybe even to embody. Part of it comes from the precarious energy both bring to the project — with Fly's rhymes almost careening off the rails to keep up with Ohbliv's dynamic beats that hold no end in sight (which seems right considering how many songs fade to black). Don't worry though — Fly has built his name on steering out-of-control vehicles through his music and this is no exception, with unrelenting rhymes flying through your ears while breathtakes are few and far between. It reminds me of that line from Gattaca, of all things, where after stunning his genetically superior brother in a swimming race, Ethan Hawke confesses he pulled it off by never leave anything for the swim back. The only difference here is that Fly Anakin and Ohbliv are musically inferior to no one here, yet still leaving everything they possibly can on the table. And that, my friends, is a mantra worth embodying much like the roaming, enduring spirit of Backyard Boogie. —Doug Nunnally
Key Track: "Breadcrumbs"
---
theBalance by Illa Styles
Release Date: July 19, 2018
Spotify | Bandcamp
Deeply reflective and intrinsically personal, theBalance may be the most rhapsodic release of Illa Style's teeming career, even if it only contains 7 tracks. Sure, Illa Styles packs a lot into these 7 tracks — including guest appearances by Zhe Awueen, ART.Love, Francoise, and heavyweight Radio B — but it's more the way in which Illa Styles approaches the songs and the record itself that makes it so noteworthy. His flow hits hard throughout, picking its cadence early and dedicating itself to seeing it through its richest conclusion. His words are pointed, often worth a rewind or two to fully capture the breath of what he's saying. And it's in those words that you'll discover this reticent tone, one that's composed of contemplative murmurs and deliberate ruminations. It all swirls together on "Heart Of The City," one of the finest songs to come out of Richmond in 2018. The hypnotic, almost meditative beat points Illa inward as he deconstructs everything in and around him, not even realizing that in doing so he's infusing the literal heart of the city with his own vibrant art… making both it and him strong enough to rise above any storm and strife Illa has come across before. —Doug Nunnally
Key Track: "Heart Of The City"
---
Born Mistake by Warrington
Release Date: April 26, 2018
Bandcamp
Originally, I was drawn to the sound of this elaborate indie rock record, one that seems pendulate wildly from subtle math rock to tender singer-songwriter depending on the topic. The band seems so comfortable in each sound, exceeding their own designed labels and our own preconceived expectations even if there was a wildly appealing emo spirit breezing through each track. The band's reach specifically struck me in the middle of the record on "Anything/Everything," with a melody that felt right out of the '90s playbook for Sarah Records. But this is not elaborate twee or jaunty rock – this is indie rock dissipation fueled by an emotional piston. And that brings us to what really made this record stick with me – the lyrics. Like any good emo or emo revival act coming out today, the record ultimately lives and dies on its lyrics, and this record does in fact live. It lives all of our lives, with lines like "Now I'm late for work so I'll take the toll road / To shave five minutes off my ride / Give some shit excuse like 'I lost my glasses' / Man I'm fucking tired of having to lie" becoming our own elongated mantra to replace "the Mondays." Strongest of all of these those is "Acid Reflux Capacitor" with its name-dropping reference and casual portrayal of acceptable and scandalous drug use, that all seem to point to the ever-shifting needle of acceptance that we must grapple with in everyday life. And this is definitely the record for everyday life, fuel to get you through your latest spreadsheet or a distraction as you're stuck in traffic because you missed the exit for that toll road. —Doug Nunnally
Key Track: "Acid Reflux Capacitor"
---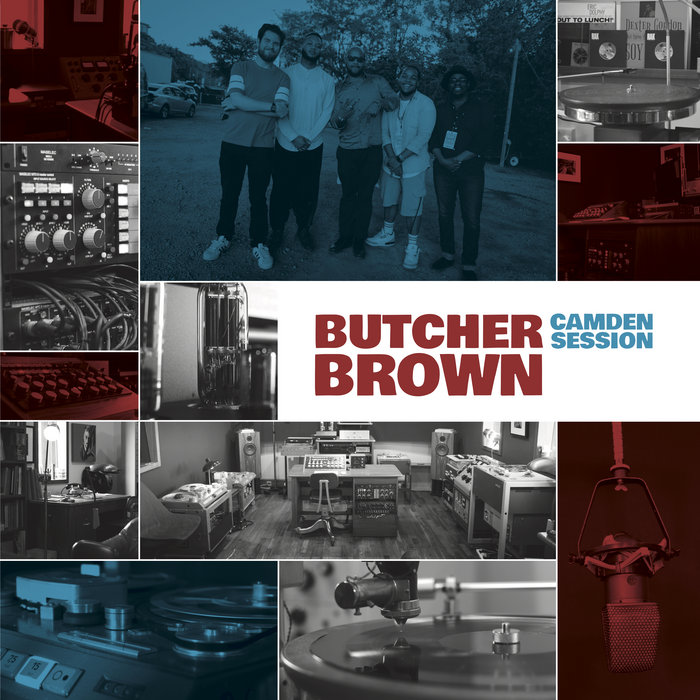 Camden Session by Butcher Brown
Release Date: October 12, 2018
Spotify | Bandcamp
If the aliens showed up and demanded to see what Richmond, VA is capable of producing, we might have to hand over Butcher Brown's discography. On Camden Session, the group continues their jazz-funk explorations in a raw, organic form that features wah-infused, guitar-driven grooves beneath Marcus Tenney's saxophone lines that weave and glide into ear-infectious melodies. Through-and-through, virtuosity is the name of the game on this record. The guitar solo on "Camden Square" sees soulful chord soloing and neo-soul/gospel trills from Morgan Burrs over a steady funk groove, laid down by Corey Fonville and Andrew Randazzo on drums and bass respectively. The keys on this record, provided by DJ Harrison, set a smooth bed for the band to move over, while the writing stands as both harmonically interesting and accessible. Compositions build to exciting climaxes that showcase the group's 10,000-hour chops, providing moments that bring out our nastiest stank faces. On Camden Session, Butcher Brown sets the bar high for instrumental jazz fusion/funk releases, not just in Richmond, but also for any musician who can appreciate an exceptional level of talent and creativity. If the aliens come and ask for our best, and we give them a Butcher Brown record, they might ask for Butcher Brown next. That's when we need to prepare for war. —Joel Worford
Key Track: "Camden Square"
---
Colorful Creature by Errol Bateman
Release Date: December 12, 2018
Spotify | Bandcamp
One of the most vibrant and dazzling displays of the year came from a singer-songwriter examining intimate vulnerability and profound sincerity. With poise that far exceeds its "debut" stature, Errol Bateman establishes herself as not just one of the most stirring artists in town, but one of its most vital voices, providing a detailed guide on how to handle yearning and anxiety, and ultimately find clarity in an blurry world. On "Right Now," she mixes '50s doo-wop with a delayed resonance that perfectly nails the anxiety hiding behind each of her songs. Through songs like "Sometimes In This Life" and "Magnificent Tomb," she broadens her reach with aberrant sounds while darting in and out of the spotlight, letting the musical environment her words have built sustain and lift itself over into the next realm. On album closer, "Point Break," it all comes to a head with a purifying sound that washes away the album's insecurities and proudly displays Bateman as the declarative artist she is. —Doug Nunnally
Key Track: "Point Break"
---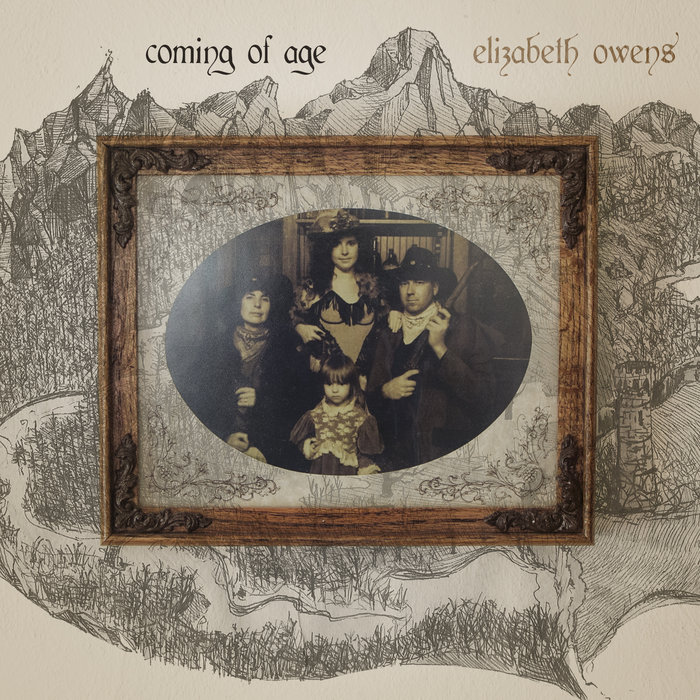 Coming Of Age by Elizabeth Owens
Release Date: September 8, 2018
Spotify | Bandcamp
A modern fairytale that becomes a modern classic. Coming Of Age is more than a record for Elizabeth Owens, and for Richmond itself. It's a journey. It's therapy. It's nourishment. It's an ambitious project from the mind of a proficient musician trying to make sense out of her own life experience so she can do better and be better. The reach of the record doesn't stop with the music though as Owens has provided plenty of bonus material from detailed maps to coloring books, all elaborating on the conceptual aspect of the record and helping to further drive out and address her own villains and demons. It's a deeply personal affair, with soundscapes containing intimate moments of Owens' life, but also one in which you can find your own truths and faults, and address them like Owens has for better understanding and better resolve. Musically dense, Owens' talent shines through on each track, whether offering a resounding yearn in "I Long" and "Be Better," or offering double-sided, charming messages in "You'll See" and "Ode To Joni." Albums this rich and lavish don't come around often, and Owens has taken full advantage of that to create something truly indelible for all that hear. —Doug Nunnally
Key Track: "I Long"
---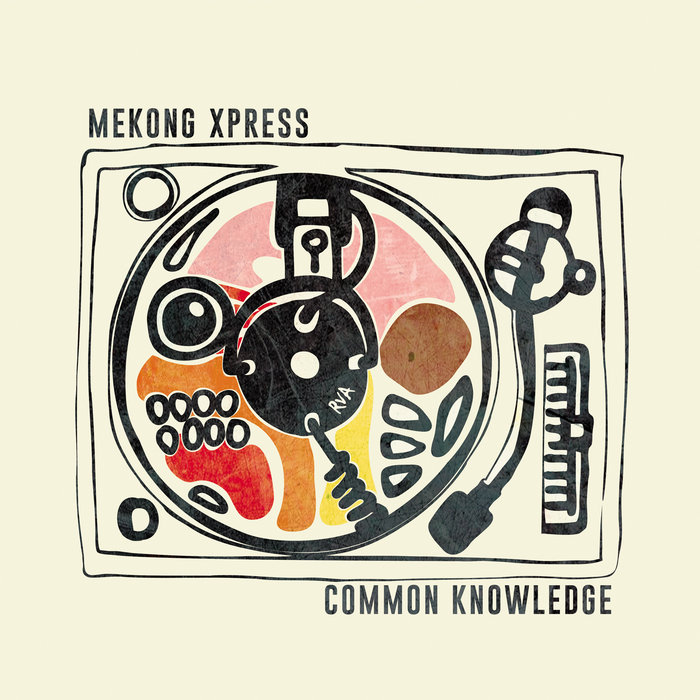 Common Knowledge by Mekong Xpress
Release Date: October 19, 2018
Spotify | Bandcamp
Go to the Answer Brewpub on a Monday night. Any Monday. You'll be treated to a display of ensemble mastery that will stop you in your tracks, and leave you thanking your lucky stars that you live in a city that's so musically interconnected. The links between the players in Mekong Xpress and other groups in and around Richmond are too numerous to mention, but their residency at the Answer has allowed them to coalesce into a well-oiled machine, and Common Knowledge is proof of that bonding process. Ironically, the strength of their coherence as a group allows them uncommon flexibility, resulting in a set of songs that range from the future-focused funk of the title track and the slow-burning soul of "Games" to more rock-oriented tracks like "Life Is A Dream" and the wildly impressive Ben White composition "Canyon Road," which could contend with any song released in- or out-of-town for the year's best. Gluing the wonderfully varied affair together is a dream rhythm section of Kelli Strawbridge on drums and occasional vocals and Todd Herrington, who I first saw play as part of the now-legendary DJ Williams Projekt. After giving Common Knowledge a listen, be sure to check out Herrington's 2013 Things album. You'll hear a similar sense of variety, and before you know it, I bet you'll find yourself at the Answer, soaking in the sounds of a thriving creative community at its finest. —Davy Jones
Key Track: "Pushback"
---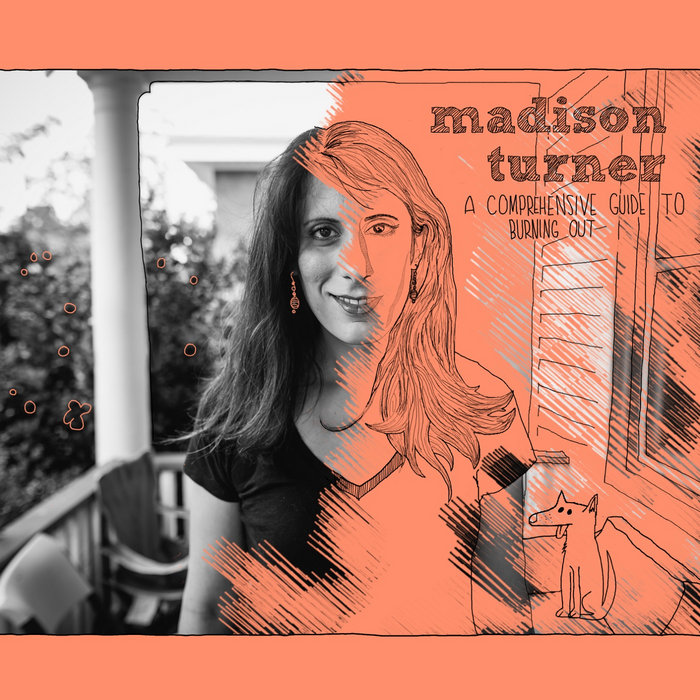 A Comprehensive Guide To Burning Out by Madison Turner
Release Date: January 12, 2018
Spotify | Bandcamp
I must confess: I'm predisposed to love this record. Spending the vast majority of my free time writing about and compiling lists of every bit of music I find from Richmond — yeah, I'm bordering on burnout every single time I get out of bed. Songs like "Do You Ever Feel Like A Failure?" just inherently speak to the pathos of my soul, specifically with the line "well, do you feel like you're nothing? / like everything's a mighty lie," and the madcap sentiment of the music only fuels the inner turmoil that my brain goes in and out of on a daily, nay hourly basis. But maybe you're not like me — maybe you spend your free time going to bed at a reasonable hour and, I don't know, not wrestling with self-doubt. Well, have no fear — Madison Turner is still an artist right up your alley, with a wide-reaching rock sound that will invite the punks and popheads all together. Turner's hook are genuine earworms and the music she crafts around those are sturdy and tout, as you'd expect from someone with Turner's experience, not to mention the talent she surrounded herself on this record. Whether you want to confront your own anxious tendencies head-on, or you just want some fun and dashing punk music to listen to, Madison Turner is someone you should be telling all your friends about… that is if you don't relate to the anti-social message of "New Year's Eve." I know I do, but then again, I'm burning out as we speak. —Doug Nunnally
Key Track: "Do You Ever Feel Like A Failure?"
---
Dream by Calvin Presents
Release Date: November 2, 2018
Spotify
On what's probably the 50th listen of this wonderful record, I'm still catching things I never heard before. Part of it comes from the talented group of musicians Calvin Presents assembled to help pull off Dream, but more than that, it's just a testament to how richly layered all these songs are and how cleverly structured they are, pointing your ears away from the supporting flourishes and decorating fills so you focus on the ambience and the groove. Dream is creativity at its best, fueled by a hard-working, resourceful mind and executed to perfection by an all-star cast of dedicated musicians helping to carry this over from idea to actuality. It fits in proudly with the modern day soul feeling, but with all of its moving parts, it also shares a kindred identity with noise and experimental records in town, ones that never seem satisfied in expanding on an idea. The difference here is that Calvin does so with a gleaming touch, one that makes each track more ethereal than the last and the whole record one of sensational importance. —Doug Nunnally
Key Track: "Dream"
---
Enemy by Ostraca
Release Date: July 6, 2018
Spotify | Bandcamp
It's rare to find an album like Enemy in 2018. This is not to say that the record is anachronistic, just that the conviction behind every second of music on Ostraca's latest is evident from the first listen. There isn't a hint of post-modern genre-hopping that tends to get newer heavy bands noticed, and the sound of the record eschews both overproduction and the aesthetics of artists that care more about being considered "true" than writing good songs. The band represents the best aspects of the oft-misunderstood screamo genre, simultaneously aching and anthemic. In one track, the band can weave between blistering blast beats, crushing breakdowns, and intricate instrumental sections. Yet, it never sounds like Ostraca is overreaching. The ebb and flow of those elements sounds completely natural, a fluidity that the band has developed in their surprisingly compact three year existence. Not every song on Enemy is necessarily a tour de force showcasing the band's versatility though: "Graven" is just under a minute, and not a second is wasted as the band tears through complex riffs with agility, leaving the listener with a few somber chords. "In Passing" is entirely instrumental, and easily the most stripped-down track on the album with only clean guitar, bass, and drums employed. The song is beautiful and performed with grace though, just as captivating as the five tracks surrounding it. The only issue to be found with Enemy is its short runtime, but perhaps that's to the band's credit, as there is not a bit of filler to be found on it. —Codi Endres
Key Track: "Nemesis"
---
Engines by Manatree
Release Date: July 12, 2018
Spotify | Bandcamp
Manatree really outdid themselves with their second full-length, Engines, a carefully crafted collection of songs that takes what you might expect from the band and offers a total reinvention. Instead of spunky math rock pop-punk sprinting by you at every turn, the core duo of Jack Mayock and Alexander Elder exude a more patient approach. What one might describe as "Americana electronica," the band settles into a groove that wouldn't feel too far removed from artists like Jeff Tweedy, Justin Vernon, or Sufjan Stevens. Engines feels like a sonic compass at times that regards the map leading the path ahead as a mere suggestion. "Backwards" might be one of their oldest songs featured and it speaks specific truths about the path the band has taken. If there were any fears guiding us or any hesitation, we would never begin to allow ourselves the chance to truly discover what we are capable of. With that in mind, the tracks "Brushfire" and "Dark Room" take the fear out of the equation and simply encourage the artist to run full speed ahead and never look back. Quickly after releasing Engines, the group debuted a new single and promised a follow-up EP to be released in 2019. The time spent between releases would appear to be a positive for the group as they truly came into a sound that feels like an assured driving force that is sure to lead to exciting future sounds. —Shannon Cleary
Key Track: "Backwards"
---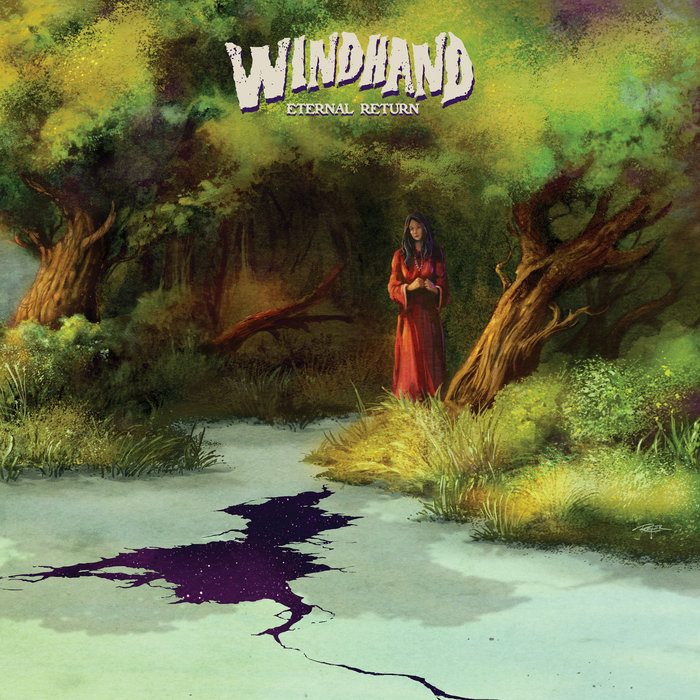 Eternal Return by Windhand
Release Date: October 5, 2018
Spotify | Bandcamp
Usually when a band loses a founding member, they replace that member and soldier on, typically without part of their trademark sound — not so in Windhand's case. Eternal Return is the doom band's fourth studio album, and their first without founding guitarist Asechiah Bogdan, leaving Garrett Morris (also a founding member) as the sole guitarist in the band. Their sound has in no way been diluted, instead it has simply spread a bit further, incorporating more psychedelia than ever before: spiraling, trippy guitar solos are all over the record, the break in middle of "Grey Garden" is dreamlike, and instrumental jam "Light Into Dark" sounds like it could have easily gone on for hours in a hotboxed practice space. Additionally, a bit of a grunge influence shines through on shorter, slightly more up-tempo tracks like "Red Cloud" and "Diablerie." That influence could be owed to this being the second album the band has recorded with producer Jack Endino, who is known for his work on early Soundgarden and Nirvana releases, amongst other key bands of the Seattle scene. Those influences have always been there though, as noted by Morris and singer Dorthia Cottrell in a Bandcamp Daily feature from October. The band's love of '90s alt-rock is just more apparent on Eternal Return, as are Cottrell's skills as a hook writer, and the combination of those two elements lead to some of Windhand's most concise and memorable songwriting ever. —Codi Endres
Key Track: "Grey Garden"
---
Every Thing Ever by Spooky Cool
Release Date: August 3, 2018
Spotify | Bandcamp
I can't recall another band in town that became as buzzworthy at Spooky Cool did in such a short span of time. The new prog-rock outfit that followed the demise of Zac Hryciak & The Jungle Beat wasn't just impressing audiences — it was challenging musicians to create better work and take larger chances with their creative output. Every Thing Ever is the much anticipated sonic artifact from the band that seemed to not care whether or not this record would ever see the light of day. Thankfully for us, the five songs featured are truly marvelous and powerfully convey the group's mantra, that being in order to create "exciting music, you have to allow yourself to be excited by the things you never knew you could come up with." Over the course of Every Thing Ever, Spooky Cool divulges their resilient spirit as being akin to a puzzle of static sounds with missing pieces. The canvas of the band's songwriting is the proper tool needed to make each song feel fresh and exciting. Nothing is abundantly clear after a single listen with Spooky Cool. It requires multiple listens and tutelage to unravel all of the splendid ideas at play in a single composition. Just by examining "Black Wine" or the title track, the imagination of Spooky Cool is constantly taking the road less traveled and the results are delightful. —Shannon Cleary
Key Track: "Black Wine"
---
Find A Way by The Folly
Release Date: September 5, 2018
Spotify
A madcap journey through blues-rock and Americana, The Folly's Find A Way is truly one of Richmond's more unique releases from the past year. What first astounds is how different it feels than the band's equally great self-titled 2016 EP. That record had a sense of poise that directed things, whereas this record — well, it's not out of reach to say it feels vaudevillian at times. That's not to say one is better than the other — actually, you could, and probably should, make the case that this is The Folly at their peak, with the band performing some ingenious hooks and crafting some lofty melodies. But there's no denying the madcap spirit that pervades the record. Part of it comes from the band (and guest Sid Kingsley) just having fun on this record, which at the end of the day is something you're going to want to go out of your way to hear. A band full of talented musicians, songwriters, and vocalists just having a blast while also delivering some robust rock songs? Who doesn't want to listen to that? —Doug Nunnally
Key Track: "Out Of Range"
---
Firmament by Unmaker
Release Date: October 19, 2018
Spotify | Bandcamp
With a vibrant punk-metal pedigree, Unmaker is bound to astound its listeners with its expansive darkwave sound that still retains some clear metal elements and punk spirit, but also touches down on shoegaze ambience and goth melodies. Clear connections to post-punk icons pop out, like Killing Joke and Bauhaus, but plenty of songs even sound like they could be lost B-Sides to an '80s era U2 record, thus muddying any connection your mind wants to make because let's be real… Bono and Jaz Coleman should not be talked about in the same breath. But let's not waste time examining this record trying to draw futile connections — what is this record really? Eerily mesmerizing. Poignantly dark. Beautifully haunting. Wildly creative. Their ability to create an arresting ambience as well as infectious melodies is startling throughout the record, each helping the band to gorgeously examine despair through desolate tones and impressive talent. Hands down, Firmament is one of the year's most stunning debuts, and surprising for anyone who followed the band members before. And the band will most likely keep surprising and astounding, making Unmaker one of the top bands to keep an ear out for moving forward. —Doug Nunnally
Key Track: "Cryosleeper"
---
The Future And The Past by Natalie Prass
Release Date: June 1, 2018
Spotify | Bandcamp
For those who fell in love of Natalie Prass's 2015 self-titled debut, I can't imagine a more jarring experience than the one-two punch of "Oh My" and "Short Court Style" that opens up her sophomore effort. Delicate soul is traded for vibrant R&B here with Prass pulling off songs you'd expect from a distinguished pop star. There are really no comparisons to make — Joni Mitchell never turned into Cher, nor did James Taylor ever turn into Michael Jackson — so again we're left with the same conclusion we came to in 2015: Natalie Prass is different… and truly special. Much like her first record, the ethos here is an "old meets new" approach, but Prass is hardly resting on her influence, offering a sound that's as vital today as it was in 1998, 198, 1978, or 1968. Point to any reference point you want here – Dionne Warwick, Janet Jackson, or even Britney Spears – and you'll instantly be made a fool as Prass darts quickly between styles, all the while offering a unified sound in the same way she did with her debut. This time around though, it's much more impressive as the wide reach of her new sound feels precarious at times, yet still effortless when examining the songwriting and performing prowess of Natalie Prass. —Doug Nunnally
Key Track: "Short Court Style"
---
Hard To Be King by Michael Millions
Release Date: January 2, 2018
Spotify | Bandcamp | Soundcloud
It says a lot that a record released on January 1st, 2018 was an instant lock for this list. It's not that 365 days is too long of a time to remember something — the vast majority of the records on this list will still be occupying our ears by the time we start formulating a 2019 list. It's more that January can be such a forgotten month as you're using your energy to recover from the holidays, make sense of any plans you want to do in the New Year, and try hard not to make any egregious 2018/2019 mistake on any official documents. Most stuff discovered in this time period washes away as we regain our sense of direction and begin to tackle the New Year, but that wasn't the case last year. No, last year, Michael Millions gave us a reason to pay attention at the start of the New Year instead of waiting around until we were ready to do so, pointing attention to what it means to be from Richmond – the real Richmond that so many never experience or even think twice about. The end result is a stunning and rousing record, one that's not just one of the best of 2018, but one of the most essential of the past decade… and maybe even longer. "I'm from Richmond / you've probably never heard of me" opens up "Sirens," the first track after the record's plainspoken introduction, and it relays a familiar feeling for many in the local hip-hop scene who have worked hard at their craft despite no attention. Well, 2018 changed that to a degree, giving hip-hop new life in town and setting lofty expectations for 2019, 2020, and so on. Perhaps more than any record, Hard To Be King served as the catalyst for that local spotlight, and it's all due to Millions' industrious and ruminating skill. —Doug Nunnally
Key Track: "Apologize Less"
---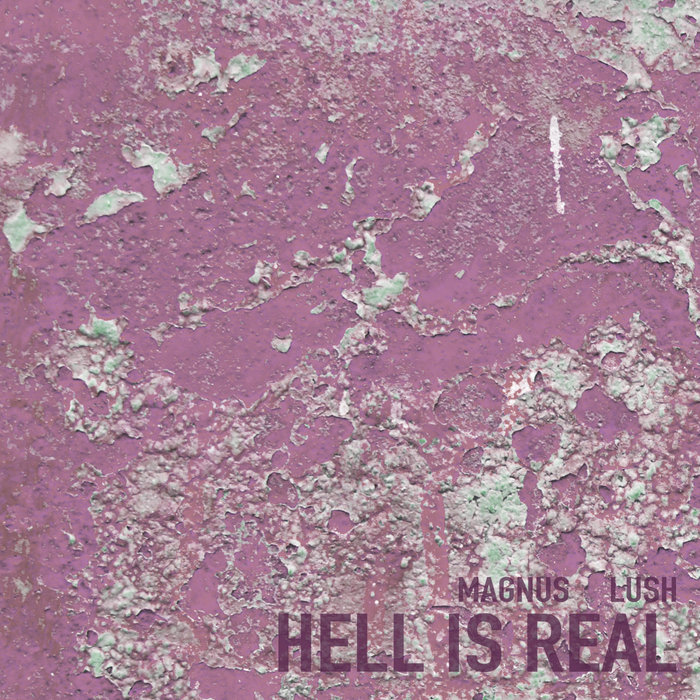 Hell Is Real by Magnus Lush
Release Date: February 24, 2018
Spotify | Bandcamp
On Hell Is Real, Magnus Lush finally captures the sound that's made them such a compelling live act over the last several years, highlighting the band's inherent talent while also abstractly expounding on the band's ominous ambience. That ambience feels like looming terror at times throughout the record, almost like each song is its own introduction into a cautionary fable. "Into The Woods" pokes and prods with its music within the ambience as the lyrics relay the story that holds a metaphorical sense, though feels like a modern day retelling of Hansel & Gretel ("the woods don't mind / the walk will be nice"). On the opposite end of the record, you have "Crystal Cookies" offering up more menacing lyrics that point to something darker and sinister on the horizon ("You'll find out- if it is in your blood? / Break my neck- I'm not good enough! / you hold me down now"). It gives the band's darkwave sound a medieval touch, one that creates its own esoteric lore as opposed to revisiting and reimagining past milestones. All of it sounds imperative, matching the hypnotic nature of the band's acclaimed live performances. All in all, it's a perplexing release that embodies the canny talent the band has grasped and cements their status as one of Richmond's most unique and engaging acts. —Doug Nunnally
Key Track: "Crystal Cookies"
---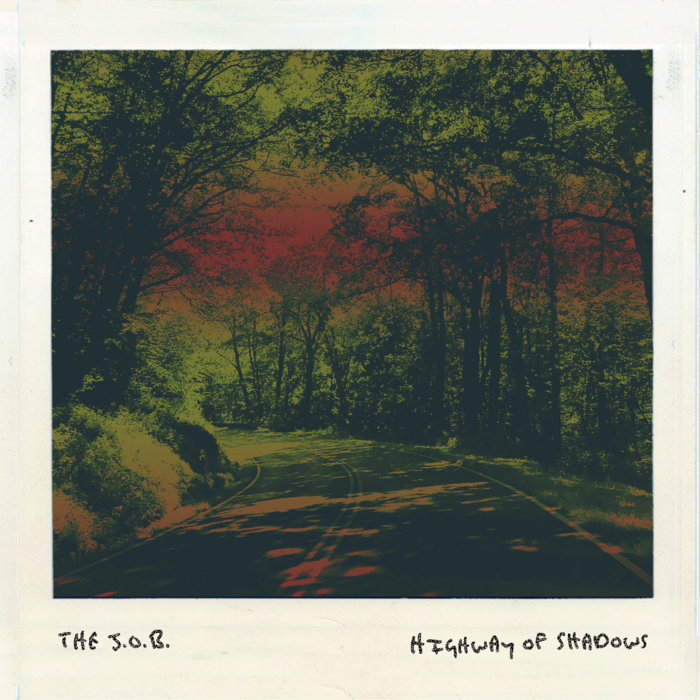 Higway Of Shadows by The J.O.B.
Release Date: November 9, 2018
Spotify | Bandcamp
The J.O.B.'s sound is instantly familiar, a natural evolution of the radio rock sound that emerged and dominated the late '90s airwaves. But the band's reach extends far beyond that recognizable style, with a story behind the band to inspire and a record full of themes and messages to unite. Led by Jim O'Ferrell, a veteran of the Iraq War, the band's genesis is rooted in conflict and displacement, themes fully explored on the record either overtly or through the guise of a father-son relationship. But the band has risen out of that turbulent origin, exploring joy as much as loss through their songs. Helping pull all of this off is a talented collection of musicians who feed off the energy and talent of their counterparts in order to create some solid power rock melodies. Cutting through them is O'Ferrell's voice, armed with a rich and elastic timbre that seems molded by that '90s radio rock song yet sharpened by contemporary talent. All in all, it makes for one sleek rock record with enough hints of Americana to broaden its reach immensely here in town. —Doug Nunnally
Key Track: "Highway Of Shadows"
---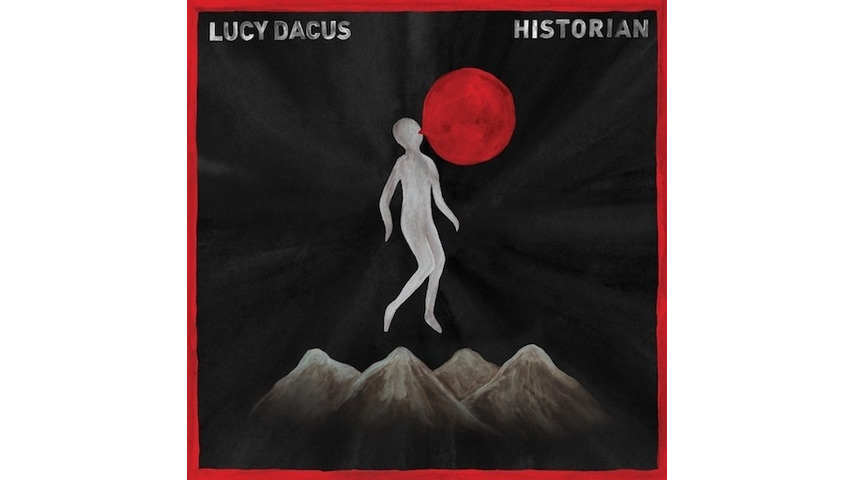 Historian by Lucy Dacus
Release Date: March 2, 2018
Spotify
This record may be our most obvious pick on this list, as Lucy Dacus earned a slew of "best of" accolades this year, including landing in the top 25 records of the year from NPR, Consequence Of Sound, and Rolling Stone, and earning the coveted #1 slot from Paste Magazine. From the first listens of Historian, it's clear to see why so many people fell over backwards to praise this record as Dacus clearly raised the bar she set so highly in 2016, expounding on her deep lyrical observations ("You don't deserve what you don't respect, don't deserve what you say you love and then neglect") and finding new, more dynamic ways to reinforce a sound around her ("Body To Flame"). "Pillar Of Truth" stands tall on this record too, not just on its merits as a song, but also for Dacus' ability to fully materialize a song that's been so beloved in her set for the last several years, something that shows Dacus doesn't just know how to write a great song – she knows how to pull it off so that it never leaves your consciousness. It's still shocking how young Dacus actually is, a fact that harkens back to the seminal work other top-notch singer-songwriters pulled off in their youth from Carole King to Bruce Springsteen. To top it all off, Historian wasn't even Dacus' only triumph of the year. She joined forces with Phoebe Bridgers and Julien Baker to form boygenius and released their debut release in October, one of the absolute best EPs of 2018 by a longshot. We ultimately made the (pained) decision to omit that record so we could save room for another Richmond voice on this list, but that doesn't mean boygenius is something to overlook. Check out "Bite The Hand" if you haven't already, and start crossing your fingers that Dacus continues to collaborate with her talented peers as well release her own stunning records. —Doug Nunnally
Key Track: "Night Shift"
---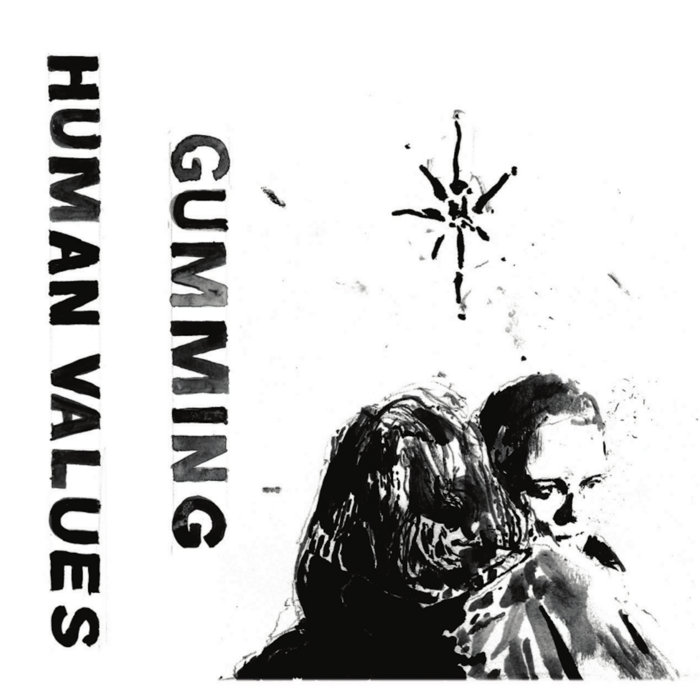 Human Values by Gumming
Release Date: March 24, 2018
Bandcamp
One of the most ferocious records to come out of Richmond this year, Human Values is a blistering rip through hardcore punk, one that callously breaks down the barrier between No Wave and noise rock and cares nothing about the debris left behind. Melodies are few and far between, but there is definite harmony in these songs, something that can't be absent from a group so locked in to creating anxious tunes that will make you squirm, twitch, and shudder. If you can stomach it, you'll find yourself in tune with the band's own rage and frustration, one that's fomented far past a boiling point into a torment of musical aggression that is pointed just as much inward as it is outward, sparring no one from the torrential downpour of blistering theatrics. Like any good rage release, the songs here are well-contained, structured judiciously so nothing crashes down on top of the other even if it constantly teeters on that sharp edge. At the end of the day though, this is punk music, brutal and unrelenting punk music, but fueled by the same disgust and anger that you'll find in The Ramones, even though their doo-wop sensibilities feel not only unwelcome here, but targeted. —Doug Nunnally
Key Track: "Tension Headache"
---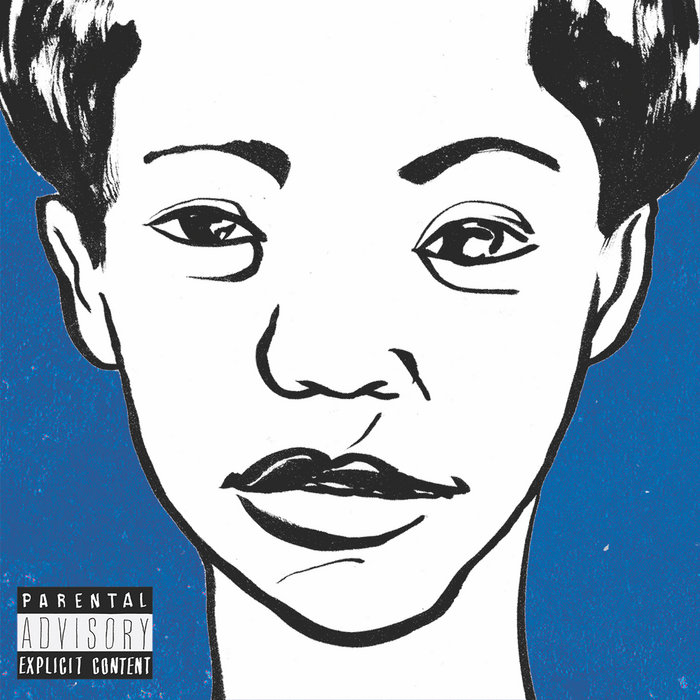 The Importance Of Self Belief by McKinley Dixon
Release Date: May 16, 2018
Spotify | Bandcamp | Soundcloud
Police brutality and women's rights are hot topics right now, but rarely do you hear rappers sneaking lines like "stop killing my trans fam" between meditations on the violence and hate directed towards black men. On Dixon's follow-up album, his personal conflicts don't take a back seat to the struggles of those he loves — they embody and internalize the hate and violence directed towards women and trans people until the struggle is Dixon's own. The "I" and the "she" on this album serve as both contrasting and interchangeable parts, as the rapper's own struggles pair against the struggles of the women he loves, namely on tracks like "The Story So Far" and "God's Land Part II (Maiya's Interlude)," where the personal quickly becomes the prophetic, while the detail with which Dixon refers to specific women in his life prevents the record from turning preachy or impersonal. Self-love is a major topic on this album, where tracks like "Announcing Humanity" see Dixon proclaim, "I miss loving myself" before later affirming that both his strengths and weaknesses come "as a product of what we have been through." Lyrically, The Importance of Self Belief examines, deconstructs, and reestablishes the relationship between the "I" that is the narrator and the "we" that represents the community, cultures, and relationships that he is a part of, until the lines between people are blurred, as are the very conflicts and distinctions that separate us. With an elite line-up of jazz musicians, spoken word poets, and vocalists present, McKinley Dixon brings a jazz-rap masterwork to the table of local releases. —Joel Worford
Key Track: "Everything I Love"
---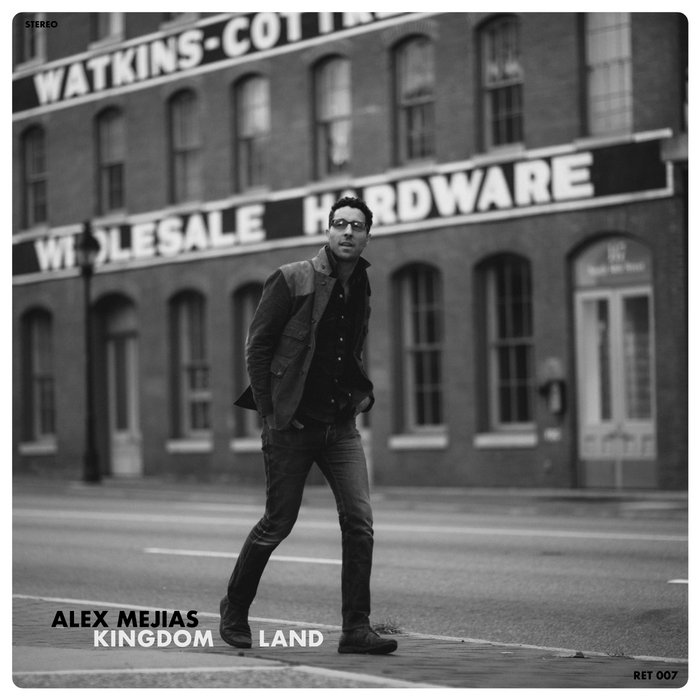 Kingdom Heaven by Alex Mejias
Release Date: November 30, 2018
Spotify
Intrinsically welcoming, the music of Alex Mejias effortlessly strips down barriers between gospel and secular music that have risen ignorantly in the decades since rock and roll music first took the world by storm, and in doing so, he reveals the warm joy found within modern day gospel that even non-believers can enjoy and become inspired by. With a robust sound helping his message, Kingdom Land excels in its marrying of classic R&B sensibilities and the modern gospel message, one that doesn't seek to exclude or judge, but invite and listen. The more overtly religious compositions may be skipping points for some who have shied away from the sound despite its wondrous potential, but even in these less than universal messages, you're left with songs that transcend everything surrounding it, even man-made constructs and boundaries. As much a byproduct to our time as a solution, its significance is felt each time you feel the welcoming embrace of his soulful voice and timeless sound. —Doug Nunnally
Key Track: "Mother"
---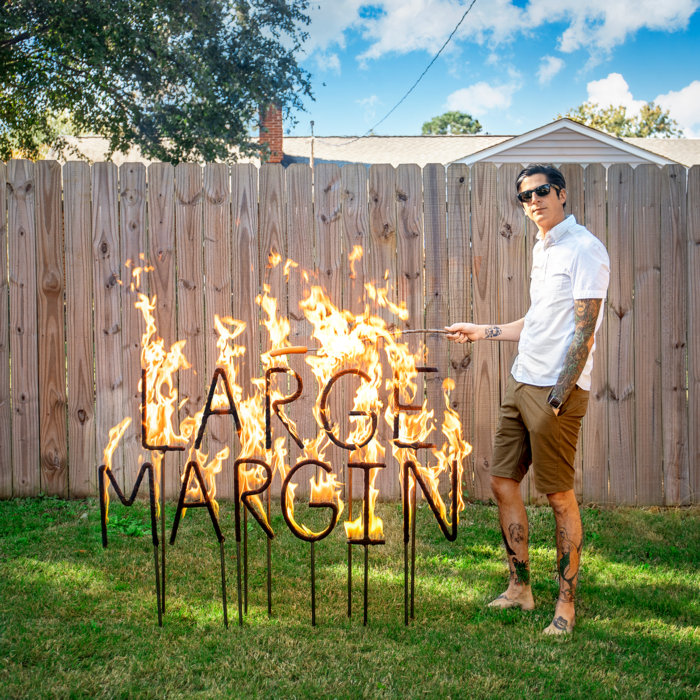 Large Margin by Large Margin
Release Date: November 9, 2018
Spotify | Bandcamp
Much of Large Margin's self-titled record is full of unpredictability, moments that pop out of nowhere from the sharpened post-punk group. Early on, the band confronts this unpredictability head on, offering a song that covers the ground between pop and hardcore with insane vitality and chaotic aberrations. But all of this unpredictability is fully checked, held accountable by the band's own technical expertise and devoted honoring of the post-punk spirit. Whether in furious breakdowns or pensive reflections, the band yields chaos like a producer uses GarageBand, learning and tweaking it to best fit their need and best push their sound to its most realized form. At their core though, these are diligent songwriters too, always looking to fortify and support a song even if that means wreaking havoc on top of it. All in all, it makes for a great listen that proves the punk spirit is truly immortal and infinite. —Doug Nunnally
Key Track: "Rinse And Repeat"
---
Like You!! by Alfred.
Release Date: August 12, 2018
Spotify | Bandcamp
Alfred. is one of the most important figures in Richmond hip-hop and their debut Like You!! is nothing short of triumphant, offering an unflinchingly honest and witty expose of the experience of a black queer person in today's world. This is much more of a personal journey for the rapper to explore the universe through their eyes and discover a path through music and community to hopefully instill a sense of strength and hope in a time that desperately calls for it. Alfred. shines on "Tales Of A Queer Rapscallion" and "My Name," both of which juxtapose their content to feature the confident swagger of the lyricist poised against an emotional carousel of uncertainty that never slows down. Every track out performs the next and it becomes abundantly clear that the aptly referred to "dark gospel" elements of the project feel right at home. The function of Like You!! goes beyond simply being a showcase for the incredible wordplay and flow of Alfred. It's a calling card for their entire scene. The rotating cast of producers features the likes of Dogfuck, YOKI, Mattismo, cldwlkr and SAFO, while the standout production credit has to go to Young Pockets who feels like a kindred spirit to Alfred. It comes as no surprise that several of the tracks you might return to on Like You!! feature their production efforts and that the two often share live bills together. Like You!! is a release that never stumbles or falters and leaves an impression unlike any other release from 2018. Alfred. is the voice needed so desperately right now and will undoubtedly continue to rise to prominence throughout the new year. They should be on the top of your list of artists to watch in 2019. —Shannon Cleary
Key Track: "Like You (Yes You)"
---
Loss Of Religion by Shank Jay
Release Date: December 25, 2018
Bandcamp
If Hard To Be King served as the catalyst for Richmond's great year of hip-hop coming at the very start of the year, Shank Jay's Loss Of Religion was the summation, dropping with only six days left in the year and providing a perfect example of the grounded resonance the MCs in the city contain. Those MCs also hold a great deal of flexibility within their sound and Shank Jay is no exception, comfortable in overly crowded songs ("Jesu$ Where") as well as more relaxed environments ("Commitment"). His tone fluctuates just as wildly too, offering banger rhymes ("Highly Doubt It") one second and introspective thoughts the next ("Womanhood"), all of which makes Loss Of Religion at home in both abundant party atmospheres and personally withdrawn sessions. It may be hard to disseminate what crisis of faith Shank Jay is going through on this record, but these words are definitely ones from a person taking stock of his surroundings, a rising sentiment in underground hip-hop that's portraying more open vulnerability and poignant poise than ever. Such an exercise rarely provides the answers one might be looking for, but the journey itself can help alleviate the anxiety and anguish off his mind, something that looms large over the record as it closes on "Spirit World Letter." "Man up because nobody's pitying a grown man" he gruffs on this track, before continuing to unload his demons and setbacks showing that this isn't the inflated bravado of hip-hop's past, but the fractured sincerity of contemporary art through a swarm of words and beats. —Doug Nunnally
Key Track: "Struggl3"
---
Lost & Found by Andrew Rohlk
Release Date: November 7, 2018
Spotify | Bandcamp
When Prince and John Mayer met up ten years ago for an ultra-secret studio recording session, Andrew Rohlk sat quietly in the corner, studying and taking notes. This story may not be true, but the influence of both these artists on Rohlk's debut album is undeniable. Tracks walk the line between pop accessibility and hipster eccentricity, pairing lyrics on romance found and lost, with jazz progressions that could make a music theory nerd ask 'how?' To say that this record stands as an effort only indebted to Prince and Mayer would be to forsake the Stevie Wonder-style Latin flair on tracks like "Pieces," as well as Rohlk's own unique approach to song arrangement, as showcased on "Fine" and "Riding on a Spare" where bridge sections stand as the climax of funky weirdness before relaxing back into a mellower groove to take you home. While there is no shortage of jazz-indie-pop fusion in the Richmond music scene (or in the world) right now, rarely is the style executed this well. Rohlk's virtuosity as a guitarist, as well as his ear for attention-grabbing chord progressions, sets Lost & Found apart from many of its sister albums. Considering how popular the fusion genre is right now, it would be no surprise if Rohlk's debut caught serious momentum by late 2019. With that being said, don't be on time to this party — be early. You wouldn't want to miss out on being one of the hipster nerds who must remind later fans, "actually, he released that in 2018." —Joel Worford
Key Track: "Fine"
---
May Day by Cole Hicks
Release Date: May 1, 2018
Spotify | Bandcamp | Soundcloud
My wife and I have this book we read our 18 month old every other night at bedtime: A Is For Activist. In it, each letter tackles some deal of activism from LGBTQ freedom down to the necessity of unions. We've read it probably a hundred times by now so I'm mostly going through the motions in it, hoping my daughter is getting closer to sleep and will go down easy, but I always perk up when we come to the "M" page. "Megaphones Marching, Movimiento Music, Hip, hip, hooray! It Must be May Day!" Naturally, it always reminds of Cole Hicks' dynamic debut record, one that was a huge breath of fresh air for the Richmond music scene. It's not just that she's woman breaking through a predominately male oriented genre — it's that she does so on her own terms with a perspective that's fresh and vital. I can't recall a song like "Chocolate Perfection" coming out before in town, nor could I think of any other talented MC capable of pulling off such an empowering message the way Hicks does here. And it's not even just empowering themes that no one else is touching on — there's even punchy lines throughout that I feel no one else in town would ever come close to writing, such as the hilariously simple jab "I know that line went over your head / so keep it simple" in "The Real." So here's to Cole Hicks for making something so essential and spectacular. Hip, hip, hooray! It must be May Day. —Doug Nunnally
Key Track: "Dope"
---
Moment by Marcus Tenney Quartet
Release Date: July 25, 2018
Spotify | Bandcamp
Of the many success stories that Richmond music fans got to witness in 2018, the momentum generated by American Paradox Records has to be one of the most significant. The label started strong in 2017 with an excellent Sig Kingsley full-length, and it established a serious winning streak in 2018 by dropping Kenneka Cook's debut in February and kicking off a new "RVA Jazz" tape series in July with Moment — a four-song set by the Marcus Tenney Quartet. With Tenney on trumpet, Billy Williams on drums, Andrew Randazzo on bass, and Alan Parker on guitar, Moment provides a spacious playground for each player to expound on the themes Tenney establishes. "Home" sets a confident tone from the outset, with a melody that calls to mind a brightly lit nighttime cityscape, and a handoff to Randazzo that establishes a generous sense of depth right away. Closing track "Work And Play" could be called the companion to "Home" in terms of energy, with a brisk pace that contrasts with the middle two tracks, "Moment" and "Loss," both of which slow down to give you a clear view of how nicely the quartet moves together while allowing individual contributors to explore and make their voices heard. Speaking of making voices heard, it's not on Moment, but Tenney released a track in 2018 under his own name called "Everyday" and filmed this live video with the RVATRACK gang. And who's there on backup vocals alongside Sam Reed of No BS! Brass Band? American Paradox labelmate Kenneka Cook. —Davy Jones
Key Track: "Home"
---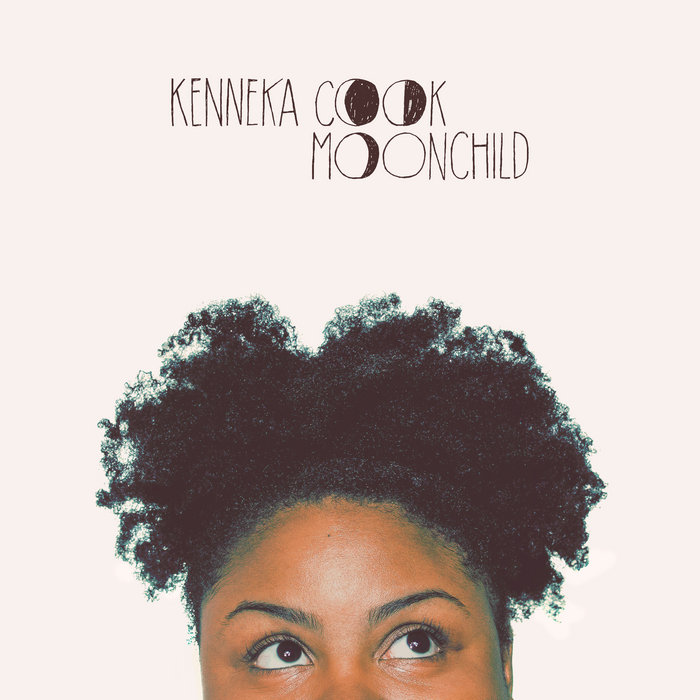 Moonchild by Kenneka Cook
Release Date: February 23, 2018
Spotify | Bandcamp | Soundcloud
First there were the looping gigs — just Kenneka Cook's voice and a Vox Lil' Looper pedal at spots around town like Emilio's and Cary Street Café. Next there was the REC Room beatmakers' showcase at the Camel, where Cook met Scott Lane of the Congress and American Paradox Records. And now there's Moonchild, an exceptionally strong debut that positions Cook as one of the brightest and most cosmically creative new voices to emerge from Richmond. In addition to demonstrating Cook's dexterity with jazz via tracks like "The Practice" and "Higher Highs, Lower Lows," Moonchild shows how she can take pop tunes and make them her own, as she does with the haunting Sonny Bono composition "Bang Bang (My Baby Shot Me Down)," and the Vampire Weekend song "The Kids Don't Stand a Chance" — noteworthy for the way its sparse arrangement provides a glimpse into what those early looping gigs were like. But if you're looking for the beating heart of Moonchild, look no further than opening track "My Universe," which doubles as an expository statement and a panoramic view of Cook's inspiring and inclusive worldview. And if you haven't seen it yet, be sure to check out the video for "My Universe" — a heartwarming look at that worldview in action, and a much needed reinforcement of the idea that sending good feelings out into the world can bring us closer together. —Davy Jones
Key Track: "My Universe"
---
The Motions by Ant The Symbol
Release Date: August 3, 2018
Spotify | Bandcamp
Like any release from Ant The Symbol, it doesn't take long into The Motions to be impressed by his talent. The first awe-inspiring moments comes as Track 2, "Gregory Hines," pops and snaps into Track 3, "Love Song," and we're presented with a musical about-face. Here, Ant The Symbol wildly migrates from a zesty jazz jaunt into a spliced up, thumping affair and he begins to overtly flaunt his own comfortable musical dexterity. It's not over-indulgent or arrogant either – it's just damn good and a great way to set the stage for what's to unfold on the rest of this album. Collaborators are aplenty here, and they all bring their A game to this local star studded affair too. Ant's running mates Johnny Ciggs and Ben FM offer some fiery bars on the tracks they occupy – like that spliced up, thumping affair mentioned earlier – while Richmond's venerated rap laureate Black Liquid brings a sense of reverence to track "Care Less." But the real star here, to nobody's surprise, is Ant himself for his producing throughout. It's not just that he covers so much musical terrain across 15 tracks (17 if you want to go the bonus track route and you should for "See Me Now"), it's that he's able to maintain a taut line throughout so when you jump from an electronic-tinged flourish in "Raisin In The Sun" to a cyclically manipulated melody in "Last Stop, (Now) Here," it doesn't even feel like you've wandered at all from the base point of Ant's illustrious musical identity. —Doug Nunnally
Key Track: "Gregory Hines"
---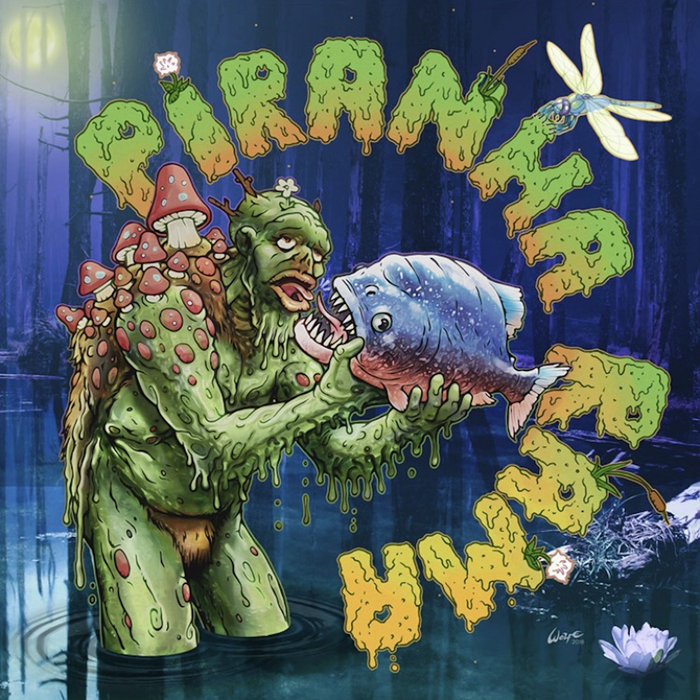 Piranha Rama by Piranha Rama
Release Date: July 20, 2018
Spotify | Bandcamp
You know, one day I'd love for someone to seriously map out Richmond bands and their off-shoots, tracking each musician's journey from project to project until it ends up like a hybrid spider web of School Of Rock's genre chart and The L Word interconnected map. Other days though, I realize there are better ways to spend your money at a craft store then buying all the pins and yarn you can to make this thing viable. Piranha Rama is another act that complicates that map, with its members hailing from a list of storied and beloved Richmond bands. And much like every other band on that web — they've created something separate from their previous work, and equally as important to the scene. It's actually damn impressive how much ground the band covers on their debut – hitting everything from '50s swaying rock ("Hungry Ghost") all the way up to modern day driving indie rock ("Shot In The Arm"). The band's talent at songwriting and landing on just the right melody is equally impressive, almost boundless as each song offers its own interesting slant of the band's signature power rock sound. If we ever did make that map of Richmond bands, Piranha Rama's name would definitely struggle to stand out on the board over anyone else's, but this record, this fantastic debut — it clearly has no trouble standing out by itself. —Doug Nunnally
Key Track: "Shot In The Arm"
---
Placebo Reality by Suppression
Release Date: May 16, 2018
Bandcamp
Around 70 tracks make up this noise affair, many of which last the length someone can comfortably hold their breath. Still, Suppression cultivated a remarkable collection of experimental music on Placebo Reality, one that highlights a growing pocket of Richmond musicians looking to expand the reaches of noise music, many of which have found a home in Chaotic Noise Productions. It's not just sonic debasement and decay the band's exploring here, but also the limits of an acceptable release, with many "tracks" being made up of multiple songs and the band clearly spending infinitely more time envisioning and packaging this record than they did recording it. Still, it's an arresting record that offers a clear view into the growing creativity within Richmond's music scene, even if that creativity may feel unwelcoming and violent. —Doug Nunnally
Key Track: "Contagious Stupidity"
---
Raga by Among The Rocks And Roots
Release Date: March 2, 2018
Spotify | Bandcamp
I've always been able to find clarity in discord, harmony in dissonance, and peace in chaos. One of the most cathartic songs I've heard this decade — "Apocalypse" by Moon King — also just so happens to deafen my ear drums every single time I hear it. Because of this, I often hesitate to call Among The Rocks And Roots noise rock. It's not because there's a better description out there, but more that I think noise rock just rings hollow when listening to the band, or even seeing them live which I've had the pleasure of doing three times now. Part of the reason is I so often equate a level of experimentation, mostly degradation, within noise music, and I just don't hear that in Among The Rocks And Roots. I almost always find a melody within their song, even if it's one twisted and contorted by an unshackled improvisational spirit. I don't want to turn off any noise fans by all of this though – if the band has found a home within a scene and audience, who am I to say otherwise? And they clearly have, based on the amount of attention Raga got, giving their peers in town a sense of validation for the industrious hard-work at play in our scene. But for my money – it just exceeds the decaying grasp of noise music and points to something much loftier and much more scopic. So maybe this is not noise music. Or maybe I'm just listening to the wrong noise music. Either way, this is something you definitely want to hear so you can figure it out yourself. —Doug Nunnally
Key Track: "Requiem"
---
Recluse Raccoon by Recluse Raccoon
Release Date: October 5, 2018
Spotify | Bandcamp
The gestation period of Recluse Raccoon's debut album is an inspiring message to those musicians wondering if their own music is worth the time, the energy, and the sacrifice. But that's not what makes this record so special. Delectable melodies and ruminating lyrics fill the lofty space created by Timmy Peele on each song, and it's his decisions regarding the left-over space that's really breath-taking. At times, he chooses to re-direct an airy sway with a brassy section ("Put In The Time") or he decides to break up a shifty section, making it weave in and out of the song like a furtive reptile ("Dark Void"). Even without knowing how long it took to make, you can tell each aspect of this record was painstakingly inspected to maximize every last moment, even if it's just in how much time fills the air between a guitar note and cymbal crash. But nothing about that meticulous attention yielded anything less than delicate descants that are endlessly exuberant in their charm and talent, making this a record worth studying and worth emulating down the line. —Doug Nunnally
Key Track: "Put In The Time"
---
Shadow Age by Shadow Age
Release Date: September 4, 2018
Spotify | Bandcamp
Melodic melancholy seemingly transported from thirty years in the past. This despairing post-punk is instantly striking, with a deeply rich sound that's definitely morosely colored, but vibrantly performed and expertly written. I keep coming to a weird thought throughout each listen as I'm reminded of Wild Nothing's debut record Gemini and how alike these two records are in offering a shimmering memory of a past sound. But there's no denying Wild Nothing looks to glisten while Shadow Age looks to shroud, so maybe dark twins? Evil twins? Or maybe just kindred spirits, each making sense out of their own experience. Whichever, this record stands tall on its own merits, with a goth-inspired post-punk approach that's instantly appealing for anyone who ever felt intrigued by a band because of their harmonic darkness. Unfortunately, the band is inactive as of this writing, but despite the record's bleak outlook, keep hope alive that Shadow Age return with more invigorating gloom for our ears. —Doug Nunnally
Key Track: "Reign"
---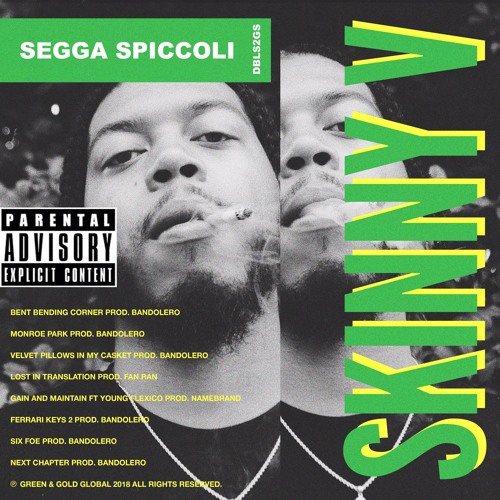 Skinny V Tape by Segga Spiccoli
Release Date: September 7, 2018
Soundcloud
Segga Spiccoli's September release instantly caught me off-guard. It's just so… soulful. And Segga is just so… hard-hitting. Throughout the record, shimmering melodies and gliding beats twinkle around Segga's ruthless flow, and he never once compromises it to settle into the mood. That's not to say this is a study in dichotomy — the two exist together in harmony, but neither compromise their integrity or identity for the other. Segga is soulful himself at times, and the instrumentals do get a bit more raw as you dive deeper into the track listing, but for the most part, this is a hard-hitting, talented rapper softened by the beat, and glissading instrumentals sharpened by the words. I also love how the spotlight is delegated through most of the record. Opening track "Bent Bending Corners" has such a surrounding instrumental that it draws plenty of attention away from Segga's words, and perhaps some of his finest rapping on the record. On the next track though, "Monroe Park," the opposite happens as perhaps the record's best instrumental is overshadowed by Segga's presence. More departures are aplenty on this record, making it an intriguing hip-hop release on just a structural basis. But even if you're not picking up on these conceptual clashes, you'll still find plenty of hip-hop gems in this deeply rewarding release. —Doug Nunnally
Key Track: "Ferrari Keys"
---
Stranger In My Head by Sports Bar
Release Date: October 12, 2018
Spotify | Bandcamp
This analogy might throw people off, but Sports Bar remind me a lot of Bruce Springsteen. The anthems are there and the fandom is there, but there is truly something that can only be captured through their live performances. That is where someone goes from just having heard of this band with an odd name to becoming an undying devotee and memorizing every word to every song. With that sentiment in mind, everything the band has released prior seems to be referential and a nice calling card to your favorite live singalongs. With Stranger In My Head, this feels like the band finding the right rhythm and balance to make an album sound the way they want it to sound and really go above and beyond. This could be their final moment of Bill And Ted's Bogus Journey played out over the length of a full-length record. The album highlights the past by never forgetting their roots, but the gist of the record is growing up and making sense of the road ahead. "Fried" might harken back to the late nights spent partying with the closest of friends, but "I'll Be Home By The Full Moon" is a love song to the family that supports us through all of our craziest endeavors. There is a simple beauty at what Sports Bar have captured with this record that could have only been achieved by being a band for close to a decade. —Shannon Cleary
Key Track: "Fried"
---
Stuck by Nickelus F
Release Date: May 11, 2018
Spotify | Bandcamp
When we talk about Richmond's hip-hop being so impressive in 2018, it's not just that a lot of great artists released a lot of great records — it's also that so many different artists released so many different records. Nickelus F's record is exactly that, one that stands tall in contrast to other heavyweights of the year, yet still feels grounded in the reality of Richmond's fractured ideals. (And this is clear even without the closing track "Dump You In A RVA".) Even on his own record, Nickelus F elaborates on this idea that Richmond's hip-hop scene is as diverse as ever, offering soulful auto-tune bounces ("On Our Own") and plainspoken hard hits ("King Soulja") as well as everything in between. He can be poignantly raw, as heard on the first proper track "Sleazie Wonder," or even grimly polished like on the album's stand-out track "Yea Aight." In this regard, Nickelus F wears a lot of hats on this record, even if the artwork offers its own unifying fixture: the graduation cap which points to Nickelus F's own growth and achievement after countless years hustling and grinding around town, something that's felt in every single track off this vibrantly compelling record. —Doug Nunnally
Key Track: "Yea Aight"
---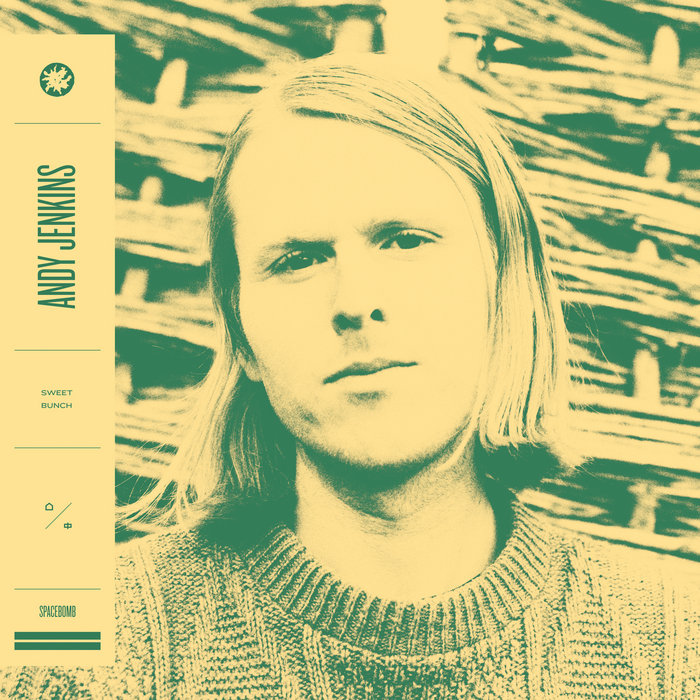 Sweet Bunch by Andy Jenkins
Release Date: June 15, 2018
Spotify | Bandcamp
In the 1960s and 1970s, a new generation of songwriters like Carole King and Gerry Goffin opened up a new avenue of creative inquiry, mining the everyday en route to a new musical universe of love, contentment, and beauty. With Andy Jenkins' Sweet Bunch spinning, that world comes to life in technicolor, with a vividness that only the Spacebomb house band and network of collaborators can conjure. Jenkins has long been one of those collaborators, contributing songwriting that consistently incorporates ideas of communion — with the people you love, with nature, and with yourself. True to form, Sweet Bunch celebrates that which is most fundamental about daily life, turning circadian rhythms into rhapsodies with an opening track called "Hazel Woods" that muses "If I get some rest before I wake, I'll be doing pretty good" and a second song, "Curve Of Love," in which each verse is its own sleep cycle beginning with "Woke up" and ending with following the curve "on down." But Jenkins' sense of gratitude comes across most clearly when he's singing about his compatriots, like on the title track, to which Spacebomb founding singer-songwriter Matthew E. White contributed writing and guest vocals: "My my, all the boys are true / They are true as the wind / True as the wind blows." I'm reminded of the famous payoff line from Ferris Bueller's Day Off about life moving fast and the need to look around. Jenkins seems to have that capacity more than most, and we're all better off when he turns that circumspection into song lyrics. —Davy Jones
Key Track: "Ascendant Hog"
---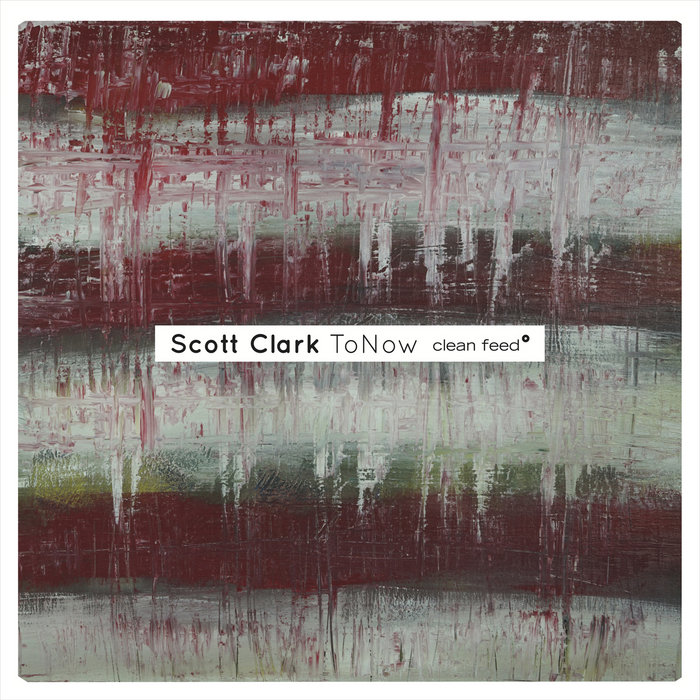 ToNow by Scott Clark
Release Date: May 11, 2018
Spotify | Bandcamp
At its best, art can communicate a sense of truth about events that journalism simply can't. The 24-hour news cycle can feel more like a never-ending nightmare than a way to absorb information, which is why you need art like ToNow. Released in May, this four-song album continues the musical documentation of the darkest chapters of the Native American experience that Scott Clark began on 2015's Bury My Heart. With the same principle ensemble as Bury My Heart, and similar tonal and compositional palettes, ToNow explores the Dakota Access Pipeline protests, in which the residents of the Standing Rock Indian Reservation and a coalition of their supporters spent nearly a year attempting to block the construction of an oil pipeline that was plotted dangerously near water sources and burial grounds. In contrast to the fast and furious reporting around the clashes that took place in and around Cantapeta Creek (which gives the album's closing track its name), ToNow provides a way to feel the weight of those awful events more deliberately and completely via lengthy instrumental tracks that careen back and forth between chaos and order. I hear dissonance, harmony, hope, and despair. I hear a tragically forsaken voice in Bob Miller's trumpet, and a forceful engine of strength in Clark's drums. Throughout, melodies arc downward to communicate a sense of sadness that echoes long after the album is finished — and that echo is what makes Clark's work so vital. We shouldn't forget what happened at Standing Rock, and ToNow is a significant contribution to our nation's collective cultural memory. —Davy Jones
Key Track: "Red, White, Yellow"
---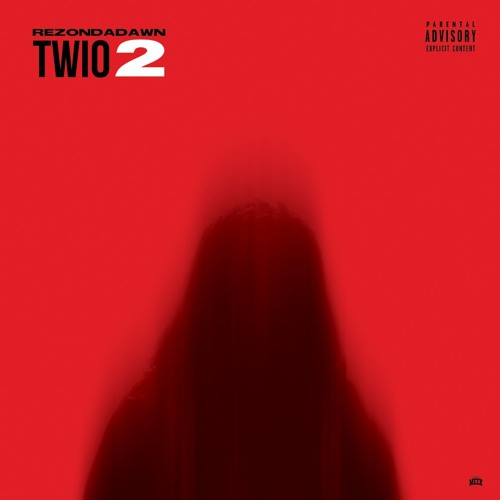 TWIO2 by RezonDaDawn
Release Date: April 23, 2018
Soundcloud
Despite its polish and cohesion, TWIO2 feels like a model mixtape, created with a vibrant urgency necessitating its immediate release. It blends the splintering world of hip-hop with some underground flair ("Amazing") that goes along, hand-in-hand with some thudding trap bars ("This Shit Here"). Guiding it all along is RezonDaDawn's patient talent, one that waits for the moment to come to him as opposed to inorganically creating it at every feasible moment. His phrasing and flow feel impeccable at times, but more often than not, it's the exact words he's using that hit deepest. In fact, in a year full of local lyrical gems from rock and rap alike, I'm not sure one dominated my mind more than the plainspoken, simple sentence that opens up "Amazing," the standout track on this mixtape: "I was my most creative when I wasn't trying to be." It sums up RezonDaDawn's skill perfectly, but also makes you look inward too, examining your own creations to see which one truly was the best… and at what cost did it take to fulfill. Maybe that's the beauty behind this mixtape, one that just flowed into existence from Rezon's clouded mind into a picture-perfect mixtape. —Doug Nunnally
Key Track: "Amazing"
---
Water Tower by Saw Black
Release Date: May 18, 2018
Spotify | Bandcamp
Chalk 2018 up as yet another year in which the value of truth was made painfully clear. Hearing something as real and true as Saw Black's Water Tower right now is like a desperately needed, regenerative rain, with songs that communicate poetically but, more importantly, directly. It doesn't get much more direct than "I'm going to paint your name up on the water tower." Forget social media, forget the whole damn Internet. "I'm going to tell everybody we're together" is the very picture of sincerity, a gesture from another time that's quaint and bold in equal measure. That's what makes Black's writing brilliant — there's a sense of vulnerability that speaks beautifully to the paradox of power that's derived from exposing your hurts, hopes, and feelings to the world. That paradox is present in the very premise of the title track, which kicks off Water Tower, and it echoes throughout the songs that follow, with expressions of devotion like "Just know that I am yours" in "Into the Air" and "You shake me, you break me, you make me whole again" in "Palm of Your Hand" — and with pedal steel notes that bend like pure instrumental anguish stretched out over time and space. Amid all the admissions and confessions, "Black and Blue" puts it most plainly: "Tell the truth, even if it hurts." That's a message worth carrying into 2019, if you ask me. —Davy Jones
Key Track: "Water Tower"
---
Weapon OX by Big Kahuna OG
Release Date: October 7, 2018
Spotify | Bandcamp
The wealth of Mutant Academy's talent was apparent for all to see in 2018, with Fly Anakin releasing the bombastic and electric Backyard Boogie in April and then Big Kahuna OG dropping this pulsating and poignant record in October. Stylistically, the two records occupy the same space, but the distance between the two is still impressive with Big Kahuna OG offering a cooldown to Backyard Boogie with some seriously pensive messages. Joining him is his long-time producing partner Graymatter who helps piece together the album's more thrilling moments — "Weaponized Worldwide," "Wanna Know My Nationality," "Defenseless In Court" — but Weapon OX also brings in other talented producers, most notably Ohbliv who stops by with Fly Anakin on "Southside Sector," a relaxed hip-hop furry that adds more credence to the theory that this is the reflective observation after Backyard Boogie's jarring party. But even without that theory, and Fly Anakin's appearance on the record, we'd still be talking about Weapon OX in this article, as Big Kahuna has continued to mature over the years offering us his most realized self on this record. It's no question that Big Kahuna had the talent to pull off a stunning lyrical statement like "Defenseless In Court," but it's his experience and prudence that makes it such a striking moment on the record, in his discography, and in the illustrious canon of Richmond hip-hop. —Doug Nunnally
Key Track: "Defenseless In Court"
---
What's Wrong With My Eyes by Bad Magic
Release Date: June 19, 2018
Spotify | Bandcamp
As much as we get excited about the newcomers to the Richmond scene, it's the veterans that still find a way to surprise. This record shouldn't be a big surprise though – after all, the band's 2017 release, Harsh Surrender, was one of that year's best as well, though for different reasons than the record we're discussing here. Here, their sound feels remarkably different from others in Richmond, with a sludgy, almost lowered thrash undertone being led by a viper behind a mic who's comfortable enough in her plainspoken demeanor, but always willing to scorch our ears with a vocal lift or diatribe. It's a boiling pot of rock's splintering styles, with enough '90s influence to win over the older crowd and enough vulnerability and quirkiness to be welcomed by a modern audience. Of course, their veteran status affords them a great deal of poise on the record, and that poise is needed to help root out the clarity in their distorted strumming, clarity that's lured out by the lyrics and fully exposed by the timeless catharsis of their stout rock sound. It doesn't feel as catchy or as vibrant as their 2017 release, Harsh Surrender, but it does feel more important, more… vital. Vital to our scene, vital to our city, even if, as they defiantly declare on the album's towering moment, a city… is just a city. —Doug Nunnally
Key Track: "Just A City"
---
Where The Tragic Happens by Pleasuremad
Release Date: November 23, 2018
Spotify | Bandcamp
One of the more surprising records of the year came from a group examining their personal setbacks in a time of cultural and societal shortcomings. It's not so much about accountability, but about the journey one takes in order to address the faults and their causes before finally finding some peace in this life. Self-destruction and disillusionment seem to be the biggest culprits in this record, specifically holding back the protagonist from truly connecting with people. And when those self-imposed shackles are loosened and connection is obtainable — like on "Words For A Poet" — it's gorgeously triumphant. Even without lyrically diving into this rich record, you'll find plenty of songs ripe for a casual listen (and casual repeat), such as the first proper track "Coronation" which is, hands-down, one of the absolute best dance-rock/indie pop tracks to come out of Richmond this decade. Hiding behind those dance and indie styles is a touch of glam, one that gives the record an added allure and helps relay its cautionary tale more effectively. But the album also finds a niche in stripping all these elements – the glam, rock, and dance elements – offering insight into just how the lyrical and thematic mood of a song drives their sound more than anything else. That results in songs like the tender piano closer "The Younger Man's Waltz," which may not hit the highs of songs like "Words For A Poet" or "Coronation," but still feel remarkably beautiful. —Doug Nunnally
Key Track: "Words For A Poet"
---
Yeni Nostalji by Yeni Nostalji
Release Date: May 4, 2018
Spotify | Bandcamp
If you were to read about Yeni Nostalji before hearing them, the project would sound like an ambitious exercise, given vocalist Christina Marie's decision to write and record in Turkish. (Marie is an American of European and Lebanese descent who "considers Turkey to be her second home," according to the group's bio.) But Marie's work in Yeni Nostalji sounds absolutely effortless. While these songs are indebted to a degree of translation, they sound more like a seamless expression of love for the range of styles that you might have found while keeping your ears open while traveling in and around Europe in the second half of the 20th century. Tastefully ornamented throughout by some of Richmond's best-known string and horn players, and anchored by a Turkish rhythm section of Ayça Kartari and Emre Kartar, the album's 10 songs range in feel from the pensively paced "Güneyden Meltem" to the more swiftly shuffling "Senin Üzgün Gülün," though all of them sway as naturally as leaves catching a kind summer breeze. That said, "Olümsüz" stands out from the rest. The album's penultimate track packs a knockout punch of a chorus — as powerful a hook as you'll hear anywhere, with a vocal delivery that makes more out of two alternated notes than most singers could make out of two octaves. Next thing you know, a sweetly whistled melody picks you up and dusts you off like nothing ever happened. It's quite a ride, and knowing that it was made here in Richmond makes it all the more thrilling. —Davy Jones
Key Track: "Olümsüz"
---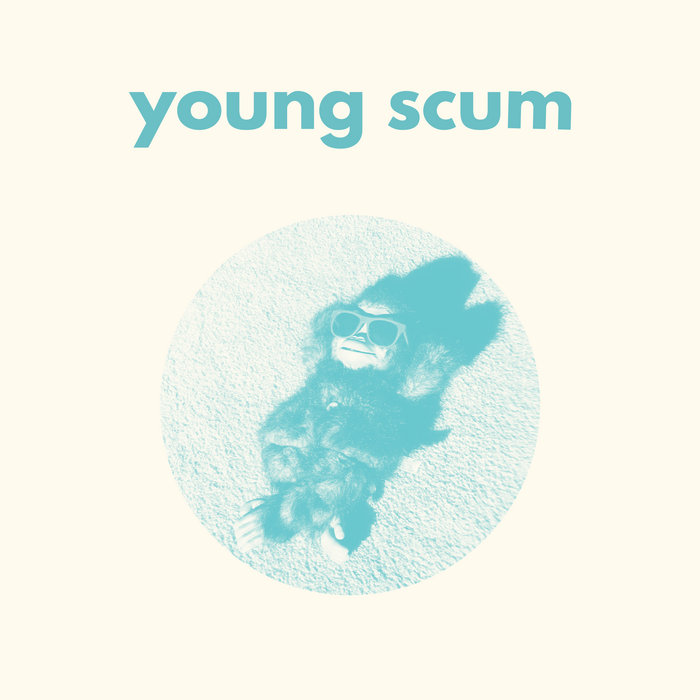 Young Scum by Young Scum
Release Date: July 6, 2018
Spotify | Bandcamp
Young Scum have always been a charming indie pop band. They navigate the genre through their anecdotes about adventures spent with the greatest of company and love letters to tacos. With their twee pop sensibilities in tow, it seems like even more of an accomplishment that they might have written their loveliest material to date in lieu of facing extraordinary challenges. Their self-titled album focused on the professional plights of songwriter Chris Smith. As he navigates his way through the corporate cubicle life, everything would seem dire and he feels his ambition being drained right out of him. His only point of survival is to go against all odds and write an album of songs about overcoming this adversity and discovering the things that mattered the most to him all along. Of the many standout tracks, "Crying At Work" might be the most apropos when handling the theme of this album, with its larger than life, anthemic attitude about how "enough is enough" and it's time to move on unless I'm ready to give up entirely. It might also harken back the most to the bands that influenced Young Scum the most, of which that includes Teenage Fanclub, The Smiths, and Belle And Sebastian. —Shannon Cleary
Key Track: "Crying At Work"