Premiere: (Eli)zabeth Owens Powers Through With Expansive New Album, Knock Knock
Travelling through the sonic world of (Eli)zabeth Owens can be as disorienting as it is therapeutic. Soundscapes are constantly shifting, lyrics weave through symbolic and literal inflection, and melodies utilize a spinning musical compass from song to song. Yet despite this, the emotion behind each song, stanza, and note easily comes through, washing over all of the musical unrest to provide a feeling of clarity and restoration.
On Knock Knock, the second studio album from Owens out today via Grimalkin Records, Owens has created a true artistic expedition with music, words, and visuals that go through all the ups and downs you'd expect from a great journey, though it becomes very clear that this particular journey is less about those ups and downs and more about the why and who behind them.
Ambitious and wildly enthralling, Knock Knock is nothing shy of a bold artistic leap forward for Owens. At first listen, it may feel like a departure from previous works. There's no detailed map or lore of the fictional world to reference as the record progresses, and any semblance of folk-rock is drowned out by an expansive take on art-pop. But Owens is still clearly building on the foundation of their previous record, 2018's Coming Of Age. The narrative of a "modern fairytale" is continued, albeit in a tempestuous, pixelated manner, and while the genre walls crumble quickly in the opening moments of the records, these walls were already cracked and compromised by sound collages and looping layers on the previous record.
It's not just more genre-blurring and different attempts at storytelling that are amplified on Knock Knock. There are other tangible aspects that not only tether it to Coming Of Age, but also flaunt the impressive artistic growth Owens has gone through over the past three years. A highlight of Coming Of Age was "I Long," a yearning song that saw Owens extract as much emotion from a two word phrase as possible. It's the same construct as new song "Once In A While," though obviously the sonic scenery has changed. Whereas "I Long" was a folk song with a circular guitar line, "Once In A While" is… well, vastly different. It opens Knock Knock with scattered gasps arranged in a melodic and percussion introduction, and then hands off its two elements to equally disparate mediums: the melody, carried along by intimate piano notes, and the percussion, contorted into a spastic breakbeat that's akin to the rhythms of In Rainbows. Two completely different songs, but they are tethered in the overarching sonic world of (Eli)zabeth Owens by a clever song-writing technique.
As experimental and layered as "Once In A While" is though, it's just a taste of what's in store for the rest of Knock Knock. Harp and piano glide throughout the record as layers of field recordings and synthesized sounds provide color and dimension to each movement. Behind them could be any type of rhythm: "Hospitality" throws a hip-hop beat into the fray while "Cliffside" utilizes a march to further illustrate the song's upward climb. Glitch and distortion creep their way into the record too, and not just in errant moments. "Reuptake" is a song that flirts with the line between mesmerizing and unnerving, which helps drive the tonal shift of the record in the second act, while "Patience" and "Sending And Receiving" both utilize a form of musical chaos to drive the push towards the record's conclusion in the third act.
Knock Knock carries a lot of musical weight in this sense, but it's weight that's easily equaled in lyrical power. At times, Owens sings as direct as possible for an artist steeped in allegory. In "The Lagoon," they recall a pivotal childhood memory and bring it to life with vivid descriptions ("Hot Texas air, and life everywhere / Feeling a million years old and new / There wasn't anything I couldn't do / In that lagoon"). Other times, the thoughts are more abstract yet equally as moving. "Receiver" delivers a memorable chorus ("My brain / Is only a receiver / And beggars can't be pleasers / My brain / Is only a receiver / Make me a believer") while "Oversoon" utilizes some cheeky rhymes that contrast the internal struggle of the song ("What to do with all this time? / Paint a rose and skip a dose, I suppose / Prep and meal and make a deal, and feel / All the things I do to make myself me").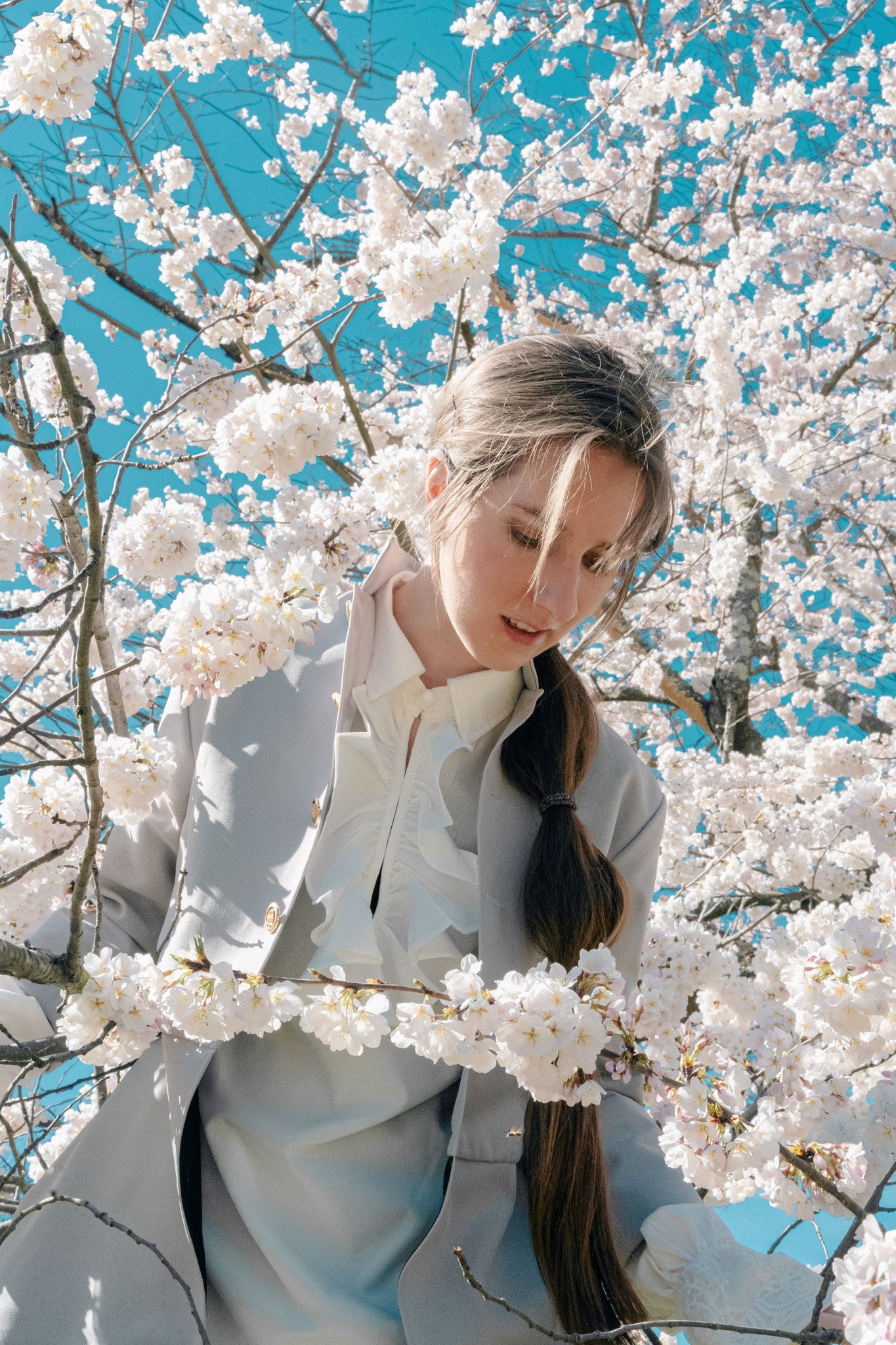 As much lyrical weight as those songs carry though, it's the songs with minimal words that yield the biggest impact on the record. "Only Human" boasts only ten words of lyrics across almost five minutes, but Owens is able to stretch those ten words — especially just three, "I'm only human" — to encompass the totality of emotional range in the song. "Be Still" also boasts only ten words, these in a song shy of four minutes, which serves as a moving guide to the conclusion of the record.
"Potion" feels similar, but more pointed in its directive. Whereas this song flies past five minutes with just four lines of lyrics, it's these lines that provide some of the most piercing moments on the entire record: "Why must I drink a potion to feel alive? / I think I need to be spoken to like a child / Why didn't mother teach me to touch my pain? / Why couldn't hers do the same?" It's easy to pull out an uneasy relationship with psychoactive medication from those lines, especially with the title "Potion" serving as a turning point in the record, but the implication that we shelter the youth from pain thus hindering them from a lifetime of full emotional acceptance is a haunting thought to ponder, especially after already exploring a childhood memory in "The Lagoon."
As bold and stirring as these songs are on their own, they take on another life and form through the visual album that (Eli)zabeth Owens has crafted for Knock Knock, which will debut on YouTube on Friday, August 13th at 8 PM EST (click here). Directed and edited by Owens and O.K. Keyes, each song has its own accompanying video with its own unique art-style, direction, and impact.
Early on, the visuals rely on kaleidoscopic effects to mirror a dual internal argument, seemingly between the person one is and the person one wishes to be, and it's something that's explored for much of Act 1 before being turned on its head with "Oversoon." Here, we're given a solitary shot of Owens that devolves into a distressing movement that feels involuntary as Owens delivers some of the record's most striking lyrics.
From there, the visual style shifts, going through massive movements in quick succession as opposed to the slow reveal of Act I. Whereas Act I relied on mirror imagery, Act II is rooted in distortion as told through a style that would be best explained as David Lynch extrapolating the themes and artwork of video games Celeste and Gris. It is curious how much pixelated artwork drives the visual narrative of Knock Knock considering it harkens to an 8-bit world of capped potential due to technical limitations. But instead of technical limitations, there are emotional limitations as for what one can bare in a work this personal, something that becomes very clear in the video for "Receiver." Despite the countless filters masking their face, the raw vulnerability of Owens is still apparent… and haunting… and moving.
The visual album serves a similar role to the maps and pages provided as an addendum to Coming Of Age, but much like everything else on Knock Knock, it's bolstered by the expansive artistic scope Owens utilizes here making the visual album an essential supplement the listening experience.
(Eli)zabeth Owens has always been unique and ambitious. 2018's Coming Of Age was one of the strongest records Richmond has seen in the past decade, and Knock Knock is even better. Stronger and smarter at every sense, it's the type of artistic leap you wish for out of your favorite artist – one that doesn't abandon the previous work but enhances and modulates it to resonate even stronger and longer than before. While it definitely has traces of the collective trauma the world has faced this past year too, it's core examinations of self-help and improvement are ones that make this a record for the ages.
Knock Knock is out now via Grimalkin Records. You can find the record on streaming platforms as well as on Bandcamp where physical media in the form of tapes and a limited edition 10" are available, which you can order by clicking here.
The visual album for Knock Knock will be released on YouTube at 8 PM EST. Click here in order to set a reminder via YouTube.
Photo credit Mx. Bex / mxbexart.com