RVA Shows You Must See This Week: January 25 – January 31
FEATURED SHOW
2 Nights With Palm Palm
Saturday, January 28, 8 PM
Palm Palm (Photo by Curtis Wayne Millard), Holy Roller @ The Camel – $12 in advance, $15 day of show (order tickets HERE)
Sunday, January 29, 8 PM
Palm Palm, LJ & The Sleeze @ The Camel – $12 in advance, $15 day of show (order tickets HERE)
2 Day Passes: $20 (order HERE)
It's easy to talk about musicians and bands as if the work they do can easily be described with two or three words, or a single genre label. Everyone does it, from my fellow music journalists to the most casual of music fans. I'm sure I'll do it half a dozen times by the end of this column. But it's never the whole story, and we'd be fools to think it was. In particular, this tendency can leave us all in the lurch when a genuinely hard to categorize band comes along — especially when they are also a highly talented ensemble.
By now I'm sure you've guessed that this whole lead-up is my way of introducing Palm Palm, the post-Business project of J. Roddy Walston, who joined up a couple of years ago with a trio of talented Richmond players: Charlie Glenn (The Trillions), Raphael Katchinoff (The Milkstains), and Andrew Carper (The Southern Belles). The four of them have so far released one self-titled three-song EP, and that EP encompasses a variety of sounds over its roughly 15-minute running time. New wave retro-cool on "Cut The White;" swaggering, vaguely transgressive rockin' on "Jungle Gender;" moody postpunk vibes on "Automatic Attraction." In the live environment, where they dress like classic rockers while wearing New York Dolls-ish makeup and play sets a good bit longer than three songs, they show off even more sides to their multi-faceted sound. And with two nights worth of Palm Palm happening this weekend at the Camel, we can be sure that we'll get the full spectrum once we've caught both of these full sets. Will we be able to talk about it in a manner that truly does them justice? Well, that remains to be seen.
One interesting thing about these two shows, though, is the way the two different opening acts joining Palm Palm at each of these Camel dates reflect different aspects of the many-layered group Palm Palm is. On the first night, they're joined by Holy Roller, a crew that has in common with Walston and co. their love for classic meat-and-potatoes rock n' roll riffs, and that same Southern swagger that has carried J. Roddy through his time in the Business and forward to today. On the second night, their performing parter is LJ & The Sleeze, a group of hard-partying punk rockers who wear their perversion on the sleeves of their leather jackets… and leave most of the rest of their clothing backstage. Which one of these shows you pick might depend on where you land on the spectrum of Palm Palm's sonic panoply; if you're a straightforward rock n' roll bro, you might pick night 1. If you're a punk with a penchant for lascivious transgression, you might gravitate toward night 2. But really, you won't get the full spectrum of what Palm Palm has to offer unless you go on and hit both. You know what to do.
Wednesday, January 25, 7:30 PM
Thelma & The Sleaze, Bone Machine @ Get Tight Lounge – $15 in advance, $18 day of show (order tickets HERE)
First LJ, now Thelma. It's getting pretty sleazy in Richmond this week. But of course, if you enjoy high-energy live performances and raw, spirited rock sounds, you'll recognize that that's a good thing. And if you don't enjoy those things, I think maybe you should give yourself a chance to by heading over to Get Tight Lounge tonight and finding out what Thelma & The Sleaze are all about. Let me begin explaining them by mentioning that there is no actual Thelma; the band is led by singer-songwriter LG Gilbert, who's been the band's only constant member over the past decade-plus. The name comes from legendary feminist crime film Thelma & Louise, and if you enjoy Geena Davis and Susan Sarandon's wild road trip in that film, you'll probably appreciate the similarly wild music this feminist band cranks out.
On most recent LP Sacred As Hell, the band dabbles in the sort of loud-guitar power-pop The Donnas used to do so brilliantly, while also adding an undeniable dose of Southern twang that must come from the band's Nashville origins. The lyrics are unashamedly queer, and they're delivered with the confidence and power you'd expect from any band willing to name an album Fuck Marry Kill. I'm not exactly sure which of the three you'll be inspired to do after seeing Thelma & The Sleaze at Get Tight Lounge, but I'm confident in saying it's unlikely to be kill. If you catch my drift.
Thursday, January 26, 7 PM
Bleary Eyed, Black Plastic, Wallpaper, Crystal Flowers @ The Camel – $6 in advance, $10 day of show (order tickets HERE)
Underground Orchard, the show-promoting arm of Citrus City Records, has nailed down another year-long residency at The Camel; they own that venue's stage not only this Thursday but the final Thursday of every month throughout 2023. That info alone should be enough to ensure that you check the Camel's schedule every month for the rest of the year to see what Underground Orchard has in store for us all; the Citrus City's nose for talent has always been top-notch. This show in particular is proof of concept, as they bring us a set from hazy Philadelphia indie set Bleary Eyed. This quartet just released a new single called "Run," which is the first taste of their upcoming self-titled EP, due in March from Born Losers Records.
The "Run" single follows in a similar path to the one the band laid out on their previous LP, 2021's Guise. On that album, the jangly indie melodies, hazy synth lines, and fuzzy vocal melodies gave an impression of kids raised simultaneously on classic New Zealand indie pop (a la The Bats or The Chills) and the more noise-damaged end of the classic shoegaze scene (MBV, Slowdive… you know, the usual suspects). They're still catching that wave, but the new single features the most assured melody line and sincerely catchy chorus Bleary Eyed has produced thus far. Clearly this is a band on the come-up, and now's the time to catch on before that new EP comes out and they're suddenly stratospheric. The three openers this show has to offer are also essential. We'll talk about Black Plastic in just a minute (though I'll say right now that my opinion is positive), but I do want to mention that the new Wallpaper record, Spokes, which just came out in November, has just the right level of sloppy post-grunge energy for me to get heavy Nirvana-on-a-goth-binge vibes. Seeing how they carry this off live is a must. The moody bedroom pop of Crystal Flowers is also intriguing. Basically you should be at this show from the second the doors open until the last note is played. Do that shit.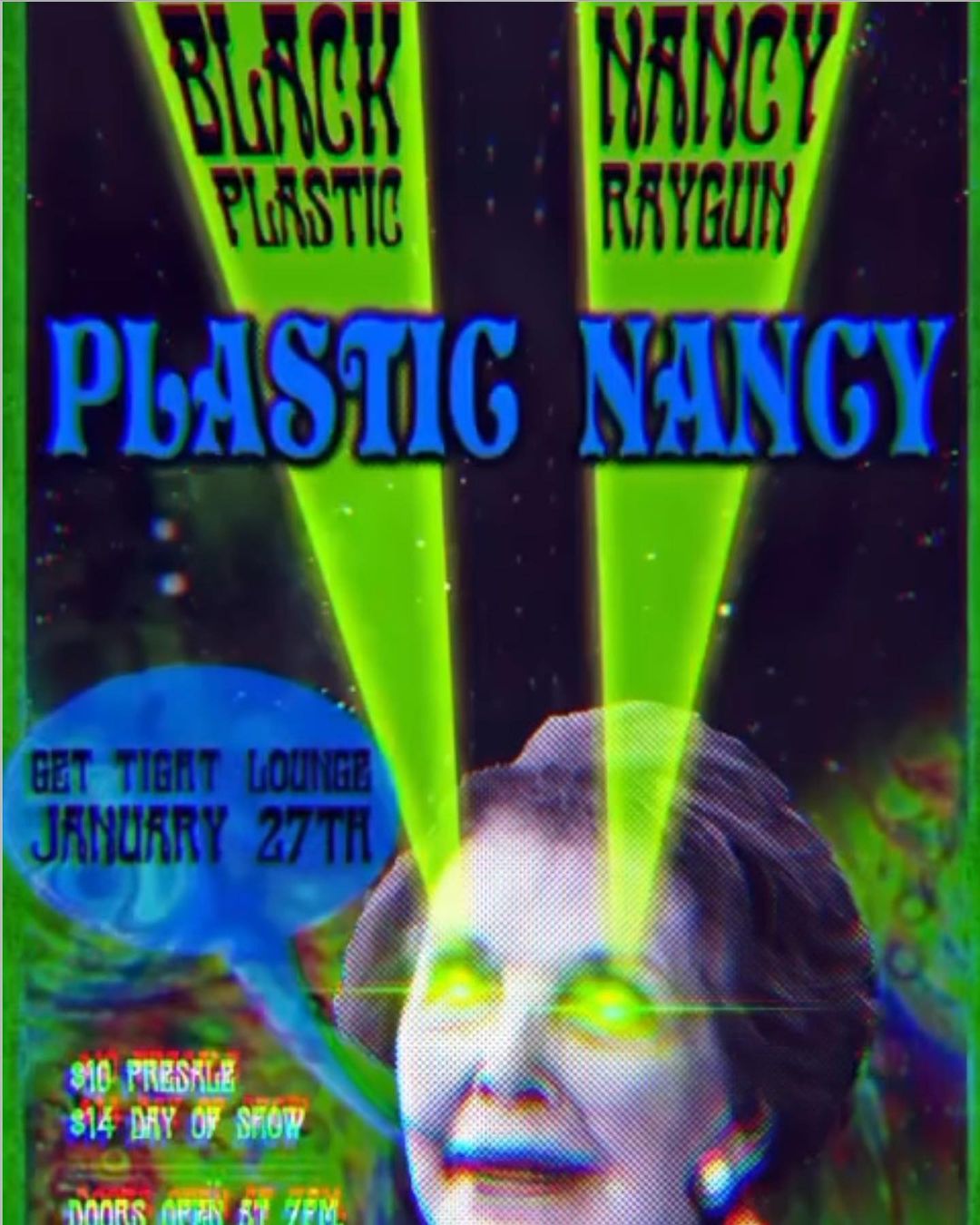 Friday, January 27, 7 PM
Black Plastic, Nancy Raygun, Plastic Nancy @ Get Tight Lounge – $10 in advance, $14 day of show (Order tickets HERE)
OK, we'll talk about each of these bands individually in a second, but I want to start this writeup by saying that I'm really proud of whoever the heck noticed the coincidental names of these three Richmond-based indie rock bands and contrived to get all of them to play a show together. Not only does it make for a really funny show flyer (see above), it also grants us an all-killer no-filler evening of music by a trio of local leading lights. That's pretty fucking awesome and I entirely approve.
But so let's talk about Black Plastic already. This band has been around in Richmond for several years, and they haven't always had the highest profile. But when they released their self-titled full-length debut last spring, they showed their prowess in a big way. An incredibly engaging listen, the album touches on a variety of different musical moods within the indie-psych-shoegaze spectrum, all of which are evoked perfectly. Basically if you haven't seen Black Plastic yet, you're in for a huge treat. And you'll get an even bigger one if you see them on both of these nights, since they're playing two different sets. As for Nancy Raygun, they gave everyone something to smile about a few months ago when they released "Trap," their first new music since 2020's Late Nights LP. This moody yet melodic postpunk tune is riveting, and comes with a great mid-song payoff that lets all of us know these boys haven't lost their touch. Plastic Nancy's most recent release is still their early 2020 LP Last Of The Electric Flowers, but that album's catchy, energetic take on psychedelic garage-rock is still a lot of fun three years later. All three of these groups on the same bill adds up to a night of musical excellence, even without the serendipitous nomenclature.
Saturday, January 28, 6 PM
Andrew Leahey & The Homestead, Horsehead, Cassidy Snider & The Wranglers @ Hardywood – Free!
OK I know that Andrew Leahey & The Homestead are at the top of this bill, and we're gonna get to them in a paragraph or so, but Horsehead is the reason for the season as far as this show is concerned, at least if you ask me. I thought about this long-running Richmond Southern rock band recently and wondered if they'd been yet another pandemic casualty, which would have been a bummer. Thankfully, it was only a week or so later that guitarist Kevin Inge hit me up to let me know that the new Horsehead album is done and will be making its way into the world soon! I've gotten a taste of it via private listening link (thanks guys!), and it just might be their best record yet, so you're definitely going to want to get your own advance listen to the material that'll be included on it by coming out to this Hardywood show on Saturday night — the first show Horsehead has played since pre-pandemic days. These guys might be in the middle of the bill, but they're headliners in my heart, and I guarantee they will be in yours too by the end of their set.
Not that Andrew Leahey & The Homestead won't be worth sticking around for. Oh my my no! Leahey himself is probably better known as the guitarist in country singer Elizabeth Cook's band than he is for his own stuff, but his own stuff definitely shines, as he walks that alt-rock/alt-country borderline with aplomb on his twin pandemic albums, American Static Vols. 1 and 2. If you dig stuff like the Jayhawks and Son Volt, you're going to have a great time listening to Andrew Leahey & the Homestead, both on record and — more importantly — at Hardywood this Saturday night. And of course, local singer-songwriter extraordinaire Cassidy Snider brings her talented band to the stage to give us a killer set sure to be loaded down with hot tracks from her recent LP, A Good Heartbreak. Don't miss a minute of this one.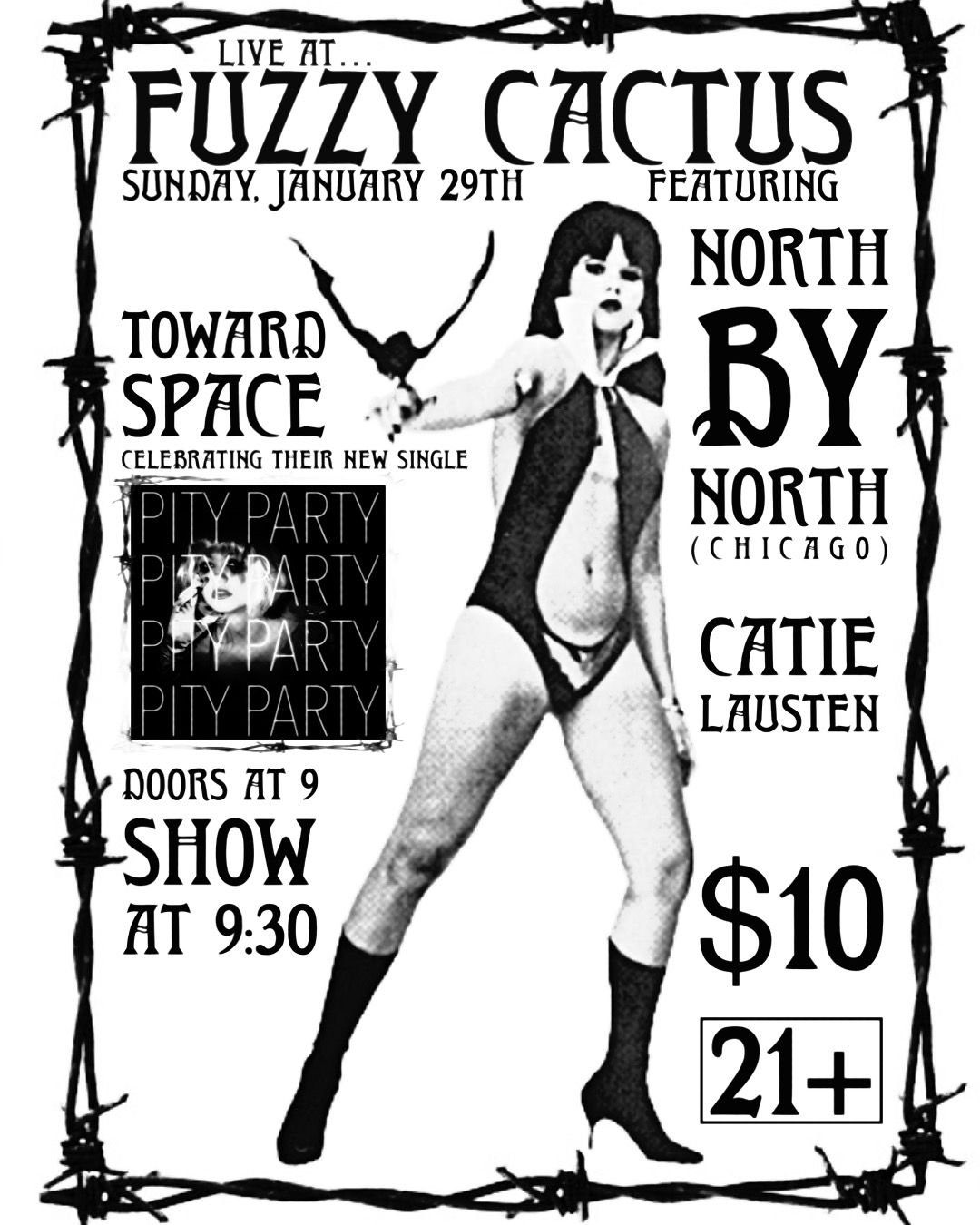 Sunday, January 29, 9 PM
Toward Space, North By North, Catie Lausten @ Fuzzy Cactus – $10
As always, Fuzzy Cactus is bringing some serious rock n' roll to us all on a Sunday night, and you'll definitely need to make time for this killer triple bill. Toward Space is at the top, and while this uncompromising garage-rock trio should need no introduction by now, they're grabbing attention all over again this weekend as they celebrate the release of their latest single, "Pity Party." Seyla Hossaini's voice gets almost operatic on the chorus, and there's some subtle gender play in the lyrics (always assuming I'm understanding them correctly — with my hearing damage, there's no guarantee), showing that this group keeps pushing boundaries and finding new ways to explore their snotty punk take on a classic sound. But of course, the overdriven guitars and upbeat energy hasn't changed a bit since these three were hyperactive teenagers playing basement shows in the mid-2010s. My, how time flies.
North By North are the out-of-town stars on this bill, and this Chicago-based duo have a slightly more indie-fied approach than Toward Space. But make no mistake, on both 2020 LP Get Weird and recent follow-up single "Baby's On Fire" (no, it's NOT a Brian Eno cover), they demonstrate a strong fundamental grasp of the power of rock n' roll. Their catchy choruses and tuneful melodies will keep you hoppin' and boppin' throughout their set. They'll definitely be a bright spot in your entire weekend, as well as helping you forget for at least a few minutes that you've got to go back to work in the morning. The way this writeup is constructed, it makes local indie-pop singer-songwriter Catie Lausten seem like an afterthought, but don't be fooled — her 2022 EP, Love To Love To Love, was one of the highlights of Richmond music last year, in any genre, and the two singles she's released since then just have me even more stoked for what she's got in store for us this year. Show up on time for this one; you won't want to miss a moment.
Monday, January 30, 8 PM
Tres, Ca$hfllow, Earfth Girl @ The Camel – $10 (order tickets HERE)
Year after year, I continue to try, but at this point I'm starting to think I will never truly know the many layers and facets of the Richmond hip hop scene. Every time I start to think I've picked up on every subgenre, every crew of affiliated artists, another one comes along with a whole new sound to blow my mind all over again. Such is the case with Tres, a rapper about whom I don't know terribly much. That said, I can tell you that his fall 2022 single, "Everybody Knows," is an intoxicating headtrip, in which thick, molasses-like layers of synth surround your ears and draw you down into an abyss over which Tres croons, his voice layered in reverb and echo. I've heard of vaporwave, but this is beyond anything I've previously experienced, a psychedelic rush that feels like it's beamed in from another solar system entirely.
What will a full set from Tres sound like? Well, I can't really tell you that, but having heard one song, I can tell you that I'm intrigued enough to want to delve deeper. You should do so as well this Monday night at the Camel. In addition to Tres, the evening will feature a set from Earfth Girl (don't ask me how to pronounce that), a Norfolk-based rapper whose music has a certain spaced-out flavor of its own, though its vibes are more video-game than outer space. And then there's the interestingly spelled Ca$hfllow, about whom I know very little, having only heard snippets of his tunes on Instagram. He seems to have talent, though, and the other two MCs on this bill certainly do, so hey — show up. Find out the rest for yourself. You won't regret it.
Tuesday, January 31, 7 PM
Anna Leonard, Matthew K. Davis, Chris Walton @ The Camel – $10 (order tickets HERE)
For me, 2022 was all about stumbling over super-talented local singer-songwriters I had no idea were out there and immediately falling in love with their music. One of the singer-songwriters in question has already appeared in the column this week (see Catie Lausten up above), and another great example is Anna Leonard, who is headlining a gig at The Camel this Tuesday night. Said gig should be more than sufficient to make my entire readership fall in love with her music as well — that is, assuming you go. Don't let me down, people. OK, you want more concrete reasons? Try her latest single, the lovely and affecting "Denial," which envelops you in a warm acoustic embrace as you listen, simultaneously evoking Mazzy Star, The Sundays, and Stevie Nicks. It's truly great. As is every other song I've heard by her. If you don't know, you really need to find out for yourself. Show up at this show.
And show up on time, because the other two singer-songwriters on this bill have quite a bit to offer in their own right. Matthew K. Davis released a lovely album back in 2021 called I Think That Everybody Hates Me, an album title so relatable that it makes me want to give the guy a hug on general principles. Considering that the album is also full of Beatlesque pop anthems with the perfect subtle hint of psychedelia underpinning the proceedings, it's even more intriguing to have this opportunity to see what this guy brings to live performances. And then there's Chris Walton, whose brand-new album Ruminating Thoughts sees him simultaneously playing smooth soul balladeer and sensitive hip hop rhymer. It's a lovely listen, and should make for a riveting performance. Mark the calendar; here's my first new "talented local singer-songwriter" discovery of the year 2023. I doubt it will be the last.
---
Email me if you've got any tips for me about upcoming shows (that take place after the week this column covers -– this week's column has obviously already been written): rvamustseeshows@gmail.com
Also, I'm a freelancer now, and I'm looking for commissions, so if anyone needs press releases, band bios, or even actual articles written, you should hit me up! I work cheap.