RVA Shows You Must See This Week: November 1 – November 7
FEATURED SHOW
Saturday, November 4, 7 PM
Milliseconds, Charm Offensive, New Lions @ The Camel – $12 (order tickets HERE)
Here's some long-overdue big news from the world of late 90s/early 00s indie — half of the legendary Dismemberment Plan have finally returned to action. When the DC quartet fell apart after 2001's Change, people expected big things. But while singer-guitarist Travis Morrison maintained a relatively high profile after the split, releasing multiple solo albums during the 00s, it seemed like nothing the band's equally talented rhythm section — bassist Eric Axelson and drummer Joe Easley — did after the split really went anywhere. Dismemberment Plan reformed and made a new album about a decade ago, but since 2014 they've been inactive, and it was starting to seem like we'd never hear from any of them again.
Thankfully, that's no longer true, as Eric Axelson and Joe Easley recently teamed up with former Vehicle Birth guitarist Leigh Thompson to form Milliseconds. With Axelson taking over lead vocal duties, the recently released debut album by Milliseconds, So This Is How It Happens, finds this new trio reigniting the Dismemberment Plan's flair for slightly off-kilter alt-rock with supremely catchy choruses. Axelson's vocals and lyrics feel less arch, more heartfelt and sincere, than what Travis Morrison brought to the table in The Dismemberment Plan, but this only feels appropriate for an era in which we've all been forcibly reminded how much is at stake if you just want to survive in the United States in 2023. If you've missed the bouncy grooves and challenging yet always flawless melodies of The Dismemberment Plan, but haven't particularly missed the irony, Milliseconds is sure to delight you.
They'll be in perfect position to do just that when they come to The Camel this Saturday night, and they'll be joined by two equally delightful Richmond indie bands. The newer of the two, Charm Offensive, still haven't released any music officially, though I must admit I've listened to their appearance on River City Sounds back in the spring a few times now. Locally minded folks might be inclined to compare them to a slightly peppier version of Hotspit, but I'm inclined to go a different way; to me, they sound like 90s indie-pop bands like Tsunami and Tiger Trap with a big infusion of garage-rock grit. Regardless of what comparisons you make, though, it's obvious that Charm Offensive are a great young band destined for great things. As for New Lions, this Clair Morgan-fronted post-hardcore group have strong doses of Fugazi and Les Savy Fav mixed into the sound, but the most important element is always catchy pop riffage that keeps you smiling and singing along, even as their quirky, frenetic riffage ensures that you never mistake them for a typical indie pop act. New Lions are a particularly apt group to open up for a new project from former members of Dismemberment Plan, so if you're into this show at all, you gotta make sure you show up on time. Every minute of this one is guaranteed to be awesome.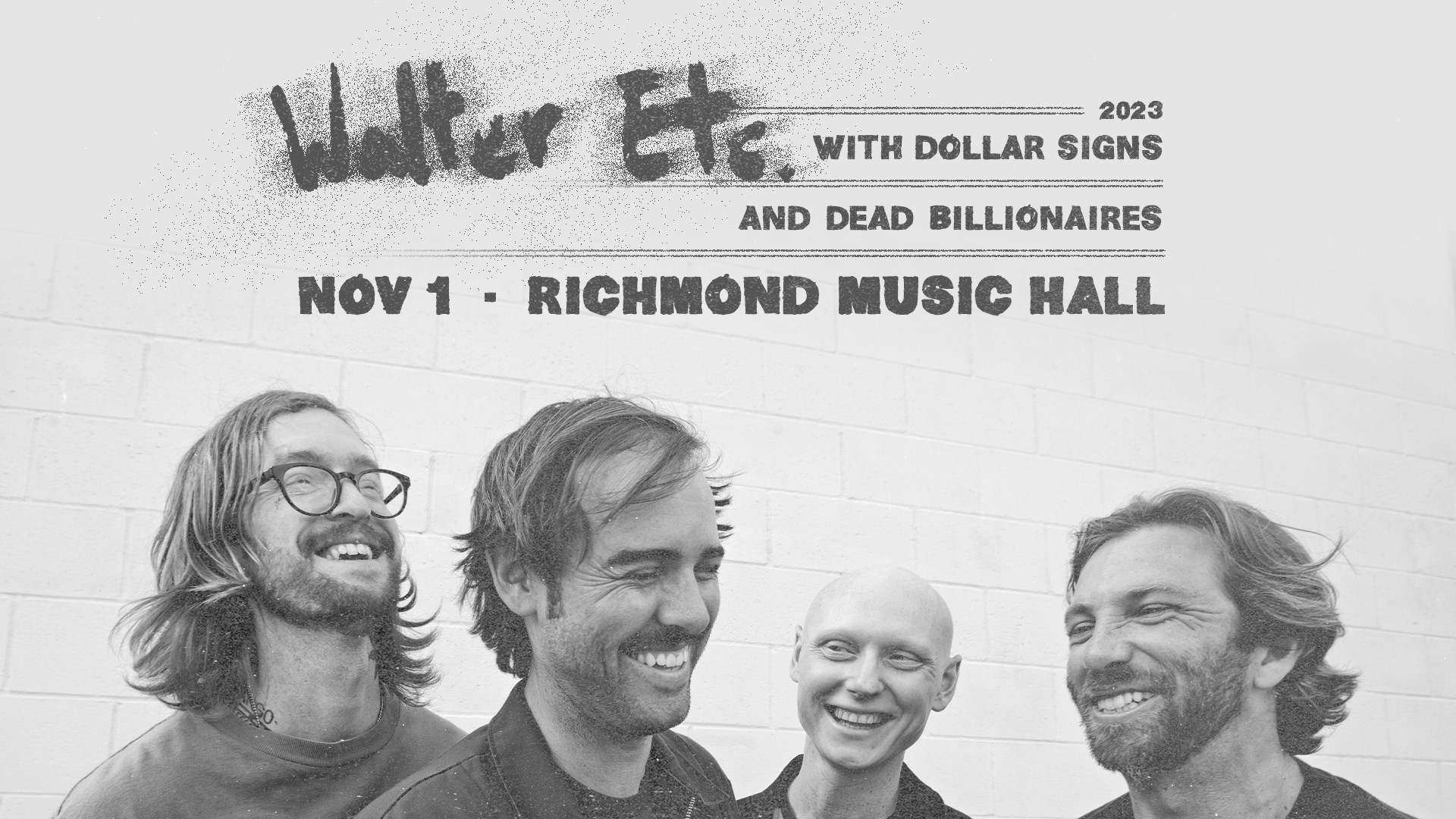 Wednesday, November 1, 7 PM
Walter Etc, Dollar Signs, Dead Billionaires @ Richmond Music Hall at Capital Ale House – $12 in advance, $15 day of show (order tickets HERE)
Walter Etc is an interesting name for a band, but it starts to make sense once you find out that the band was originally called Walter Mitty and His Makeshift Orchestra. Named after a James Thurber story in which the title character daydreams his way through life without ever really doing much, this band was originally a folk punk combo back in the late 00s when that sound was hot. They went on hiatus around 2015, and frontman Dustin Hayes decided to retool the group's lineup when he brought the band back in 2016. The plan was for him to be the only constant member, and shift musicians in and out of the lineup on an as-needed basis — thus the decision to shorten the band's name. Ironically enough, these days Walter Etc is a trio made up entirely of core early members of the Makeshift Orchestra incarnation of the band. But it'd be petty to complain about such a thing, especially when they're better than ever these days.
It's true — they've released four albums since returning to action under the name Walter Etc, and the brand-new When The Band Breaks Up Again is probably their best yet, full of gentle yet toe-tapping pop anthems that land somewhere between the softer side of pop-punk and the more energetic side of indie-pop. These songs seem guaranteed to lend themselves to maximum bliss during live performance, and should make fans of Boyracer and Joyce Manor equally stoked. As for support act Dollar Signs, who come from Charlotte, NC, they also started out doing folk-punk tunes, but have if anything gone even farther in the direction of bouncy, upbeat electrified pop-punk — with a subtle yet undeniable ska-punk element. At some point they acquired former Richmond resident and Weak Days co-founder Tommy McPhail, so if you've missed seeing Tommy around town since he moved to Charlotte, come out and say hey! More importantly, dance to his new band. Resistance is futile. Local indie-punk stars Dead Billionaires will get this one kicked off on the right foot. Get stoked!
Thursday, November 2, 9 PM
Church Girls, Sifter, Bright Arc @ Fuzzy Cactus – $12
Fuzzy Cactus makes the column twice this week, but unlike the Fuzzy show you'll read about later in the column, this one is a bit outside their normal purview. Specifically, it features headliners Church Girls, a Philadelphia quartet who recently followed up their 2021 LP, Still Blooms, with an EP full of catchy tunes with a crunchy guitar sound that pairs well with frontwoman Mariel Beaumont's forlornly catchy vocal melodies. The EP in question, Nightmare Nights, has been hailed as Church Girls' best work yet, and while I haven't spent a lot of time with the full breadth of their catalog, that's not hard to believe — in particular, the track "Death Wish" does a great job of combining epic emo guitars and dramatic song structure with unforgettable choruses and a final payoff that brings this song to the level of instant classic. It should hit even harder from the stage at Fuzzy Cactus — make sure you're there to experience it for yourself.
While you're at it, you'll also get the chance to catch a set from Richmond up-and-comers Sifter, who thankfully bucked the trend toward "back the blue" nonsense with "RPD," the opening track to their 2022 EP, Nobody Asked. Sifter's jangly no-frills take on punk rock straddles the line between melody and frustration with perfect balance, making for a really fun live show that should thrill the rock n' roll reprobates at Fuzzy Cactus's bar just as much as it clicks for the alt-rockers coming out to catch Church Girls. As for openers Bright Arc, I was onto this local shoegaze-style act going back to last year, when they released their debut, Neverlasting Night. However, they've definitely upped the ante on Disappear Into The Light, their brand new LP. The rough DIY sound on this record might not be what you expect from a shoegaze combo, but it does a great job of bringing the volume and power of their approach into the studio without sacrificing the quiet, ethereal vocal melodies that these songs are structured to support. If it's a set of shoegaze perfection you're looking for, Bright Arc's opening set will be just what the doctor ordered. So show up on time, and stick around for every minute of this banger.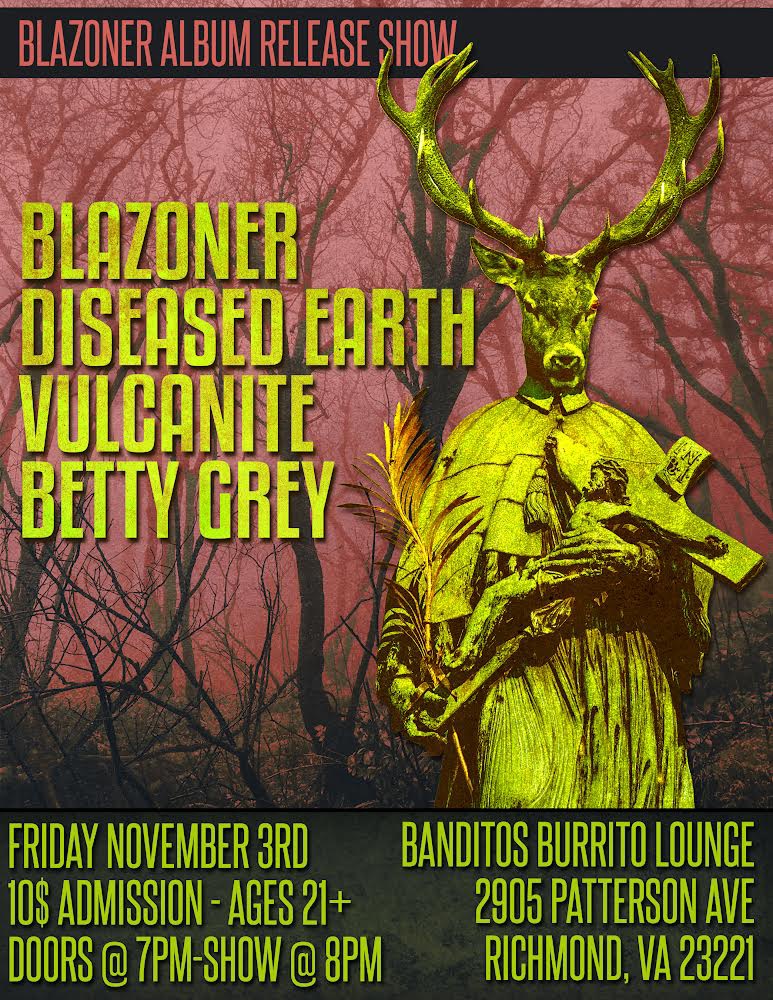 Friday, November 3, 8 PM
Blazoner, Vulcanite, Diseased Earth, Betty Grey @ Bandito's – $10
Here's an interesting switch: while I have at least a passing acquaintance with all of the support acts on this bill, I'm just now learning about Blazoner. Considering they've only released a few preview singles from the album for which this show acts as a release celebration, it makes a little more sense, but as I familiarize myself with the three songs Blazoner has up on streaming as of now, I can't help but feel like I should've known these heavy rockin' metal types well before this. But hey, better late than never. Indeed, since their debut album is coming out this Friday night, some could argue that I'm right on time.
Blazoner cranks out some heavy riffs of the sort that could just as easily fill out an early Alice In Chains album as they could slip into the rotation on a stoner-rock LP. The singer's movement between menacing clean vocals and furious screams only accentuates this dualistic nature of their sound, but at this point I think it's safe to say that, whether you're looking for groovy Goatsnake-style stoner bangers or scary grunge metal a la Dirt, you'll find what you need in Blazoner's sound. As for the bands I know a little better on this bill, all of them have proven themselves more than capable of getting heads banging. Vulcanite's Everything We Once Knew EP, from 2022, mixes melodic post-hardcore into hard-hitting American metal riffs — which is to say, it rules. Staunton's Diseased Earth travel down to Richmond from the I-64/I-81 junction to hit us all with a formidable cross between harsh black metal noise and sludgy groove mayhem. Richmond's own Betty Grey get this one started with their sludged-out take on metallic hardcore, and that's always a blast. This one will be great from top to bottom, so be prepared to be rocked.
Saturday, November 4, 9 PM
The Speedways, The Whiffs, Mel Machete, Shawnis And The Shimmers @ Fuzzy Cactus – $15
Fuzzy Cactus makes the column once again, and as previously mentioned, this show is a bit more of a straight-over-the-plate fastball for the typical Fuzzy crowd. Red meat for the base, so to speak. That tantalizing metaphor starts with the band at the top of this bill — London power-poppers The Speedways, who recently followed up their killer 2022 LP, Talk Of The Town, with a compilation called Triple Platinum. Bringing together rerecordings of early tunes that weren't done justice in their original release along with singles, B-sides, and rarities, this album acts as a sort of Singles Going Steady for the 21st century, though that'd be an even more appropriate comparison if that legendary compilation were by the Nerves instead of the Buzzcocks.
So yeah, London's Speedways effectively straddle the line between classic power-pop and old-school melodic punk, and Kansas City's own The Whiffs land in very similar territory, capturing a similar sound to that of the much lamented Exploding Hearts, plus maybe a bit of UK mod-punkers The Jam stirred in. Their latest single, "Satellites," was released by Virginia's own DIG! Records, and it features two flawless pop gems that should by all rights be knocking Taylor Swift off the top of the charts even as we speak (and I don't say that lightly, because Taylor rules). The Whiffs are a sure-fire hit when they take the Fuzzy stage this Saturday night, and the same can be said of local punk n' roll mainstays Mel Machete and Shawnis And The Shimmers, both bands readers of this column should be intimately familiar (and totally in love) with by now. That should be more than enough to convince you to spend your Saturday night at Fuzzy this week, and rock the fuck on forever.
Sunday, November 5, 6:30 PM
Kool Keith, RVA Rap Elite @ Ember Music Hall – $33.90 (order tickets HERE)
If you asked me back in 1999 who my favorite rapper was, I'm pretty sure I would have said Kool Keith. He initially caught my attention with his debut solo album, Dr. Octagonecologyst, which was released under the name Dr. Octagon. The pseudonyms were part of the fun with Kool Keith — there wasn't just Dr. Octagon but also Dr. Dooom (yes, with three Os), Tashan Dorrsett, Mr. Nogatco, and more. Plus, there were the alter egos he'd assume for album-length explorations into particular mindsets. In 1999, under his own name, he released Black Elvis/Lost In Space, an album on which he toggled between the psychedelic science fiction scenarios he was always prone to slipping into (see Dr. Octagon's legendary "Blue Flowers") and his perennial obsessions with girls, porn, and hetero sex. My favorite track on that one was the bonanza of smack-talk that was the "Intro," but it was all pretty great.
Somewhere along the way (probably around the time of 2004's Diesel Truckers) I lost track of Kool Keith, but he stayed prolific, releasing albums under a variety of names and exploring a variety of always-wild worldviews and characters. These days he's got something like 40 albums under various names and involving various collaborators, and at the age of 60 he doesn't seem to have slowed down at all. This year he released Black Elvis 2, a long-awaited sequel to his classic 1999 LP, and he's currently on tour in support of it (even though he's released two more albums since it came out). The themes of bizarre sexual appetites and fantastical futuristic weirdness remain intact, as do Keith's talents for spooky yet hard-hitting funk beats and unpredictable, hilarious wordplay. For those who had their own period of Kool Keith obsession, this show at Ember Music Hall is sure to remind you why you once hung on his every word. And with RVA Rap Elite handling the opening festivities, including a cypher full of talented VA MCs, you know showing up early is definitely the move. Break out your pompadour wigs for this one, y'all.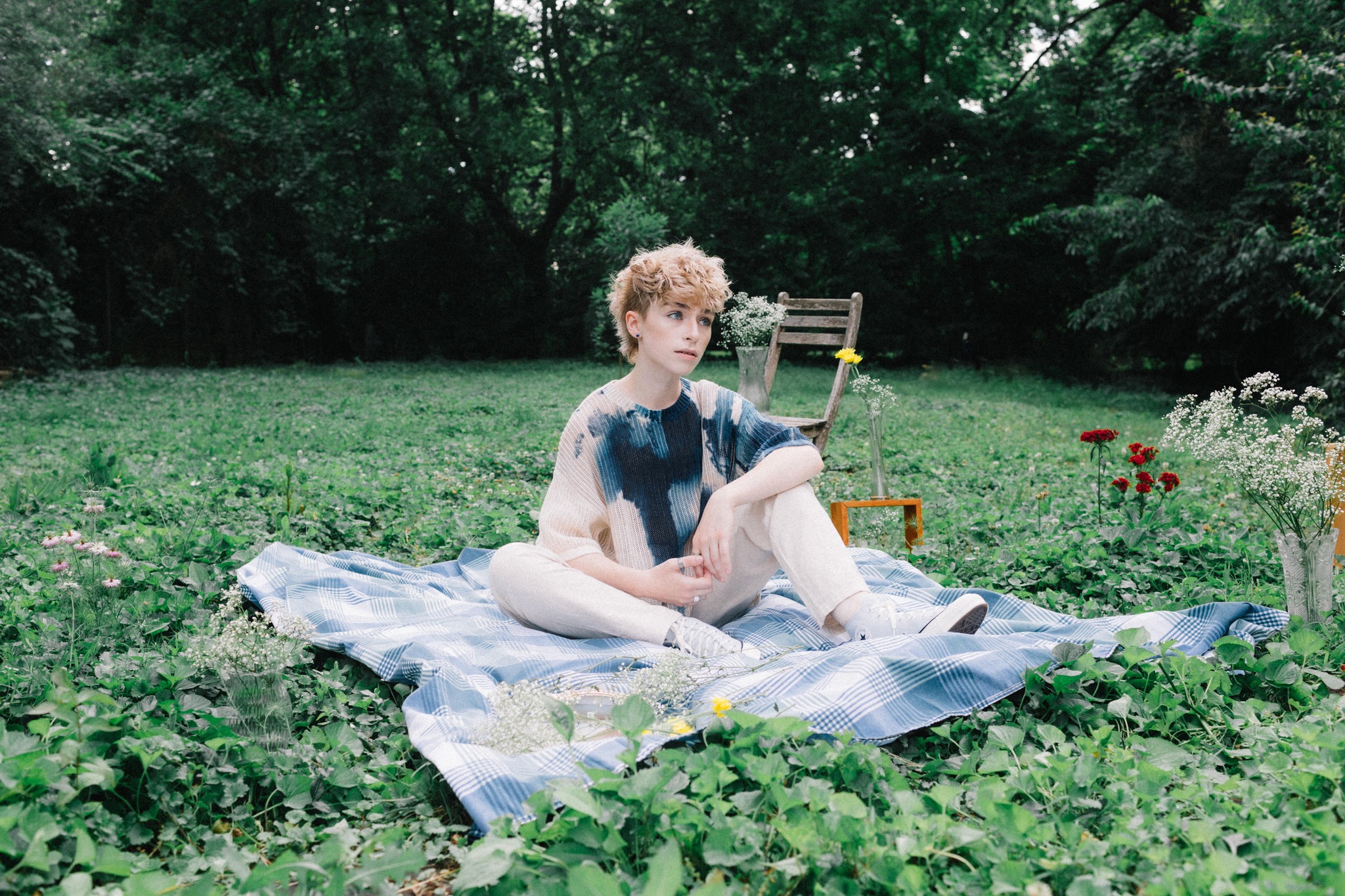 Monday, November 6, 6:30 PM
Addison Grace, Madilyn Mei, Housewife @ The Canal Club – $21 in advance, $25 day of show (order tickets HERE)
I don't like to get too predictable with this column, so when I saw that Portrayal Of Guilt and Ostraca were playing Monday night, I thought "that'd be way too obvious, especially since I wrote about the last Portrayal Of Guilt/Ostraca show that happened in this town." So yeah, if you know me, you know I think that show has some great bands on it. But a bill just like that one has happened in Richmond before, and odds are very good that it'll happen again. Meanwhile, there are other great shows happening around town — yes, even on a Monday night — and I think I'd be doing us all a disservice if I didn't try to encourage us all to get out of our wheelhouse every once in a while, and try some new things.
Addison Grace is a great example of a new artist we sleep on at our peril. This young non-binary trans dude had a couple of internet hits before he came out, but really caught everyone's attention when his debut EP, Immaturing, contained a song called "I Wanna Be A Boy," which was released right around the same time he came out. That's a neat story, and very heartwarming for a trans queer person like myself, but I wouldn't be telling you about it if Addison Grace weren't a really talented fella even separate from his gender identity journey. His debut full-length, Diving Lessons, just came out last month, and is full of great indie tunes, which range from the upbeat mid-period Tegan-and-Sara-isms of killer first single "Pessimistic" to the oh-so-relatable lush sadness of "Strawberry" and the Olivia Rodrigo-meets-The-1975 electro-pop crunch of "Slime," which features some uncomfortably raw lyrics that'll hit home for way too many of us. All in all, Addison Grace has a lot to offer, and his set at The Canal Club is well worth catching. It'll be full of soul-baring vulnerable pop music with incredibly catchy choruses; who doesn't need more of that in their life?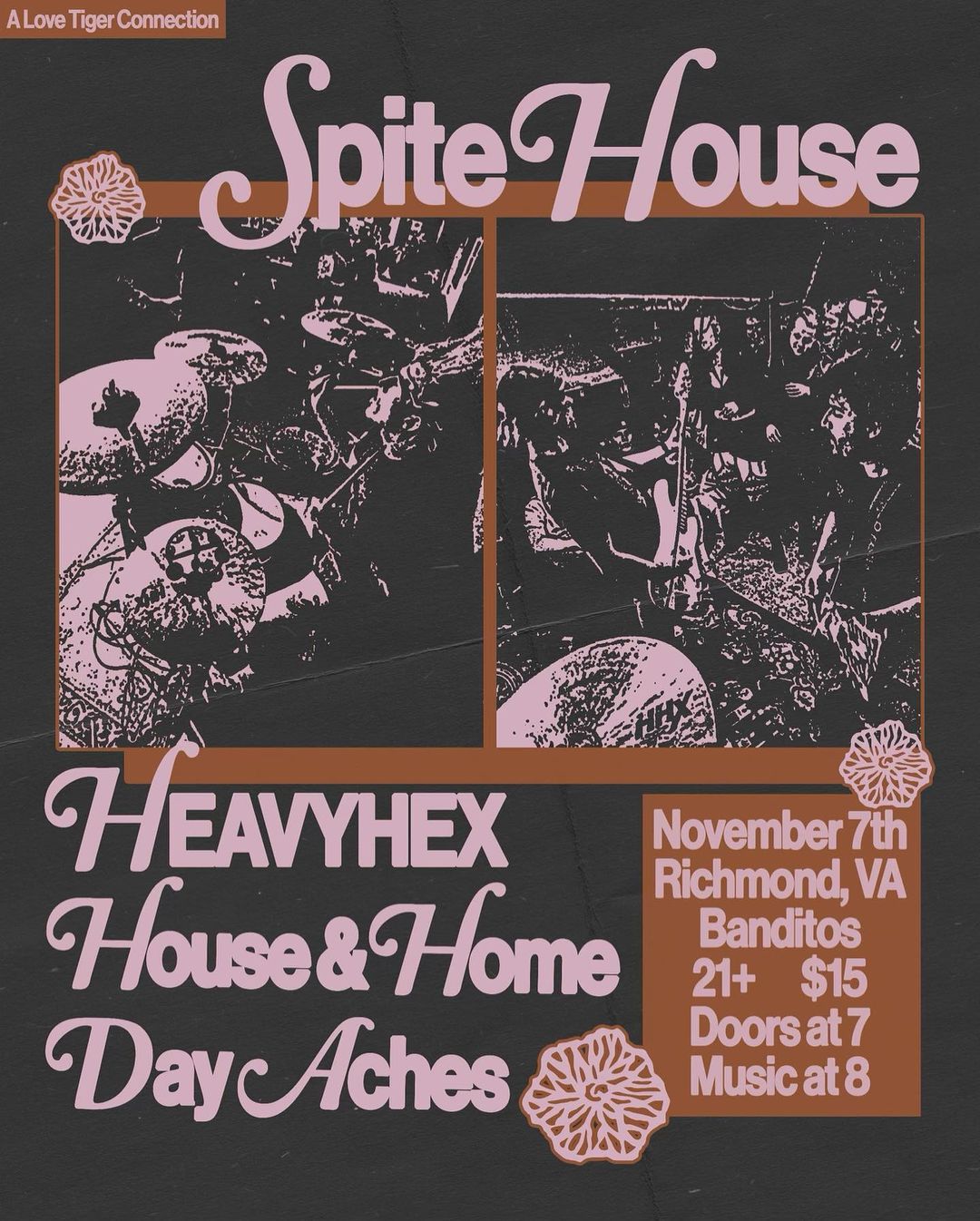 Tuesday, November 7, 7 PM
Spite House, Heavyhex, House & Home, Day Aches @ Bandito's – $15
Let's wrap this one up with a double-shot of post-hardcore fun from out of town — after all, it is "Two For Tuesday," at least if you're someone who also used to listen to XL102 a quarter-century ago. The youths are more likely to identify this weekday as "Taco Tuesday," but Bandito's has got you covered there too. The tacos at this joint are off the chain, and I highly recommend eating at least three before the first band hits the stage. From there, though, the focus is on the music — just as it should be. This show is headlined by Spite House, a Montreal-based trio whose take on post-hardcore involves loud guitars and upbeat tempos that are ever-so-slightly too catchy and rocked-out to be straight-up hardcore. The fact that their new EP, Just For A While, features a cover of "Losing Skin" by the groundbreaking Seattle post-hardcore group Seaweed should tell you exactly where these guys are coming from.
It's the last three songs on that EP, all of which were recorded live, that should act as the most powerful inducement to come out to this one, though. All three of them are tightly played, catchy as hell, and hit even harder than their studio versions, captured on 2022's self-titled debut LP. If this is what we can expect from a full Spite House set, Bandito's is in for a Taco Tuesday treat. As for the other half of our out-of-town post-hardcore double shot, it comes to us from Long Island group Heavyhex, whose chunky guitars and snarling vocals add a hard edge to their darkly catchy post-hardcore tunes, as displayed on the two EPs they released in 2022, Stare and Give Yourself Away. We can probably expect to hear the best tunes from both of those releases, as well as some unreleased awesomeness, during their Bandito's set. The evening is rounded out by two VA locals, House & Home and Day Aches. The former has been proving their emotional post-hardcore bona fides around the Richmond scene for a couple of years now, so you should be prepared for radness from their set. As for openers Day Aches, this Richmond/DC-based act just released One Last Dream Before Dying, a killer LP full of heavy shoegaze rockers that will doubtless appeal to anyone who appreciates the work of Hum, Nothing, or Narrow Head. This is a good time to get on board with this band — and really, with all of them. So come for the tacos, but stick around for a rad evening full of post-hardcore awesomeness from the always-reliable Love Tiger Connection. You'll be glad you did.
---
Email me if you've got any tips for me about upcoming shows (that take place after the week this column covers -– this week's column has obviously already been written): rvamustseeshows@gmail.com
Please consider supporting my Patreon, where I'm documenting my progress on two different novels and (sometimes) writing about music of all types. patreon.com/marilyndrewnecci