RVA Shows You Must See This Week: October 18 – October 24
FEATURED SHOW
Champagne Jam '23
Day One: Friday, October 20, 7 PM
Valkyrie, The Goddamn Gallows, Old Gun Road
Day Two: Saturday, October 21, 7 PM
Scott H. Biram, White Trash Messiahs, Shane Kelley & The Speedloaders 
@ Cobra Cabana – $20 per night, $30 for both nights (order tickets HERE)
There's a certain approach to metal that you'll only find in the American South. It's heavy, it's slow, it's swampy, and it's got a distinctly resinated flavor to it. It also brushes right up against country, bluegrass, and old-time Appalachian folk music traditions — which sounds incongruous when I describe it, but makes perfect sense when you hear it. There are probably several different locales that could claim to be the spiritual home of this musical tradition, but based on the fact that the term "Southern-fried metal" was actually coined in the late 90s by Richmonders Kilara, who used the term as a title for their 1998 singles compilation, I'm gonna go ahead and claim it for Richmond. Therefore it's only fitting that one of the most Southern-fried-metal bars in the world, Cobra Cabana, is located right here in the river city. It's also fitting that the two-night party they're throwing this weekend is a great example not only of Southern-fried metal as a subgenre, but also of all the disparate elements that come together int that subgenre in the first place.
Named "Champagne Jam," after the highest-selling album by 70s Southern rockers Atlanta Rhythm Section, this event features half a dozen acts who should have a great deal of appeal to anyone who appreciates the musical folkways of the American South. But let's start by talking about the band who should make the old-school Richmond heads the happiest: Valkyrie, who headline the first of these two nights. Hailing from Harrisonburg, Valkyrie got started right after the turn of the millennium when guitar-playing brothers Jake and Pete Adams decided to form a stoner-doom metal band. They made a lot of fans around the Richmond area back in the halcyon days of metal shows at Nara Sushi (you young'uns know it as City Dogs these days), and took things to the next level with their 2006 self-titled debut. However, once Pete Adams joined Baroness in 2008, Valkyrie spent a long time on the back burner. They returned to full-time action after Pete left Baroness, releasing their fourth LP, Fear, in summer 2020 — back when no one could go see any bands anywhere. If you haven't seen Valkyrie since Fear dropped, this is the perfect opportunity to catch back up with Valkyrie at a venue that carries a similar spirit to that of Nara back in the day.
But of course, if you dig Valkyrie, there are several other artists on the "Champagne Jam 23" lineup you'll be sure to enjoy, starting with our night two headliner, Scott H. Biram. Known as "The Dirty Old One Man Band," Biram plays that wild n' crazy hybrid of old-school Appalachian folk, Southern blues, and old-school punk that should make fans of legends like Hasil Adkins or The Cramps grin from ear to ear. Biram's next album for Bloodshot Records (the outlaw country label that is certainly his perfect home) won't be out until next year, but you can expect plenty of goodtime tunes both old and new from his set at Cobra Cabana this Saturday night. Other highlights of this two-day party include Michiganders The Goddamn Gallows, who have a slightly more punked-out take on country-infused garage-punk psychobilly freakouts and should certainly make Friday night twice as wild with their set. That first evening will open with Old Gun Road, a countrified singer-songwriter-ish project from members of Inter Arma and other local mainstays. On Saturday night, we'll get to enjoy sets from mysterious reunited Carolina(?) rock n' rollers White Trash Messiahs, who appear to be named after an album by the truly infamous Cocknoose (if you know, you know), and the slightly less mysterious outlaw country combo Shane Kelley and the Speedloaders. All of it should be awesome. So get Southern-fried with Cobra Cabana this weekend, y'all. It's a Richmond tradition.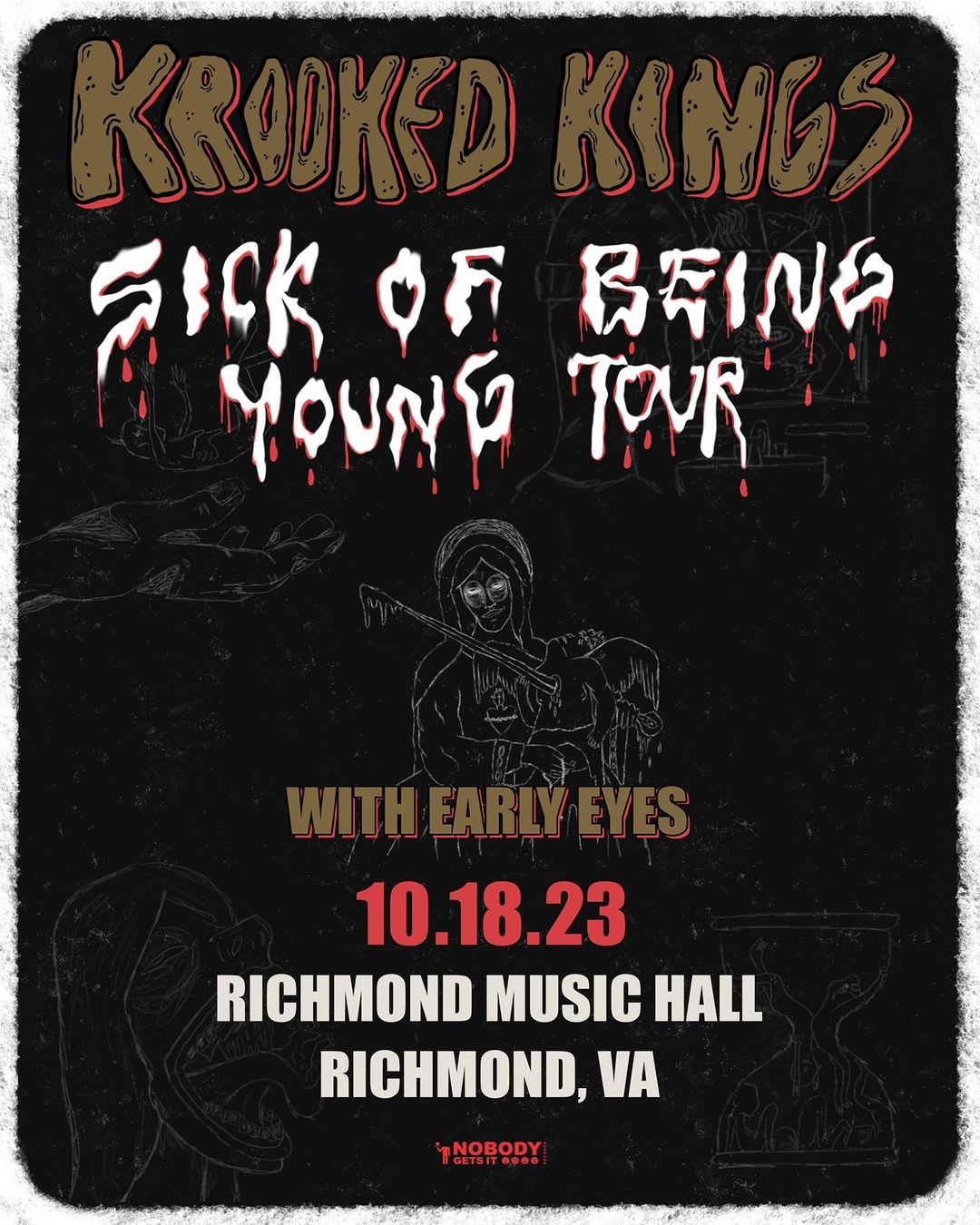 Wednesday, October 18, 7 PM
Krooked Kings, Early Eyes @ Richmond Music Hall at Capital Ale House – $18 (order tickets HERE)
Let's start out with a disclaimer: despite the structure of their band name, Utah's Krooked Kings are NOT a rap-rock band. Indeed, this young quintet of former Mormons may very well not even be aware of Kottonmouth Kings (Utah's pretty out-of-the-way, culturally speaking), but regardless, they definitely do not sound like them. Instead, on their new album, All Out Of Good Days, they play a light, airy brand of indie rock with plenty of melodic guitar leads, lots of catchy choruses, and an unmistakable undercurrent of melancholy. Even the most upbeat, danceable tracks on their album display a subtle world-weariness that's all too relatable. I would think you'd expect no less from a band with songs called "Sick Of Being Young" and "Wish We Could Be Friends."
Krooked Kings should definitely connect with anyone who wants to hear the sound of My Morning Jacket or Band Of Horses at their most upbeat. As for Early Eyes, the Minneapolis band who are opening up this show, you can expect much more of that retro-synth vibe that the kids are all way into these days. They debuted in 2022 with Look Alive!, an album full of bouncy horns that somehow peacefully coexist alongside drum machine bomb-drops and Cameo-style keyboard squiggles. The overall vibe is a big ol' party, one that pulls from half a century of party-music traditions to make sure you never stop shaking your booty throughout Early Eyes' set. These two bands will be quite the Wednesday night dynamic duo, so wear your boogie shoes to this one.
Thursday, October 19, 7 PM
Speedy Ortiz, Baths, Suzie True @ The Camel – $16 (order tickets HERE)
It's good to see Speedy Ortiz back in action. They last presented us with a new collection of songs back in 2018, when they released Twerp Verse. Since then, the band has reconstituted in a completely new incarnation, and longtime Virginia music heads will be delighted to note that former Mass Movement Of the Moth drummer Joey Doubek is keeping the beat for them these days. Also adding former Worriers bassist Audrey Zee Whitesides, Speedy Ortiz sound better and more confident than ever on their latest full-length, Rabbit Rabbit, which dropped last month. I've always enjoyed Sadie Dupuis's signature style of songwriting, which harks back to classic 90s post-grunge groups like The Breeders and Veruca Salt while also exemplifying that wave of early-10s alt-punk awesomeness that initially brought them to wider public consciousness. That said, I actually like the more recent efforts from Dupuis and co. better than the releases that were their initial claim to fame. Low-key, I think there's never been a better time to see Speedy Ortiz than right now in fall 2023.
Therefore, you just know I am wholeheartedly recommending that you make it down to The Camel this Thursday night to rock out with this awesome band. Assuming you like good music, you will definitely be stoked for this one. The addition of Los Angeles electronic musician Baths to the bill will certainly offer a contrast to the sound of Speedy Ortiz, but it should be a welcome one, as Will Wiesenfeld uses potent pop melodies and Postal-Service-style indie-electro beats to get everybody bouncing. Los Angeles-based openers Suzie True will be a fastball pitch for the Speedy Ortiz lovers in the crowd (so, like, all of us), as they generate an energetic, melodic take on power-pop alt-punk on their brand new album, Sentimental Scum (a term I definitely resemble). This show will be a blast from beginning to end, so don't miss it under any circumstances.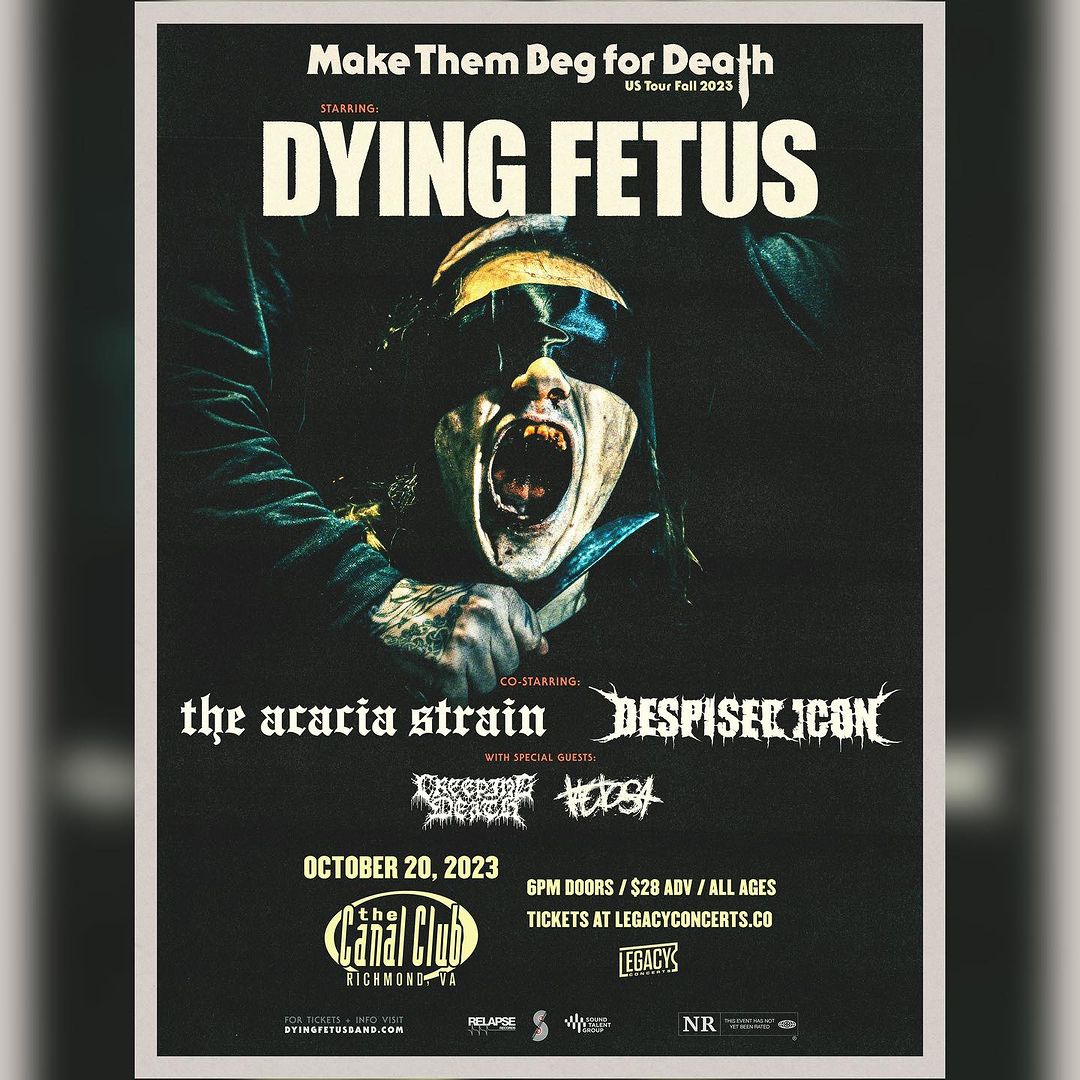 Friday, October 20, 6 PM
Dying Fetus, The Acacia Strain, Despised Icon, Creeping Death, Tactosa @ The Canal Club – $28 in advance, $30 day of show (order tickets HERE)
This is a true delight. Dying Fetus have been an institution in the world of brutal death metal for the past quarter-century, and I for one have been into them since they first appeared on the scene in 1996 with their incredible debut, Purification Through Violence. Since those days, the Maryland-based quartet has stripped down to a trio, and singer-guitarist John Gallagher is the only member remaining from their original incarnation. However, they've never lost sight of what they do best, and their new album, Make Them Beg For Death, displays that fact with pride. Consisting of ten brutal epics with memorable titles like "Enlighten With Agony" and "Throw Them In The Van," the ninth Dying Fetus album is every bit as impeccably structured and chock full of guttural growls, blinding speed, and brutal breakdowns as their unforgettable early albums were. It's been six years since the last Dying Fetus album came out, and the band have rewarded their longtime fans — just as they will do when they hit the stage with power and fury this Friday night at The Canal Club.
What's truly impressive about this lineup, though, is that it manages to be so incredible throughout, even with a veritable legend at the top of the bill. The Acacia Strain have almost as storied a career as Dying Fetus, being one of the bands who pretty much invented the deathcore subgenre when they burst onto the scene back in 2002. This year alone has seen them release two new albums, Step Into The Light and Failure Will Follow, the first of which carries on their legacy of brutal deathcore mosh awesomeness. Meanwhile, the second is a three-song collection stretching nearly 40 minutes, and finds the band delving into the deepest sludge/doom aspects of their sound. The Acacia Strain are clearly at a creative peak; now's a great time to see them. The bill also features Canadian deathgrinders Despised Icon, who I saw nearly 20 years ago at KC's in Fredericksburg and who still seem to be at the top of their game even now, if their latest EP, Deterre, is any indication. Then there's Creeping Death, who headlined the Canal Club back in July and yet are fourth on this bill of death-thrash legends if that tells you anything. Relative newcomers Tactosa, who only have an EP and a few singles out as of now but whose raging, chaotic take on goregrind-metalcore is immediately impressive, start off this power-packed slate of metal amazingness.
Saturday, October 21, 8 PM
Battlemaster, Inter Arma, Heavy Penalty, Infernal Stronghold @ Fuzzy Cactus – $15 in advance, $20 day of show (order tickets HERE)
OK, I'll admit it: we've already talked a LOT about metal in this week's column. And maybe I should feel at least a little bad for putting all the non-metalheads of this city's music scene through all that. But honestly… I don't, and here's why: this city's music scene as it exists today was built on a foundation of metal. Richmond music is the house that GWAR built, a house that Lamb Of God and Municipal Waste added extensively to. This city's musical traditions mostly revolve around metal. So yeah, it's not gonna happen every week, but at least sometimes you're gonna have to hear a whole hell of a lot about metal. Deal with it. Better yet, learn to love it! Because it's the best thing going today. Specifically, this Saturday night at Fuzzy Cactus, where Battlemaster will be celebrating their 20th anniversary as a band with the release of their latest LP, Greedgripped & Spellspoilt.
Featuring members of a variety of legendary Richmond metal bands, Battlemaster has been more active some years than others. However, they have always been an absolutely tremendous live act, with frontman Andy Horn being a particularly brilliant live performer. If you haven't seen Battlemaster before, you're in for a treat at Fuzzy this Saturday night. And if you HAVE seen Battlemaster before, you're in for a treat as well, because they've got a whole album's worth of fresh new rippers to lay on us all. Personally, I've only heard the first single from the album, "Elite Spectral Attache," but it has me very excited for what's sure to be another incredible slice of metal fury from these geniuses. Remarkably enough, this isn't even all this show has lined up for us. For one thing, we'll be getting a set from Philadelphia's reunited and raw-as-ever death metal heroes, Infernal Stronghold (members of which have since gone on to form the infamous Crossspitter). For another, Richmond veterans Inter Arma will be giving us a set — and that's always an amazing time. And finally, this show will feature the live debut of the mysterious Heavy Penalty. Richmond metal — it's what's happening, baby! Find out everything you need to know at Fuzzy Cactus this Saturday night.
Sunday, October 22, 6:30 PM
Lackey, Sad Roach, Hard Copy, Muck @ Bandito's – $10
Look, I'll admit it — I was one of the old punks who got salty when a new California punk band dared to call themselves Hickey recently. Apparently there were a lot of us, because soon after releasing their debut EP on Archfiend Records, that band was forced by public outcry to change their name to Lackey. Maybe I should feel bad for having defended the honor of long-dead legend Matty Luv and the original Naked Cult of Hickey (if Matty was still around, I honestly doubt he'd give a fuck either way), but it is nice that I can now listen to Lackey without a voice in the back of my mind yelling about impostors. Being able to do so has helped me realize something really important: Lackey are a really good band. Their aggressive, synth-infused take on raw hardcore punk really shines on the aforementioned debut EP, Icky, and therefore I think we can all expect a wild and memorable performance out of these guys once they hit town Sunday night.
They'll be joined for a rowdy Sunday night at Bandito's by Sad Roach, who hail from much closer to home — just up 95 in DC. On their latest EP, Fabricated Complexities, Sad Roach deal out some incredibly blown-out and wild punk riffage, then overlay it with chanting group vocals that are snotty and snarky like elementary-school mean girls jumping rope to chants about how ugly the teachers are. The result is a blast, one that any fans of straight-up punk rage are going to love — and I know we've got a lot of fans of that sort of thing around here. Local support on this bill comes from Hard Copy, a new project out of the whole Fat Spirit/Gunboat/Basmati camp that's just about to release a debut full-length entitled 12 Shots Of Nature. From what I've heard, it sounds like they're listening to a lot of Devo and early Pere Ubu — always great influences to bring into play. Muck will open things up with their excellent blasts of catchy punk garage noise. This show's gonna be rad from beginning to end. Show up early, get some tacos, and get ready to have a great time.
Monday, October 23, 8 PM
Desert Sharks (Photo by Stephanie Augello), Dropheads, Steelboy @ Cobra Cabana – $10
This Monday night is a great time to head over to Cobra Cabana, regardless of the fact that summer is well and truly over and the air is starting to have a decided chill to it, especially after the sun goes down. We won't have to worry about any of that on Monday night, though, because Desert Sharks are gonna warm the whole place up with their sheer energy. This New York band calls themselves "gloom punk," but the riffs on their new EP, The Tower, are far more upbeat than that description might lead you to expect. There's definitely a bit of downtuning here, and a tiny bit of crunch around the edges, but if you like the idea of The Donnas circa Spend The Night with a dose of deathrock spookiness stirred in, you're gonna love what Desert Sharks have to offer.
They'll be joined on this bill by two relatively new Richmond bands, both of whom are doing quite a bit to distinguish themselves even in their early days. Dropheads just dropped a two-song EP called The "U & You" Singles, and its peppy power-pop sound is the sort of thing I wish I heard more of in alt-rock/indie circles these days. Can Dropheads get everybody rocking and bouncing again solely through the power of music? If they've got another dozen songs as good as their first two, chances are high. Show up and see what all these boys have to offer. Steelboy will kick off this evening of punk rockin' good times, and if you don't recognize the name, they previously released one EP under the moniker NC17. Since changing their name, they've only released one single, "Bodies In The Basement," but boy is it catchy — a top quality example of what melodic punk can be when its at its best. This is another band that will be on top of the world in a year or two if they've got another half-dozen or so tunes this good. Let's all find out together at Cobra Cabana this Monday night, shall we?
Tuesday, October 24, 7 PM
Grocer, Strawberry Moon, Girlspit, Closet Space @ The Camel – $12 in advance, $15 day of show (order tickets HERE)
This should be quite delightful. Grocer, a Philadelphia-based band who first caught my attention when they played with Lobby Boy at The Camel last summer, are back in town again, and this time they've got another new release with which to delight us all. When they came through last year, they were touring behind 2022's Numbers Game, but since then, they've followed up that release with a six-song EP called Scatter Plot. As much as I dug Numbers Game, the new tunes strike me at first listen as significantly better, and show that Grocer are only further growing into their somewhat quirky and percussive yet always catchy and danceable indie sound. You'll definitely want to come bop around on The Camel's polished dance floor when these folks come through.
But that's far from the only reason you'll want to be in the house for this Tuesday night of indie radness. The trio of local acts offering their support to Grocer are every bit as essential. If you've been paying any attention to Richmond music over the past year and a half or so, you surely know that to be true of Strawberry Moon, who are still riding high on the success of last year's excellent LP, Habitual Creatures. Their latest single, "It's Not About Me," shows that they still have plenty of tricks up their rock n' roll sleeve, so you'll definitely want to be in the house to catch what they'll dish out for us all this Tuesday night. Then there's Girlspit, the synth-powered femme explosion of sexy punk awesomeness from members of Toxic Moxie. We still can't listen to these folks on record, so you'll definitely want to catch their set at this show — because these songs are hot hot hot. The bill for this one is rounded out by Closet Space, who have a more laid-back approach to their tuneful indie rock — one that'll make a perfect appetizer for this evening of musical excellence.
---
Email me if you've got any tips for me about upcoming shows (that take place after the week this column covers -– this week's column has obviously already been written): rvamustseeshows@gmail.com
Please consider supporting my Patreon, where I'm documenting my progress on two different novels and (sometimes) writing about music of all types. patreon.com/marilyndrewnecci