RVA Shows You Must See This Week: October 4 – October 10
FEATURED SHOW
Saturday, October 7, 9 AM – 7 PM
Mozart Festival, feat. Classical Revolution RVA, One Voice Chorus, RVA Baroque, Sweet Potatoes, Raposo string duo, and lots more (Wolfgang Amadeus Mozart painting by Johann Nepomuk della Croce, Public Domain, via Wikimedia) @ St. John's Church and other locations around Church Hill – Free!
Plus:
Saturday, October 7, 7 PM
Mozart Festival Afterparty, feat. Yeni Nostalji, Goldrush, Ceili Galante @ The Poe Museum – $10
A whole bunch of big events are happening this weekend, y'all — events with history and tradition within the local music scene behind them. However, one problem that occurs for me sometimes is when I look at the big local festivals over the weekend and think, "Damn… I've written about these before." I like to keep it fresh, you know? Change it up. And really, what could be a bigger change of pace for this column than for me to abandon the world of popular music entirely, and instead send all of you to a festival celebrating one of the most highly revered and influential classical composers of all time? Because that's what I'm doing: I'm sending you to Classical Revolution RVA's Mozart Festival.
You know about Wolfgang Amadeus Mozart. He was one of the most prolific composers of the 18th century, managing to write 41 symphonies, 22 operas, and more sonatas and piano concertos than we have space to enumerate here. And you definitely know at least one of his songs, because "Serenade No. 13 in G Major" was the classic "Please enjoy the music while your party is reached" soundtrack of the late flip-phone era. And he did all of this in a surprisingly brief time, dying way too soon at the age of 35. It's no wonder that Classical Revolution is spending the entire day on Saturday commemorating his brilliance. The entire festival centers on St. John's Church in historic Church Hill, where Patrick Henry gave the famous "Give me liberty or give me death" speech and the street lamps are still lit by gas (which blew my mind when I discovered it a few years ago). It starts with Mozart-themed yoga in Jefferson Park, and also features events throughout the day centered on things like beer in Mozart's time, Black characters in the works of Mozart, how climate change has affected Austria since Mozart's era, and a Mozart-themed Church Hill walk featuring a discussion of Mozart led by Goldrush's Matt Gold.
But I know what you're thinking: is this all just seminars and activities? Where's the damn MUSIC? Calm down, y'all, I was just getting to that. The musical portion of the day begins bright and early at 10 am with student recitals during the Wolfie Time Children's Event at Bellevue Elementary. Later at that same event, old-time jazz folk group Sweet Potatoes will perform. During an Austrian wine tasting at Second Bottle Wine and Snack Shop, the Raposo string duo will perform some Mozart string duets. Later, at Align, RVA Baroque will perform a Mozart flute quartet and some of Amadeus's dance music. It all builds up to the main event: Classical Revolution's orchestra teaming up with One Voice Chorus to perform the music of Mozart in the sanctuary at St. John's. With One Voice Chorus involved, I imagine will get some of the big opera set pieces from Mozart's most famous works, like "Don Giovanni" and "The Magic Flute." It's sure to be a tremendous performance — the kind of thing you won't have another chance to experience anytime soon.
And here's the best part: Classical Revolution RVA's Mozart Festival is absolutely free. So regardless of which events you attend and which ones you skip, you're sure to get an incredible amount of music and culture — and it won't cost you a dime. A bonus: there's one heck of an after-party taking place down the hill at the Poe Museum after the big performance at St. John's. It'll feature a performance by Richmond's premier classical indie-pop group, Goldrush, along with a set from local Turkish-speaking retro-pop group Yeni Nostalji and one from virtuoso folk performer Ceili Galante (who you may also recognize from The Great Beforetimes). That party will cost you ten bucks to get in, but it'll be worth it — a delightful way to cap off an incredible day of music and history.
Wednesday, October 4, 9 PM
R-Complex, Obsidian, Creaturrr.xXx, Hunting Dog @ Fallout – $10
Over the years, industrial music as a genre has come to be identified largely with a particularly gloomy form of dance music. And don't get me wrong, I dig that sort of dance music. Sisters Of Mercy are a lot of fun to put on at top volume while you pogo around a dark room full of flashing strobes. But I also like it when people from the world of industrial music are able to keep it old school, which in the world of industrial music means blasting people with harsh noise that only vaguely resembles conventional music. R-Complex keeps it real like that, having begun as the experimental noise side project of Prisoner guitarist Pete Rosza and evolving into something slightly more structured and danceable over the course of the group's musical history. 2022's Overlord sounds like The Birthday Party and Skinny Puppy getting into a fight over the last morsel of food in the middle of a post-apocalyptic hellscape. Which is to say: it's fucking awesome. And it's sure to get both the weirdo noise kids in their dirty black Nurse With Wound t-shirts and the goth-industrial kids in their clean black KMFDM t-shirts doing stompy dances at Fallout tonight.
R-Complex will be joined by three other Richmond outfits who also tap into the dark moods and harsh textures of industrial noise, each in their own unique way. Obsidian has a sort of gloom hovering about their spooky, atmospheric music that might remind one of the most depressive end of the doom metal spectrum — though considering their electronics-driven sound, a more apt comparison might be to latter-day Ulver. Hunting Dog's ambient electronic music carries an air of foreboding about it, as if you're in a horror film that's about to take an abrupt turn for the worse. If you focus on the music, though, I promise you'll make it through. As for Creaturrr.xXx, I know very little about this artist, but based on their inscrutable social media presence, I'm expecting something truly weird. This whole show will be at least a little bit weird, in fact… but isn't that what you want when you venture into the depths of Shockoe Bottom to go to a fetish club for an industrial show on a Wednesday night? Embrace the weird, people. Hit this one up.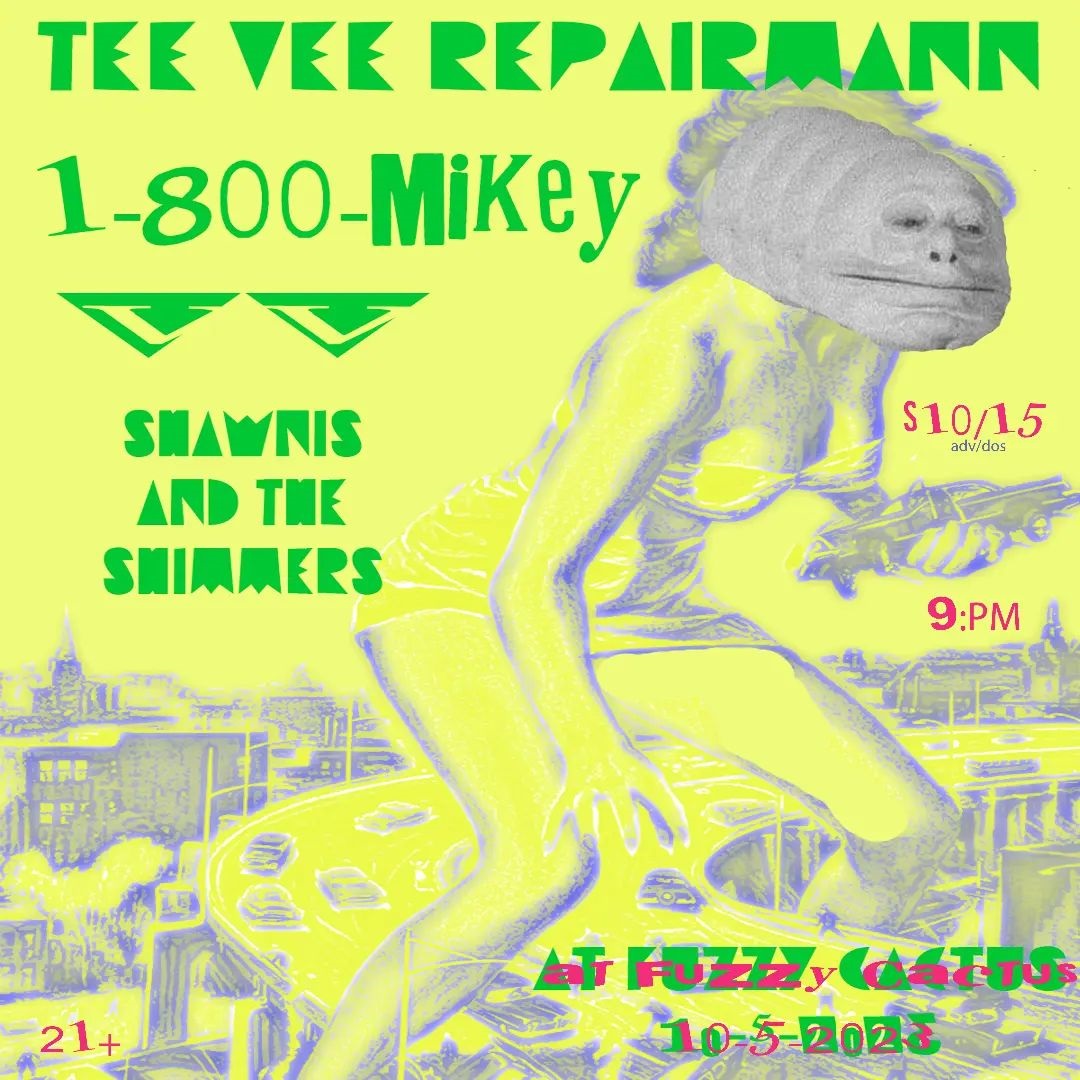 Thursday, October 5, 8 PM
Tee Vee Repairmann, 1-800-Mikey, VV, Shawnis And The Shimmers @ Fuzzy Cactus – $10 in advance, $15 day of show (order tickets HERE)
Oh boy, it's a rock n' roll show at Fuzzy Cactus. Those are always a blast! This time around, the evening is headlined by Australian garage-pop rockers Tee Vee Repairmann, the latest project of talented singer-guitarist Ishka Edmeades, who has previously been associated with bands like Satanic Togas, Research Reactor Corporation, and a whole lot more. Edmeades recorded the new Tee Vee Repairmann album, What's On TV?, in his living room on an eight-track cassette recorder. The result is an album full of catchy pop tunes overlaid with a crispy layer of fuzz, almost as if you were tuning this album in on a radio station that comes from the big city just far enough away from your house that you can't get it perfectly. These songs benefit from that layer of fuzz, though, receiving a raw edge and an uptempo aggression that suits Tee Vee Repairmann's music to a tee.
Fellow Australian 1-800-Mikey will join Tee Vee Repairmann on this tour, and while there is a bit of breathing room between the new Tee Vee Repairmann album and 1-800-Mikey's 2022 debut, Plushy, they are very much on the same page. Both generate a similar acoustic-driven soft-but-frantic punk/pop tension of the sort that fans of later Jay Reatard material should recognize and appreciate. These two will make one heck of a team when they take the Fuzzy Cactus stage Thursday night. They'll also pair well with noisy postpunk trio VV, who headed out on tour recently with a tape of new material that will, if rumor has it right, become a full-fledged EP sometime soon. The tour tape is an exciting listen, full of snotty energy and raw, harsh riffs. As always, they leave you wanting more — and you can get more by showing up at this show. Meanwhile, fellow Richmonders Shawnis And The Shimmers, who open this gig, just released a new EP of their own. It's more of the raw yet downright toe-tapping garage-style punk pop this group has been bringing us for the past few years now. Like every other band on this bill, they have a lot to offer. You're gonna want to show up early and stay late for this one.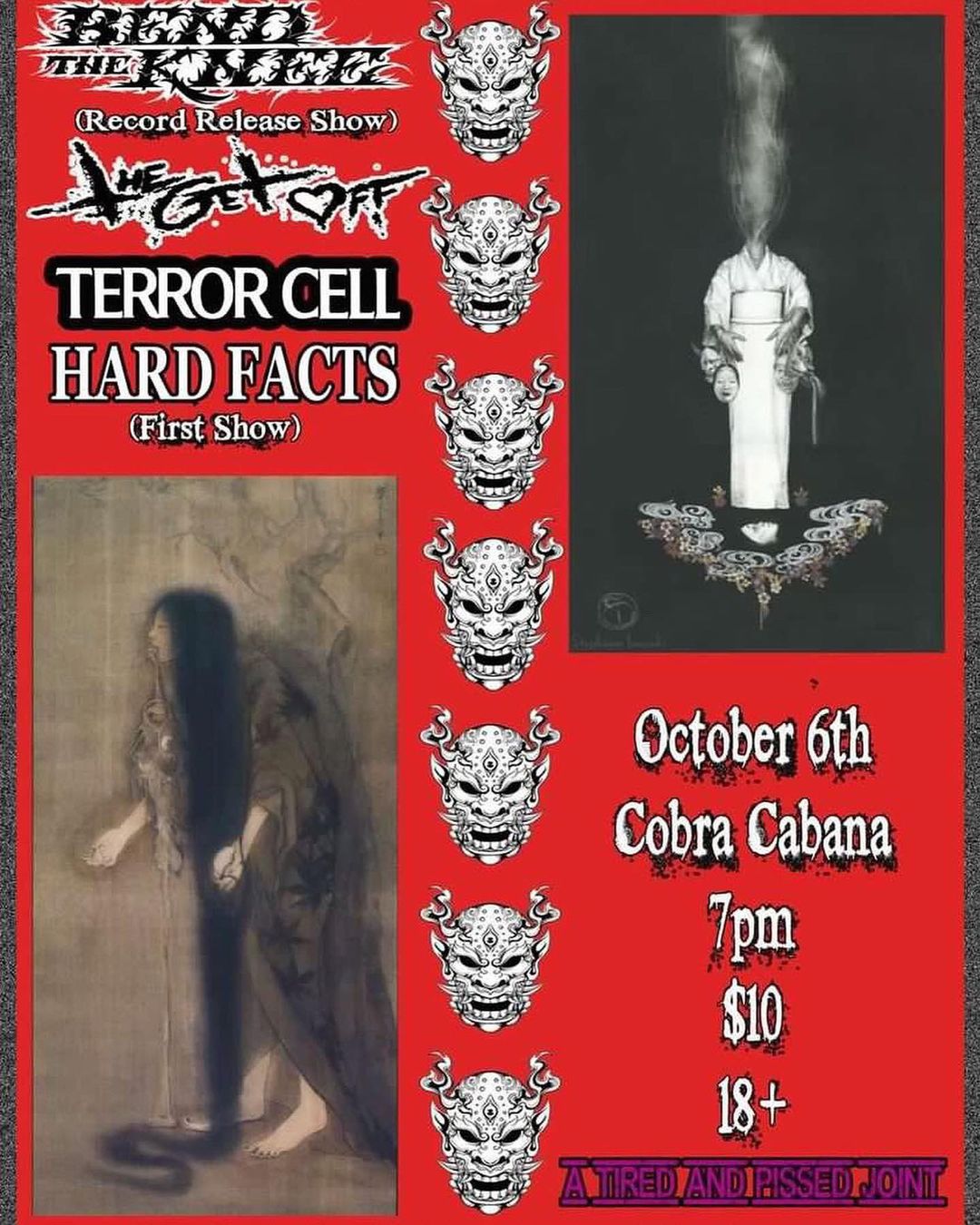 Friday, October 6, 7 PM
Bend The Knee, The Get Off, Terror Cell, Hard Facts @ Cobra Cabana – $10
This one came out of nowhere for me, and once again I am thankful for the many of you who send me tips on shows and bands I might otherwise not come across. This show acts as a record release celebration for Bend The Knee, who have just released their first full-length, Eyes Behind The Algorithm. When, at the suggestion of one of my loyal readers, I gave it a listen, I was blown away. Bend The Knee are so goddamn good at the technical yet brutal form of metalcore they play, it seemed impossible that I'd missed out on them up to this point. Of course, the reader who emailed me also mentioned that three members of Bend The Knee were previously part of Fredericksburg metalcore group Genosha, who I always loved, so it started to make more sense.
Whether you've been up on Bend The Knee for way longer than me or you're having to join me in requesting a late pass on this one, you should definitely make sure to head for Cobra Cabana this Friday night so you can partake in the revelry around the release of Eyes Behind The Algorithm. Hear me now and remember me later: this album will be in the conversation when best Richmond releases of 2023 are being tallied up at the end of the year. The show will also feature a number of other more familiar local talents, including the harsh hardcore punk aggression of The Get Off, and the powerful metalcore brutality of Terror Cell. Plus, the whole thing will start off with the first live performance ever by Hard Facts, a new band from the Tired & Pissed Records camp featuring members of 3:33, Cremains, Lounge Lizzard, and The Get Off. That's plenty of reason to show up to this one on time, but more importantly, make sure you stick around all night, because you really owe it to yourself to get familiar with Bend The Knee as soon as possible. Mark my words, we will be hearing more from this band.
Saturday, October 7, 7:30 PM
Friendship Commanders, Tiny Lights, Piranha Rama @ Get Tight Lounge – $10 in advance, $12 day of show (order tickets HERE)
Here's a show with a lot of variety to offer, all brought to you by top-quality bands in their respective genres. Friendship Commanders, a Nashville-based duo who released their latest full-length, Mass, just last week, bring a thick sludge-rock sound that's so heavy, you don't even miss the bass this band's lineup doesn't include. However, a completely different sensibility is added overtop of that heavy sound by frontwoman Buick Audra's hypnotic voice, which is flawlessly melodic and cuts through the powerful riffs this band lays down without ever undermining their imposing heavyosity. Audra's voice will surely have to receive powerful amplification in order to compete with the layers of pounding drums and rumbling guitars this band lays down, but she seems more than equal to the task, and the final result promises to be a blast of heavy fun regardless of which one wins out.
The two Richmond bands rounding out this bill are very talented, but both sound quite a bit different from Friendship Commanders. Then again, variety is the spice of life, or so I've been told. This should therefore be a very spicy show, as Tiny Lights will bring us a totally different vibe, one rooted in indie rock and the Paisley Underground sound of bands like Rain Parade and The Dream Syndicate. That classic mid-80s heartland-psychedelia sound is unmistakable on the group's 2021 self-titled debut, and should be present in abundance during their set. And of course Richmond mainstays Piranha Rama, whose extensive lineup and facility with many different instruments always makes them entertaining to see, will bring a psychedelic indie sound with worldwide influences that's sure to become a classic. You'll never regret heading out for this one, folks.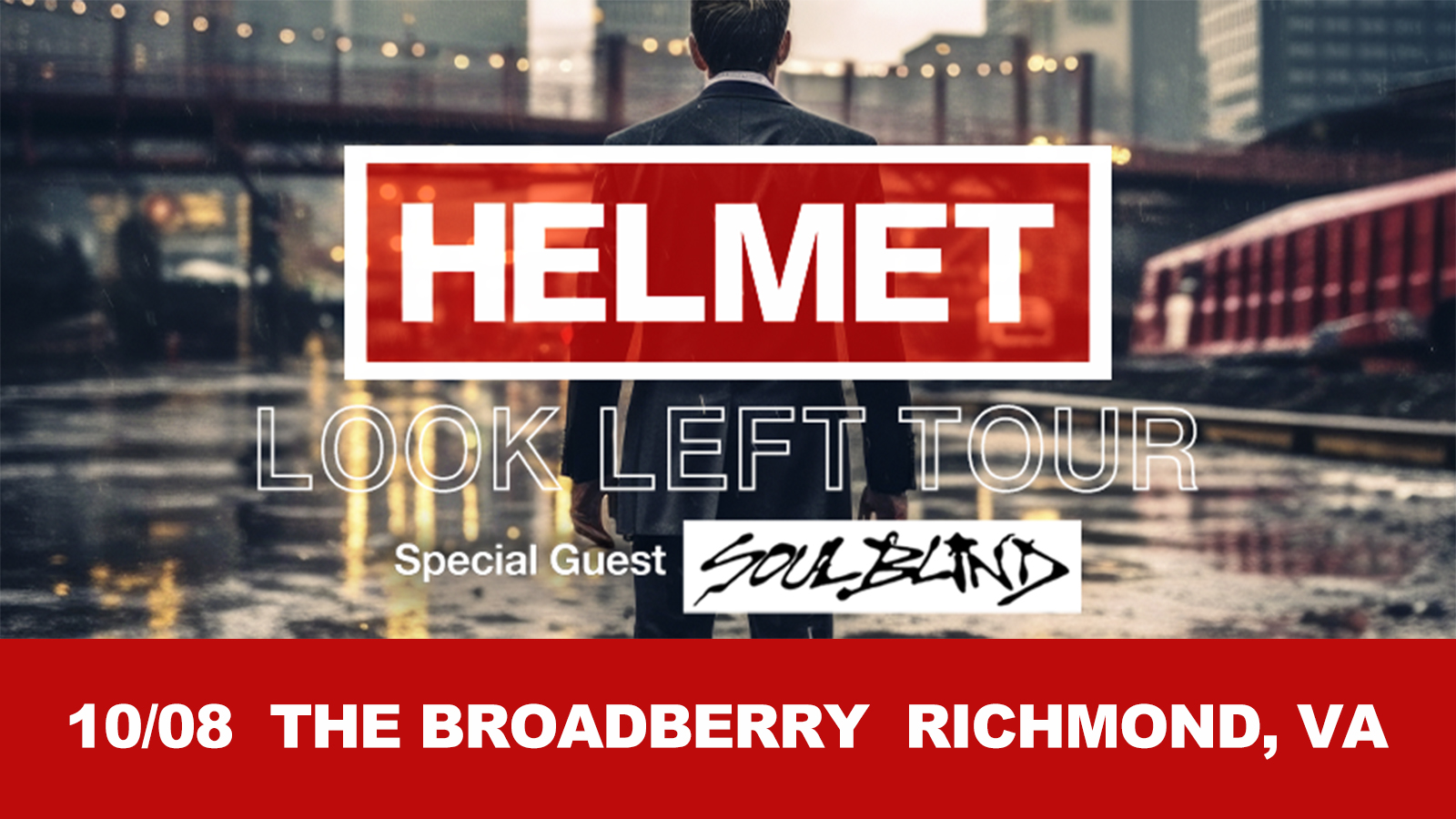 Sunday, October 8, 7 PM
Helmet, Soul Blind @ The Broadberry – $29.50 (order tickets HERE)
Back when I was in high school — a good three decades or so ago, give or take — I was a huge Helmet fan. When we had to make fake campaign commercials to run in a mock local election for government class, I used "FBLA" by Helmet as a backing track for my rant, and got laughed at by my classmates (and my teacher, who was also the football coach) for it. But I got the last laugh when Helmet's videos were all over MTV a year later. In the early 90s, they were one of the biggest bands going, and for good reason — their music stripped thrash metal down to its core essence, and approached that bare-bones crunch with a sensibility born from jazz and progressive rock. They created a deceptively complex form of musical heaviness that none of their many imitators were ever really able to capture. Even as they played crunching power chords in a manner sure to make crowds of hardcore and metal kids lose their minds, they always worked in subtle melodies, off-kilter time signatures, and complicated structures that set their music apart from the pack.
Helmet's original lineup fell apart in the mid-90s, but band founder Paige Hamilton returned with a new lineup in the late 00s, and since 2010 the band has had a steady lineup that's produced several excellent albums since their reformation. As Hamilton has matured, his voice has definitely changed, going from a harsh bark to a more melodic yet still aggressive croon on recent work. Don't think that Helmet's lost their edge, though — "Holiday," the first single from their forthcoming ninth LP, Left, contains lyrical couplets like "Tongue tip, you dipshit/Asshat, fuckwit." Helmet's live set should be every bit as harsh and powerful, while still avoiding predictability and challenging listeners after all these years. They're joined on this tour by Soul Blind, a great new band out of New York whose 2022 debut, Feel It All Around, showed that Soul Blind would not only have fit right in on the last hour of Headbangers Ball back in my high school days, they'd have been better than most of the bands they stood alongside. If you dig Jesus Lizard, Badmotorfinger era Soundgarden, Quicksand, and Jane's Addiction, you'll be way into Soul Blind. Show up on time for this one.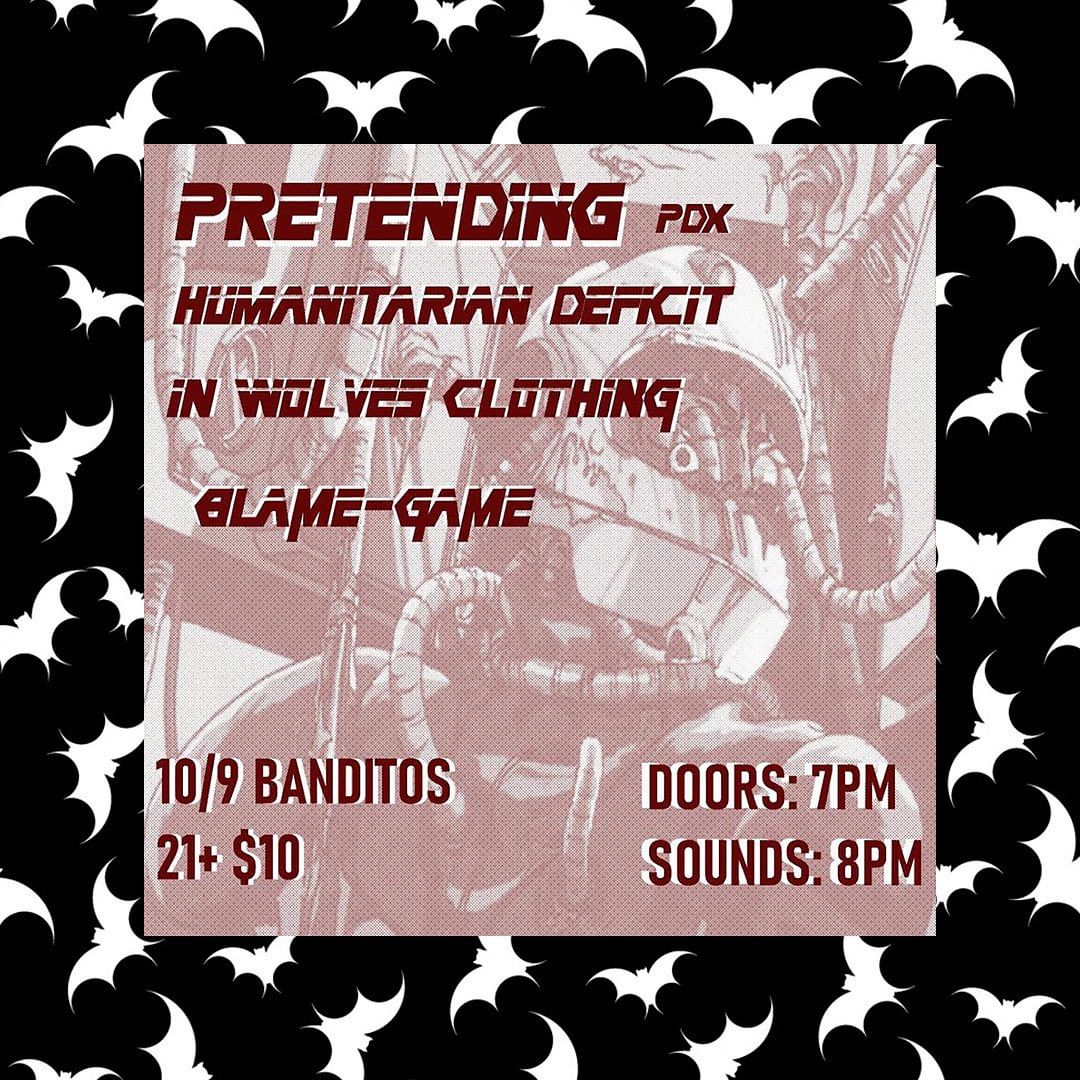 Monday, October 9, 7 PM
Pretending, Humanitarian Deficit, In Wolves' Clothing, Blame Game @ Bandito's – $10
As the work week lurches to a start once again, it's a great time for a show full of raw screaming rage — and maybe some nachos while you're at it. All of those things will be available to you in abundance at Bandito's this Monday night, as Portland trio Pretending roll through town with a harsh, no-frills sound that lands somewhere between fast hardcore and screamo. If anything, it might be fair to break out the oft-misused term "emo violence" in relation to these folks — when I listen to their album, It's Fine, I find myself thinking of long-ago bands that are mostly forgotten today: Manta Ray, Eurich, The Yah Mos, maybe even Mohinder. But if you're NOT a 40-something screamo kid with a massive 30-year-old record collection, you'll probably appreciate it if I drop the obscure references and just tell you that this band has a ton of energy, a surprising undercurrent of melody, and a core mission of high-speed screaming fury. If that sounds awesome to you — and it should — you will dig Pretending.
Closer to home, Humanitarian Deficit has been responsible for some very similar songs in recent months, which is a big part of the buzz they've been able to generate over the last year or so. Their blown-out, high-treble approach to screamo has the potential to scare off potential converts unprepared for the sheer noise this band has on offer, but if you're able to appreciate the wall of shrieking chaos, you'll find as you grow used to their sound that there's a surprising amount of emotion and melody hidden within the sheets of distortion this band cranks out. The same is true of In Wolves Clothing, the band of local screamo vets who've recently returned to action on a full-time basis after keeping a very low profile for the past couple of years or so. If the split they released last year with Letterbombs is any indication, this band still has plenty more intense noise to bring to us all, so you'll definitely want to catch their set. The evening begins with a performance by local newcomers Blame Game, whose stripped-down take on fast old-school hardcore will get this evening started off in strong fashion. Shake off the Mondays and come out for this one.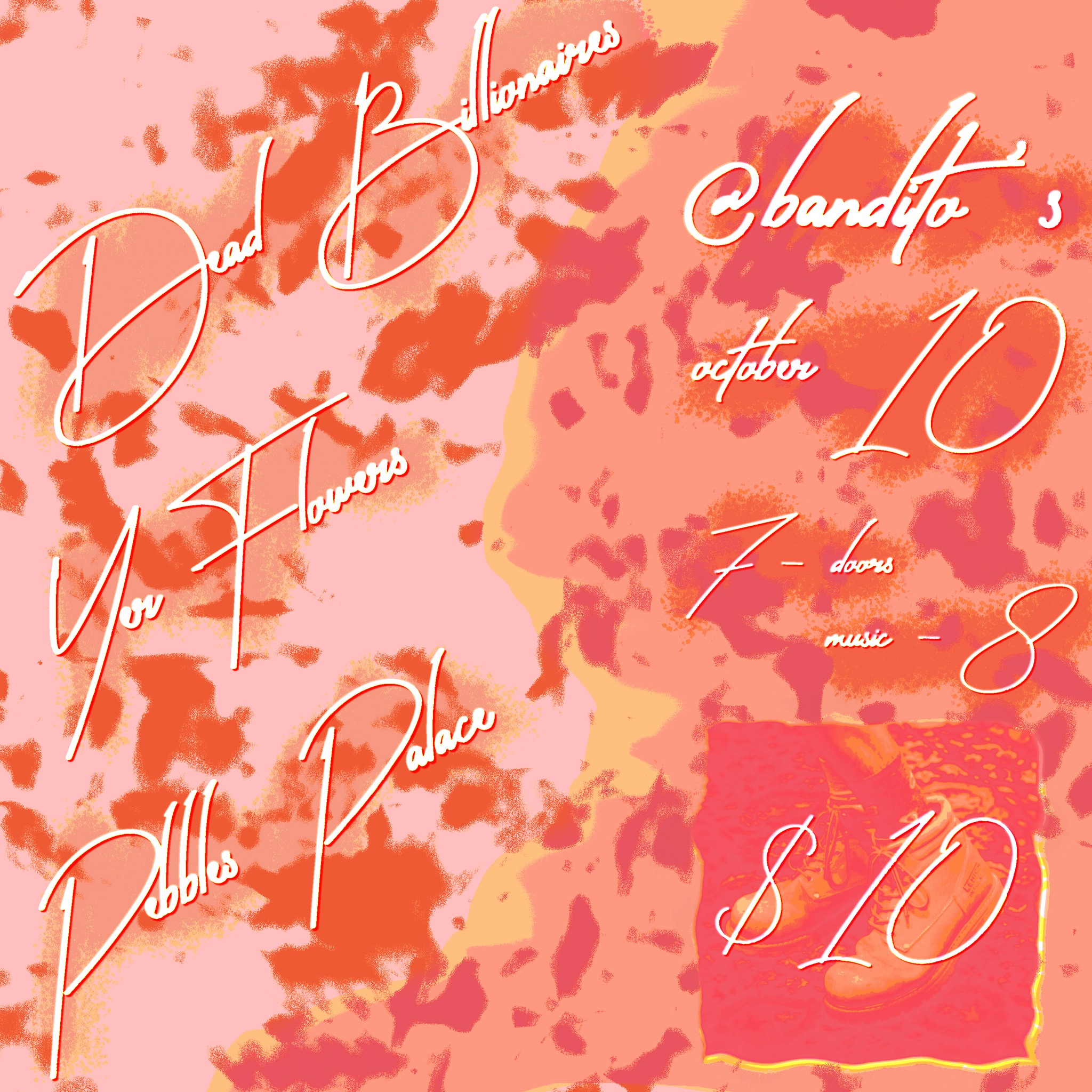 Tuesday, October 10, 7 PM
Dead Billionaires, Yer Flowers, Pebbles Palace @ Bandito's – $10
In the post-pandemic era, we're all getting used to Dead Billionaires being one of the more reliable deliverers of fun upbeat rockin' tunes with a strong lyrical conscience, but that doesn't mean we should start taking them for granted. Richmond is truly lucky to have this band around, and if you're one of the few who hasn't gotten familiar with this trio since the release of their debut LP, Disaster Preparedness Coloring Book, this is a great opportunity for you to do so while enjoying some delicious tacos. You might be better advised to eat before their set, though, because this band is gonna get you up and dancing for sure.
Indeed, my real advice would be to show up early and eat before the first band gets started, as all three of these talents will make you want to spend their sets on your feet and moving to the beat. Yer Flowers, the out-of-town band on this bill, come from Knoxville and bring a simultaneous country-style song structure and a ramshackle punk energy. I've only heard two of their songs — because indeed, that's all they've released — but as much fun as both of them are, I certainly expect this band's entire set to be an upbeat blast. Pebbles Palace will start the whole night off with their highly creative genre-hopping take on psychedelic rock epics, and you'll wanna get there on time to hear what these boys have to offer, especially if you haven't previously had the pleasure. Don't sit around bored on a random Tuesday night — come rock out at Bandito's. You'll be glad you did.
---
Email me if you've got any tips for me about upcoming shows (that take place after the week this column covers -– this week's column has obviously already been written): rvamustseeshows@gmail.com
Please consider supporting my Patreon, where I'm documenting my progress on two different novels and (sometimes) writing about music of all types. patreon.com/marilyndrewnecci