RVA Shows You Must See This Week: September 6 – September 12
FEATURED SHOW
Friday, September 8, 8 PM
Chandler, Logos The Poetic, Kaay Taurus, Lunch $pecial @ RVA Boombox – $10 (order tickets HERE)
It's been fun to keep up with Chandler over the past year or so, as he continues the streak he's had going for a couple of years now: no albums, no EPs, just a steady stream of singles, one every month or two, each one upping the ante just a bit. There've been seven so far in 2023, and they show that he's at the top of his game these days — a sardonic Southern version of Action Bronson, rolling out lyric after lyric of witty wisecracks and hilarious punch lines that don't consider any topics off-limits. Listening to his music is just so much fun. And if you ask him, a lot of people are getting into it: he likes to brag about his streaming numbers on his tracks, carrying on that legendary tradition of rappers mainly rapping about how they are the best rapper. I can't fact-check him — I listen on Apple Music, where they don't tell you how many times a song's been streamed. But I've streamed 'em all quite a few times my own damn self, and that's good enough for me.
If you're not streaming Chandler tracks on the daily yourself, I highly recommend getting into it. Start with this summer's viral track with YNG Martyr and Stafford Beats, "Figure It Out," which will have you thinking about Summer Sanders for the first time in at least a decade. His newest track, "East Coast Residents," is even better — but listen, if you really want to find a deep-cut banger, go back to his early-2023 sleeper, "New Song Mix 1 Sorry I Don't Know The Name" (yes, that really is what it's called), which is my fave since last fall's "Paste" (the track that brought Chandler to my attention in the first place).
But maybe you don't really cotton to this newfangled thing where artists just throw loosies onto streaming over and over for years. Maybe you want a full set of Chandler bangers that you can just chill out and enjoy. For that, unless you want to spend a couple hours putting together a playlist, your best bet is to head over to RVA Boombox this Friday night and catch his headlining set. Not only will you get banger after banger all night long, you'll get to see the man himself spit lyrics, crack jokes, and flirt with the ladies right in front of you. You're not going to find a better entertainment deal in Richmond on a Friday night — especially if you like to dance. Chandler will be joined on this bill by a variety of local artists with a lot to offer in their own right as well. Moody rhyme-spitter Logos The Poetic will bring his intense flow to the stage. Local soul diva Kaay Taurus will bring the smooth, funky sounds. And of course, we'll get a set from Richmond hip hop goofball Lunch $pecial to get things started on a high note. Hell yes.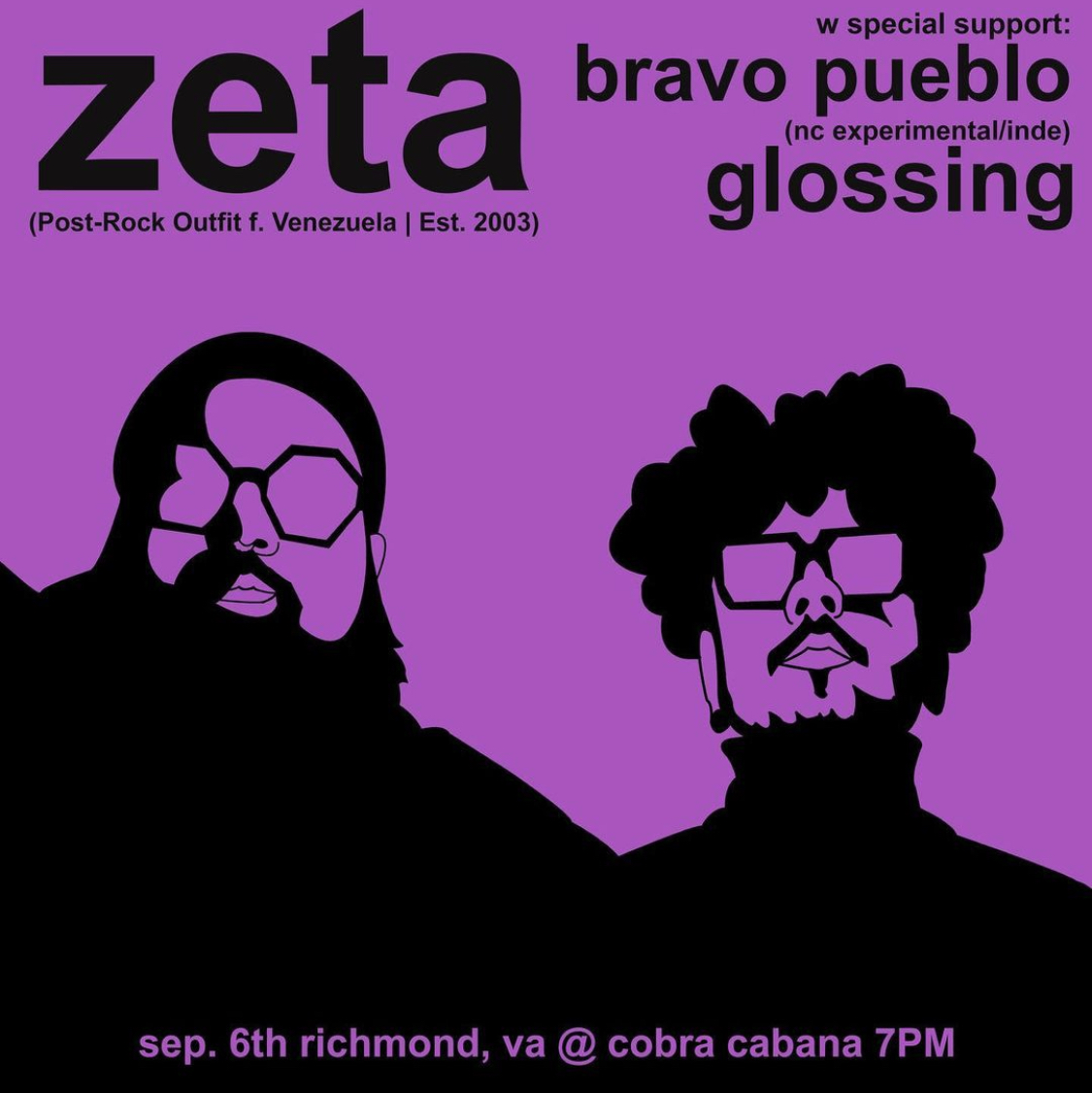 Wednesday, September 6, 7 PM
Zeta, Bravo Pueblo, Glossing @ Cobra Cabana – $12 (order tickets HERE)
When I first heard about Zeta, it was through the screamo scene. Like a lot of underground subgenres of the punk world, the screamo scene is truly worldwide, so it was no surprise to me that a band from Venezuela was getting a lot of shine within that world. But once I actually listened to Zeta, I had to reevaluate. This seven-piece group was way beyond screamo. On last year's Todo Bailarlo, they collaborate with an international collective known as The Abajo Cadenas Orchestra to create an album that layers Latin American sounds like bossa nova and calypso overtop of noisy guitars and driving rhythms that hark back to the band's origins within post-hardcore and post-rock circles. The result reminds me of The Mars Volta if they hadn't gotten too self-indulgent: funky, experimental, multi-layered, but still intense, driving, and loaded with memorable riffs.
Zeta won't be bringing The Abajo Cadenas Orchestra with them when they come to Cobra Cabana tonight, but the band's basic lineup is expansive enough that we'll definitely receive a multi-layered musical experience regardless. From percussion breakdowns to instrument-hopping jams and feverish dances, Zeta will keep us all moving and flowing with their all-encompassing live experience. It's not something you want to miss. Zeta will be joined by Bravo Pueblo, a North Carolina-based group with roots in Latin America and a funky electronic sound that combines modern pop with classic tropical sounds of the Caribbean. Local support will be provided by Glossing, and if you haven't yet connected with the moody, noisy, yet melodic take on shoegaze-y post-hardcore these folks have been putting out, well, make sure you show up to this one on time, because you'll want to get familiar ASAP.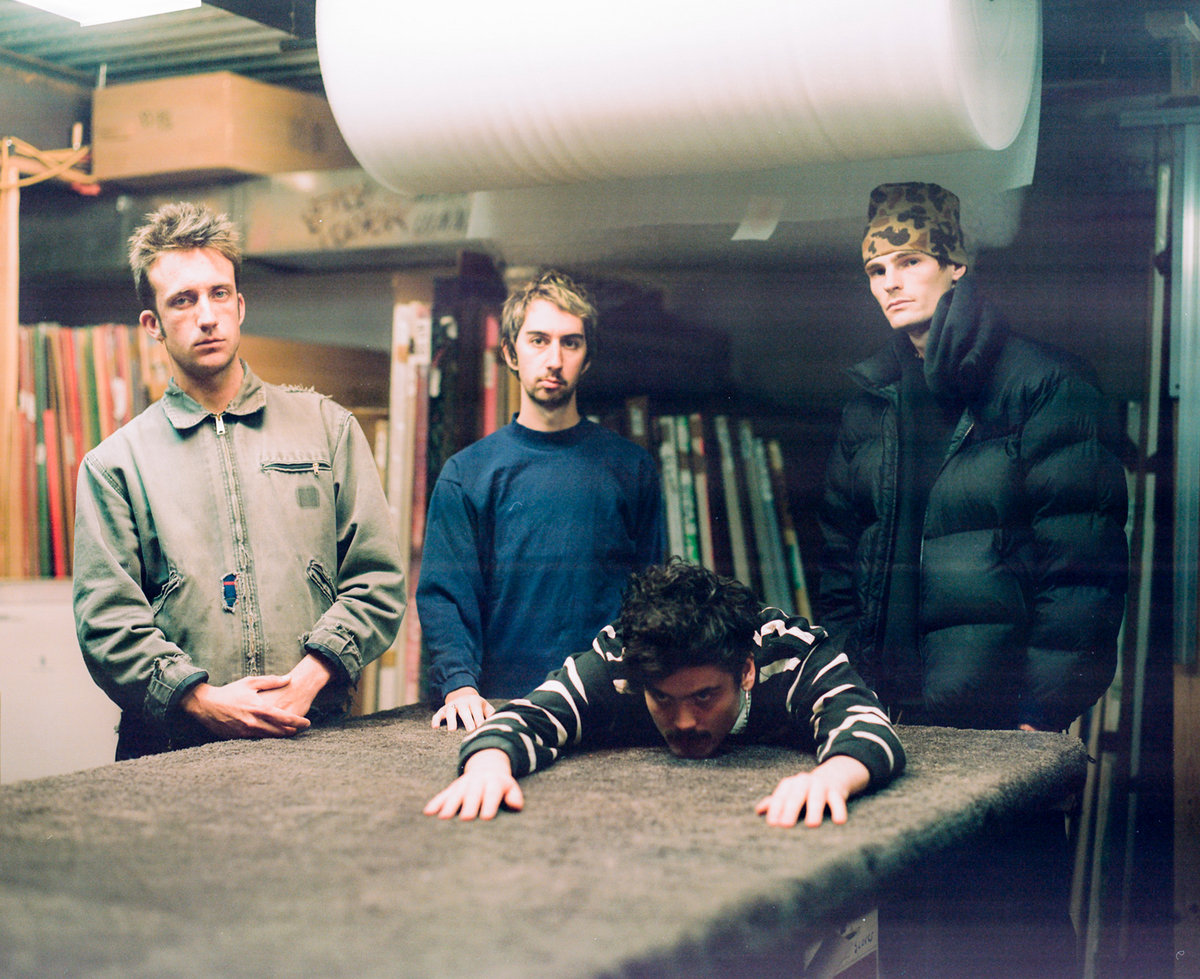 Thursday, September 7, 7 PM
Model/Actriz, Rare DM @ Richmond Music Hall at Capital Ale House – $15 (order tickets HERE)
This one's gonna be heavy. Model/Actriz (it's Spanish, it means what you think it means) are a New York band with an abrasive, noisy sound that is somehow kept entirely under control throughout their recently released debut, Dogsbody, even as vocalist Cole Haden constantly sounds like he's about to explode with the sheer stress of repressing all of his primal urges. It's that intense repression, combined with the harsh yet undeniably funky postpunk grooves of his backing band, that makes Model/Actriz such a blast to listen to. And that's if you're just walking down the street bumping this album in your headphones.
Now imagine how hectic things will get when Model/Actriz takes the stage at Richmond Music Hall this Thursday night. Once they can really unleash the full strength of their sound at full volume, you're sure to be overcome by two wildly opposing urges — one to freak the fuck out, the other to dance like you're clubbing the night before the apocalypse. Whether these urges resolve themselves with a wild mosh pit or a floor full of people shaking their asses and stomping their Doc Martens, well, you won't know until you get there. But one thing's for certain: no one's gonna be sitting still when these guys are doing their thing. They'll be joined by fellow New Yorker Rare DM, who apparently named their project after how often I get messages on social media that aren't from creepy dudes (that's a joke — I also get lots of messages about upcoming shows. I like those messages! More shows, less creepers!). In all seriousness, Rare DM is much closer to electro-dance than it is to Model/Actriz's intense, noisy postpunk, but it does retain a certain air of barely-repressed mania that's sure to ably set the tone for what's to come.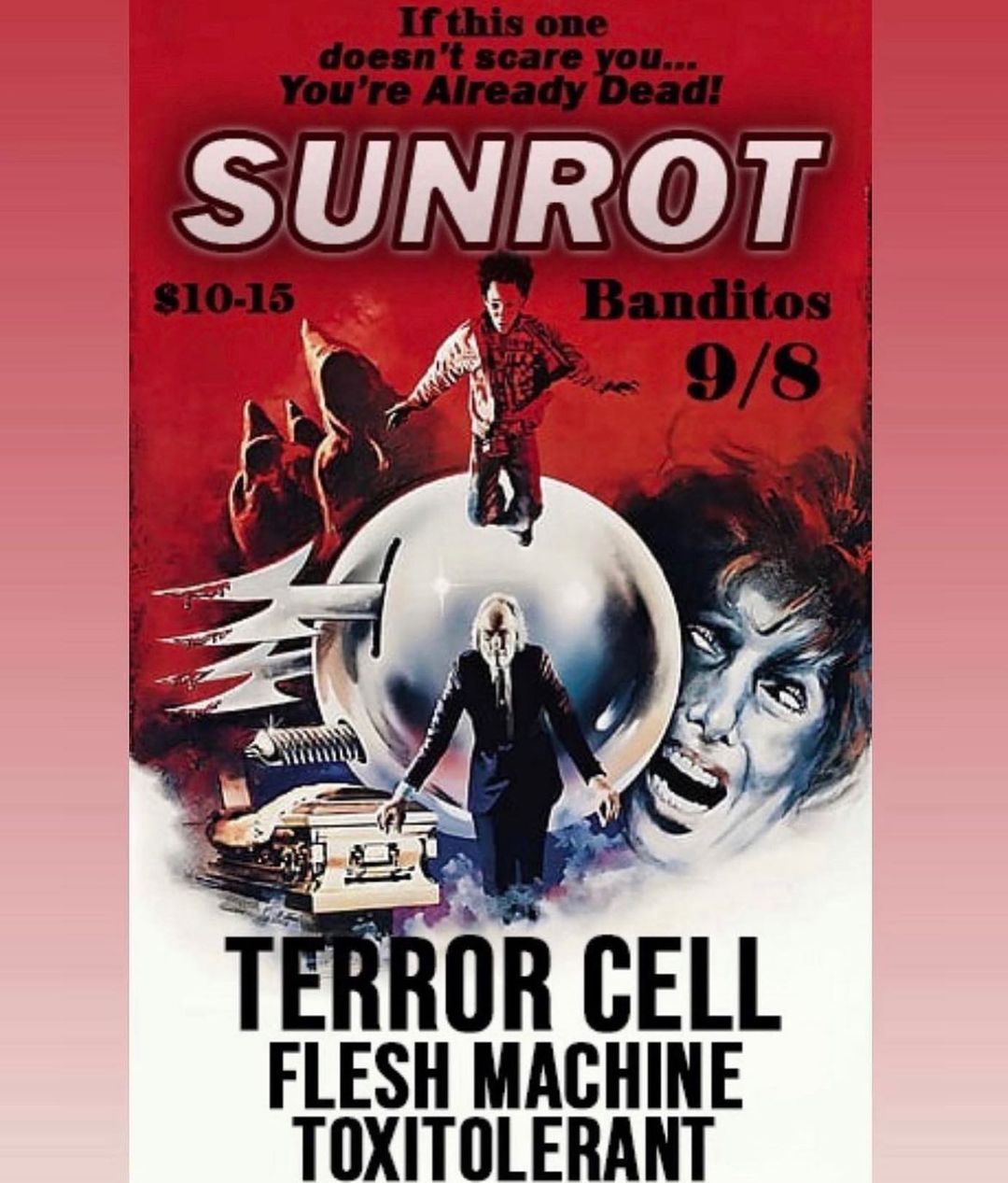 Friday, September 8, 8 PM
Sunrot, Terror Cell, Flesh Machine, Toxitolerant @ Bandito's – $10-15 (sliding scale?)
The flyer for this one is eminently apropos, because New Jersey quintet Sunrot just might be the scariest band I've heard since The Body. Their take on sludge draws from all corners of this uber-intense metal/noise subgenre, simultaneously conjuring the experimental ambience and harsh samples of the aforementioned Providence duo, the crawling rage of Cavity or first-LP Eyehategod, and the scathing metallic breakdowns of The Blinding Light. On their new album, The Unfailing Rope, Sunrot veer back and forth between brutal, terrifying dirges, relatively uptempo riff fests, and moments of outright atmospheric beauty. Through it all, the harsh shrieks of vocalist Lex Santiago simultaneously invoke Alan Dubin's most unhinged moments with Khanate and Eyehategod's Mike IX Williams in his early days.
If I haven't hit enough extreme metal reference points to pique your interest by now, it could be that you just don't appreciate raw metal brutality. That's a damn shame if so — I guess I'll see you in the next blurb. But for those of you who are only getting more and more intrigued, you should definitely be sold on this show once I tell you that both Terror Cell and Flesh Machine are playing. These are a couple of my favorite bands working in the local scene right now, and both released incredible albums last year. The midtempo pounding that Terror Cell's Caustic Light dishes out never wavers in its intense heaviness, while Flesh Machine's Pray To The Hive manages to simultaneously bring a jangling, chaotic groove into proceedings while remaining both intensely listenable and heavy as fuck. Sunrot's the reason for the season on this night, but let's be sure and acknowledge while we're here that Terror Cell and Flesh Machine on the same bill is worth the price of admission all by itself. Raw hardcore newcomers Toxitolerant will get things started with a blast of raw old-school hardcore punk that'll get the party started in fine fashion. Don't miss this one.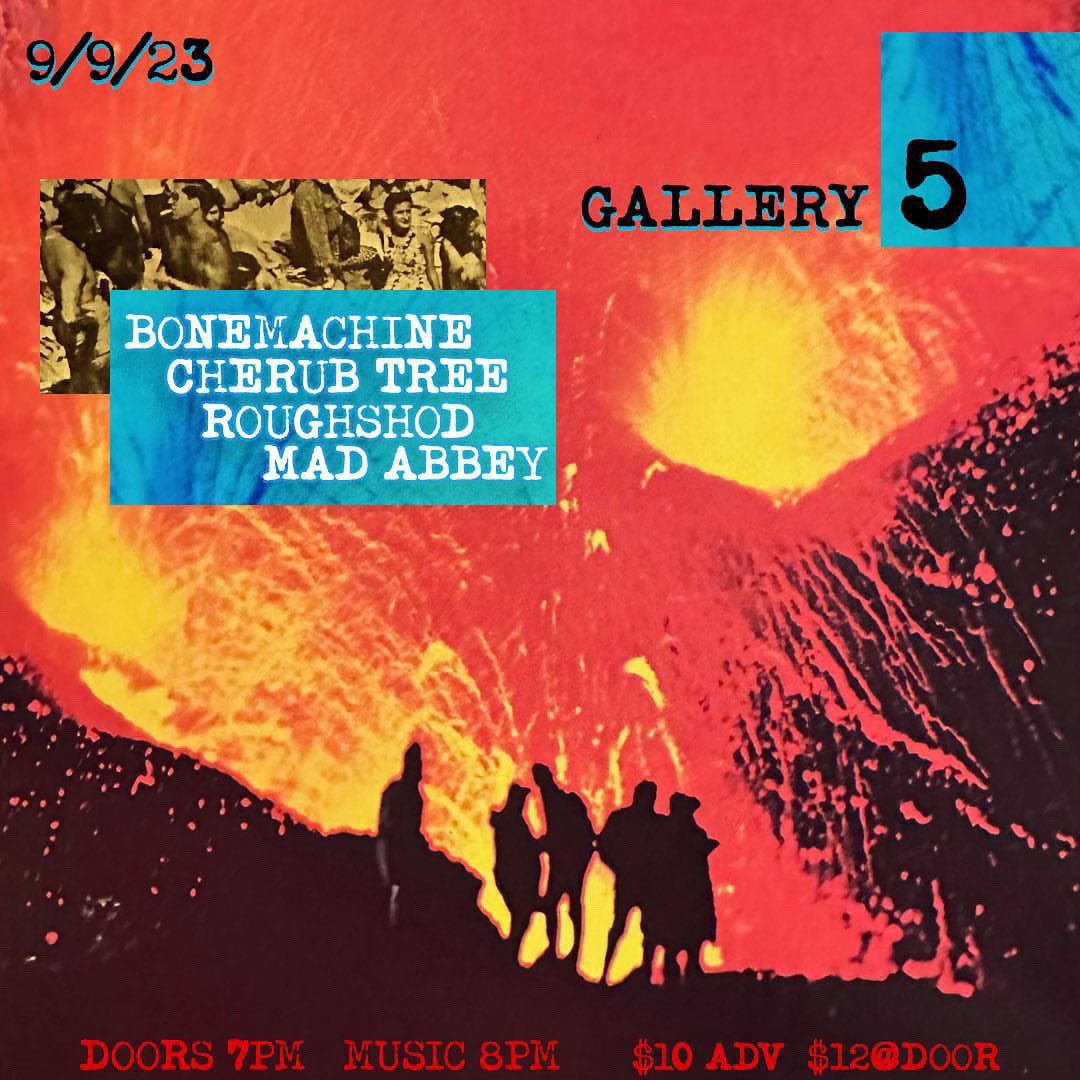 Saturday, September 9, 7 PM
Bonemachine, Cherub Tree, Roughshod, Mad Abbey @ Gallery 5 – $10 in advance, $12 at the door (order tickets HERE)
Another Saturday night and whether you ain't got nobody or not (I know, double negative overload — just go with it), Gallery 5 is the perfect destination for all lovers of music both local and regional. The evening's headliners are local ragers Bonemachine, but let's hold off on discussing these Pixies-inspired folks for just a moment and introduce ourselves instead to Cherub Tree, the one band on this bill that hails from beyond the borders of the river city. This DC quartet have only been playing shows since last summer, but with debut EP Where Are Your Manners and especially with recent single "Not Yours, Never Was," they've demonstrated a remarkable facility with angry, melodic punk rock. Their sound mixes the catchy riffage of classic alternative rock groups like Veruca Salt with the snarky rage of Be Your Own Pet, resulting in something that hits somewhere close to Bikini Kill circa Reject All-American.
Cherub Tree's performance here in Richmond is sure to be a lot of fun, but there'll be plenty of shine coming from the trio of local performers on this bill as well. Aforementioned local headliners Bonemachine certainly deserve the top slot on this bill, having just released a ripper of a debut LP, New And Improved Sleeping Positions. It shows off the way these guys are simultaneously adept at power-pop melodies and able to crank up the noise and take things straight into punk rock territory whenever they feel like it. Fellow locals Roughshod have a strong indie sound highlighted by vocalist Cel's powerful tones and leavened with a variety of influences from bygone times and faraway places. Bouncy indie trio Mad Abbey will get this whole thing started and give us all a jolt of energy that should carry us through the entire night. Get stoked.
Sunday, September 10, 7 PM
Piranha Rama, Reverse Yr Curse, Sparrow Moon Lodge @ Cobra Cabana – $10
Richmond's always had a very dynamic scene, one that finds pockets of talented musicians excelling in any of over a dozen wildly different formats. What's really always made this place special, though, is that everyone can always appreciate what everyone else is bringing to the table, regardless of what genre anyone's inspirations originate from. In light of that fact, it feels almost inevitable that a group like Piranha Rama would come along — a shifting ensemble that could at any given time include any of a dozen players from all different corners of the local scene. With Chrissie Lozano (Ladygod, Fear Of Music) and John Sizemore (Milkstains, Baby Help Me Forget) acting as ringleaders of sorts, the band moves from straightforward rock n' roll to classic soul, surf-pop, Latin funk, and all sorts of other genres over the course of a set, always excelling at creating a sound that goes beyond any single genre to stand out as a unique phenomenon that feels very rooted right here in the river city.
That's exactly what you can expect when Piranha Rama takes over Sunday night at Cobra Cabana and wows us all with tunes from their trio (so far) of excellent albums, the most recent being last year's Omniscient Cloud Cover. It's gonna be a total party, regardless of how many people they bring to the stage, but as always, the more the merrier! Newly formed local trio Reverse Yr Curse will also be on the bill, bringing an indie-rockin'/power-poppy twist on catchy old-school rock n' roll riffing; it's sure to thrill and delight you. Philadelphians Sparrow Moon Lodge will open up with a sound that seems driven by spooky folk vibes and moody indie moves. It'll be a great way to round out the weekend. Plus, if you get to Cobra Cabana early, you can grab one of their Gay-Fil-A Sunday specials! That's worth the price of admission right there.
Monday, September 11, 7:30 PM
Out Of Your Head Records presents Second Mondays, feat. Curt Sydnor & The Trembling Hand, Tear Ducts @ Artspace – $15 suggested donation
OK, yes, I admit it, I write about these monthly Second Mondays shows at Artspace pretty much every month. But I just can't help it — Out Of Your Head Records just keeps bringing such interesting music to us all that it would feel ridiculous to pick against it. Take this Monday night, for instance: we're getting a set from local keyboardist and composer Curt Sydnor and his quartet known as The Trembling Hand. Releasing his debut album, Deep End Shallow, on Out Of Your Head back in 2020, Sydnor soon joined up with OOYH co-founders Scott Clark (drums) and Adam Hopkins (bass), as well as vocalist Laura Ann Singh, to create his 2022 album Heaven Is Begun. Now the foursome will be presenting a set of material sure to draw from the new LP they have coming in November, as well as all sorts of other work Sydnor and co. have done over the past few years.
The show will also feature a set from Tear Ducts, a mysterious local project headed by someone named Cloud that Scott and Adam apparently met while crate-digging at a local record shop. Sounds like an auspicious beginning, and you can hear some really intriguing ideas at work on the group's recently released Dog Star Woman, an album full of ambient drones and atmospheric percussion. Tracks on Dog Star Woman range in length from 20 seconds to 20 minutes, and that same wide-ranging sensibility will no doubt be in evidence when this group get things kicked off this Monday night at Artspace. As always, come prepared to donate and support what's going on here; after all, you're not going to find anything like this happening anywhere else in Richmond.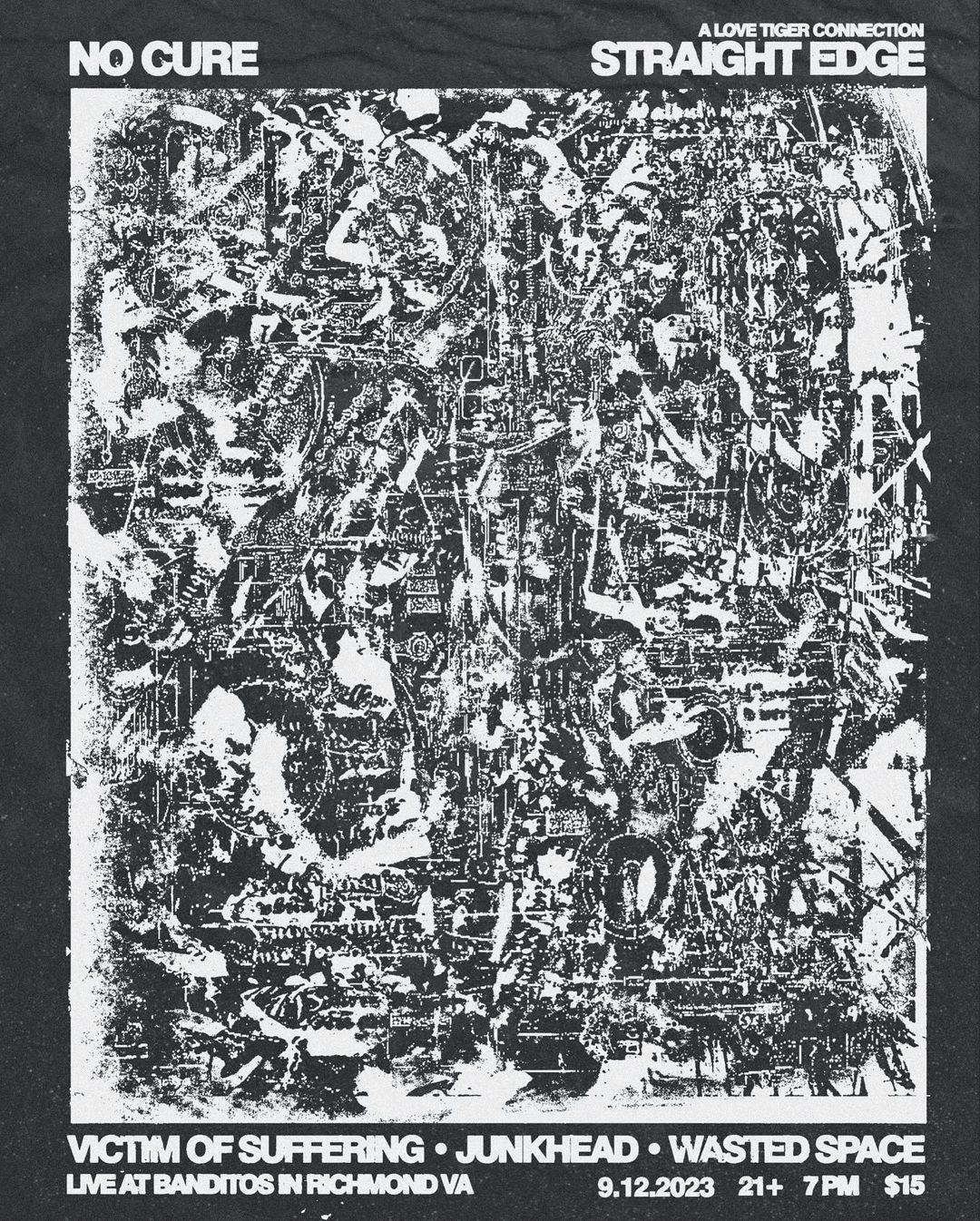 Tuesday, September 12, 7 PM
No Cure, Victim Of Suffering, Junkhead, Wasted Space @ Bandito's – $15
Oh my goodness. This Tuesday-night shindig at Bandito's, coming to us courtesy of Love Tiger Connection, is the sort of thing I thought I'd seen the last of in my lifetime: a metallic straight edge band singing about militant topics over brutal breakdowns. It takes me back to the days of bands like Earth Crisis and Raid — bands I admittedly had mixed feelings about when they were around. However, in the modern era, it's pretty great to see any band, especially one from Alabama, that cares about a cause more worthwhile than stupid shit like "Back The Blue" and "Stop The Steal" or whatever the fuck. No Cure are going right in the opposite direction from everything their deep-Southern home state symbolizes in the minds of wide awake America, and for proof, look no further than their latest single, an anthem of sober mosh fury entitled "No Cure Straight Edge Die Slow Fuck You." Outstanding.
We've certainly established that this Birmingham quintet are true til death, but make no mistake, they bring a ton of metal influences to the mix as well. On last year's …For The Stainless Steel LP, they seem to mix equal parts Earth Crisis/All Out War-type riffage and old-school Florida death metal harshness along the lines of early Morbid Angel, or Deicide. If you love heavy music, this band's got everything you need — as long as you don't need to drink a beer while you're headbanging. Just this one night, put the brewski down — it'll be worth it. Tidewater hardcore group Victim Of Suffering will also be performing, bringing plentiful breakdowns of a more straightforward heavy hardcore nature into the proceedings. Tough-as-nails NoVA hardcore band Junkhead are also on the bill, and youthful Richmond hardcore maniacs Wasted Space will be getting this whole thing started off right. Be ready to rage.
---
Email me if you've got any tips for me about upcoming shows (that take place after the week this column covers -– this week's column has obviously already been written): rvamustseeshows@gmail.com
Please consider supporting my Patreon, where I'm documenting my progress on two different novels and (sometimes) writing about music of all types. patreon.com/marilyndrewnecci