RVA Shows You Must See This Week: May 24 – May 30
FEATURED SHOW
Sunday, May 28 & Monday, May 29
Daydream Fest 2023
Day 1: Sunday, May 28, 1 PM
Palm Palm, No BS! Brass, Drook, Deau Eyes, Space Koi, Ms. Jaylin Brown, Catie Lausten, CAS
Day 2: Monday, May 29, 1 PM
Kate Bollinger, Matthew E. White, Kendall Street Company, DJ Harrison, Morgan Burrs, Lobby Boy, Steven Boone, Shera Shi
@ Main Line Brewery – Single-day tickets $30, two-day passes $40 (order tickets HERE)
I love Richmond. Considering I've been writing a weekly column about the city's live music scene for nearly a decade, and have been making assorted zines and websites about it for over a quarter century, I would think that's obvious by now. And honestly, there are times when I feel like a lone voice in the wilderness. That's why I'm really glad things like Daydream Fest exist: because they prove I know what I'm talking about by gathering over a dozen amazingly talented local musicians and groups together onto one single two-day bill to prove once and for all just how amazing the music coming out of Richmond is. Clearly Baripete and PRSMCAT, the two booking conglomerates who have once again joined forces to bring us the second annual Daydream Fest, are feeling the same sort of love for this city and its music scene that I feel. And now we all get to spend our Memorial Day long weekend basking in the glory that is Richmond music.
Last year, Daydream Fest was a single-day extravaganza, but clearly Baripete, PRSMCAT, and their gracious hosts at Main Line Brewery were all happy with how it went, because this year we get two full days of music, each of which features eight incredible local talents that will combine to keep you entranced with their amazing sounds for an entire afternoon and evening. Day one features a two-fisted power slam of a double headliner, in rock n' roll maniacs Palm Palm, and jazz-funk party-starters extraordinaire No BS! Brass Band. Mentioning the two of them (both of whom should need no introduction by now) only scratches the surface of what Sunday's lineup has in store, though. We also get sets from indie-pop genius Deau Eyes, alt-rock local heroes Drook, and engagingly sardonic singer-songwriter Catie Lausten, as well as the secret hero of the entire afternoon: folk-soul auteur Ms. Jaylin Brown. If you're not intimately acquainted with her work, you may not be aware of her status as your favorite Richmond musician's favorite Richmond musician. But trust us: now's the time to get on Ms. Brown's level.
Sunday isn't the end of the festivities on this special summer-kickoff holiday weekend, though. Considering the sheer excellence of Monday's Daydream Fest lineup, you might feel like it's only just the start. You'll need to pace yourself, because you won't want to miss a minute of either one of these days. Monday's bill is topped by the towering genius of two well-known Richmond singer-songwriters. Kate Bollinger's brilliantly subdued indie-folk is best showcased on 2022's Look At It In The Light, but is also well known from that one time Kanye West sampled one of her songs. For her closing set on this two-day festival, she's sure to rise to the occasion and give us a grand finale full of indelible melodies and effervescent charm. Matthew E. White's been wowing local crowds since the days of The Great White Jenkins and Fight The Big Bull, but he's spent the past decade proving that he's even more awesome when he steps into the spotlight as a solo act. He's sure to keep it funky, soulful, and sincere with tunes from his beloved 2021 LP, K Bay, and all the other excellent sounds you've come to know him for. Monday will also see two different members of Butcher Brown, talented guitarist Morgan Burrs and keyboardist/drummer/producer extraordinaire DJ Harrison, step up to take the lead on solo sets. There'll also be an early afternoon performance from alt-popsters and recent Harrisonburg transplants Lobby Boy that has the potential to score "best of the day" plaudits from everyone who shows up on time. So you better make sure you do that. And get your tickets for this whole shebang now, because you don't want to miss what might be the hottest ticket of the entire weekend — indeed, maybe even the entire summer.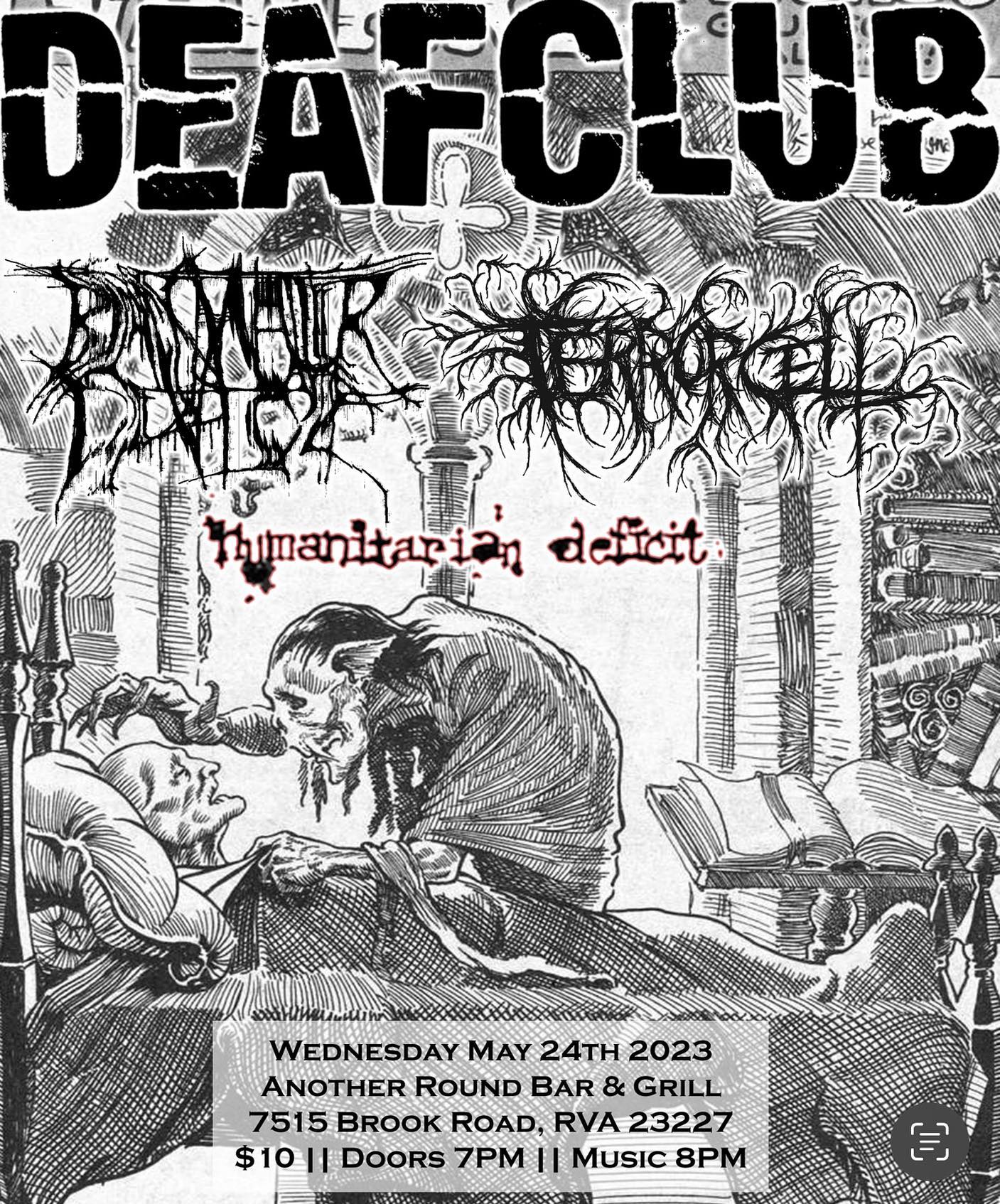 Wednesday, May 24, 7 PM
Deaf Club, Black Matter Device, Terror Cell, Humanitarian Deficit @ Another Round Bar And Grill – $10
Something that can be kind of a bummer when a band you like gets kind of big, but not SUPER big, is that they start doing a lot of tours where instead of headlining, they're filling a secondary or tertiary support slot on an even bigger artist's entire tour. It's cool for them — they get the opportunity to play to more people, make even more new fans, hopefully have a steadier income, the whole deal. But for you, it can be a bummer, because maybe you just wanted to see your faves rock out in an intimate setting full of equally rabid fans, and instead you're stuck watching them from 100 people back while everyone in front of you waits semi-impatiently for the band they really want to see, who isn't playing for another two hours. The best solution for situations like this is to catch your fave on a night when the headliner has chosen to take a night off. Since the support bands aren't getting the same kind of paychecks on such tours as the headliners, they usually find a way to book a headlining gig at a smaller venue. And that's exactly what Deaf Club has done with this Wednesday night at Another Round Bar And Grill — which fits neatly between two dates on their current support tour with Greg Puciato.
For those who aren't aware, Deaf Club is the latest project of chaotic hardcore legend Justin Pearson, who has previously been in such groups as The Locust, Some Girls, Dead Cross, Swing Kids, and too many others to mention. This time around, he's teamed up with several veterans of underground hardcore bands like Weak Flesh and ACxDC to crank out some manic, fuzzy, and fast-as-hell noise, as showcased on last year's Productive Disruption LP, as well as recent followup 7-inch Bad Songs Forever. If you dig the straightforward speed of fastcore bands like Das Oath, but would really like to hear some occasional doses of The Locust's quirky energy thrown in, Deaf Club is sure to be exactly what you're looking for. And at Another Round, you'll be able to get right up front and rock out with the rest of the extremely stoked hardcore maniacs. Three of Richmond's best currently active noisy/metallic/chaotic hardcore bands — by which I mean Terror Cell, Black Matter Device, and Humanitarian Deficit, of course — will get the ball rolling for this one. But make no mistake, the real treat will be getting to see Deaf Club do their thing without having to worry about running over their time slot. Not that a band with songs this fast has much to worry about where that's concerned, but still. I'm just saying. Be there.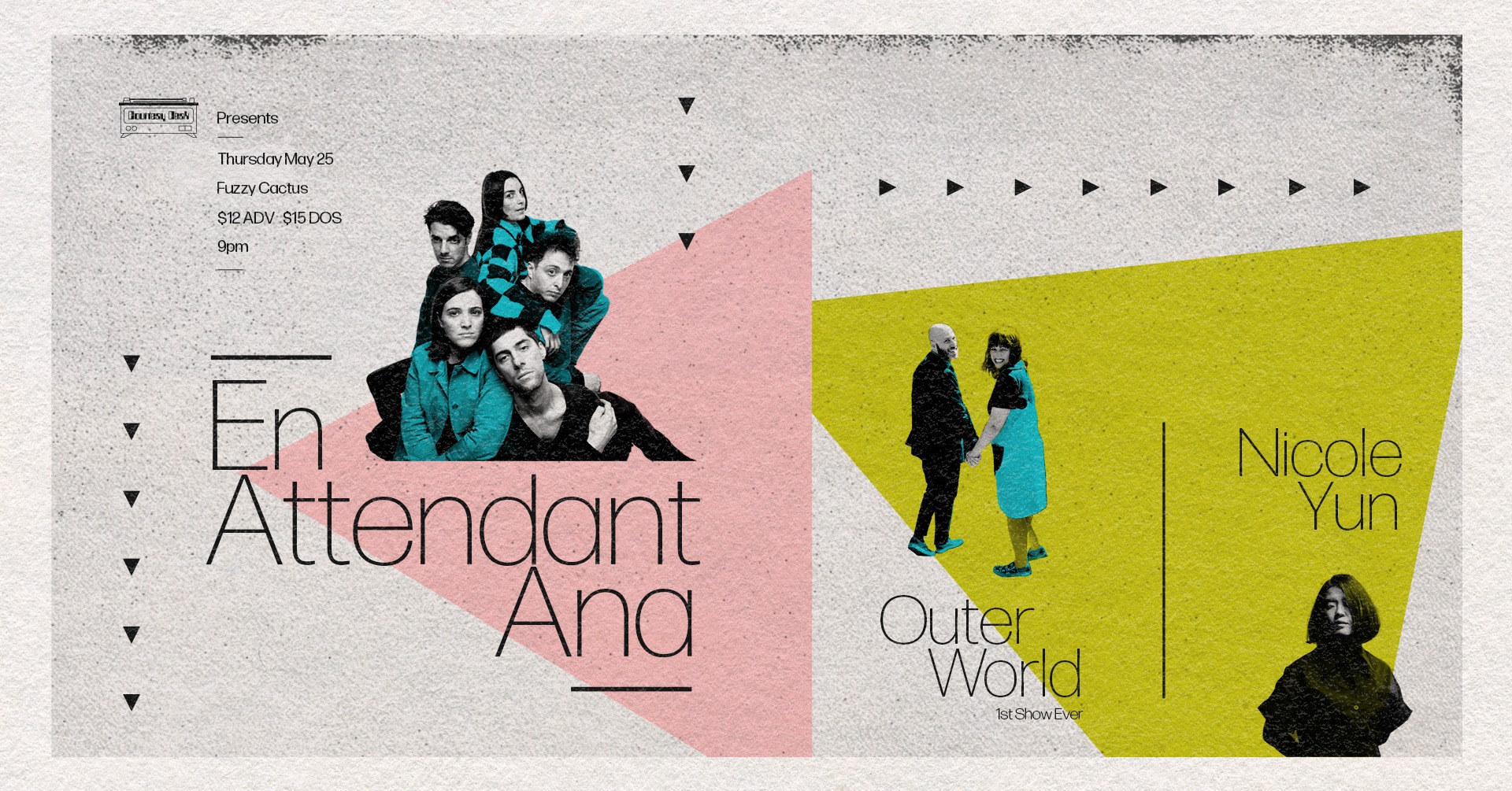 Thursday, May 25, 9 PM
En Attendant Ana, Outer World, Nicole Yun @ Fuzzy Cactus – $12 in advance, $15 day of show (order tickets HERE)
Tracy Wilson hasn't been doing too much in the way of playing live music since her last excellent band, Positive No, split up a few years ago. However, she has certainly remained active in the local scene, most obviously through her endeavors under the name Courtesy Desk. I'm not exactly sure what to call Courtesy Desk; back in the day, we'd have called it a "distro," but I have no idea if anyone under 40 uses that term anymore. Whatever the terminology, what's really great about Courtesy Desk is that it brings underground releases from around the world into Richmond and gives us all the opportunity to get records we'd never see for sale otherwise. That's a noble endeavor in and of itself, but Tracy's clearly not content to do just that. This Thursday night, Courtesy Desk takes things to the next level by bringing French indie-pop band En Attendant Ana to Richmond to perform live for us all, right here at Fuzzy Cactus.
It's a great choice, too, because where musical exports are concerned, En Attendant Ana is at the top of the heap. This Paris-based quintet do an amazing job of both channeling the classic French pop sound of folks like Francoise Hardy and Jacques Dutronc and catching the flavor of 90s indie-pop faves like Heavenly and Stereolab. Their latest album, Principia, also catches my ear with some sounds that make me think of classic 60s spy-movie soundtracks. Definitely the album to put on next time someone's chasing you around city streets in an Aston Martin. Also on this bill is Outer World, the latest project from Tracy and her longtime partner, Kenneth Close. Rather than capture the alt-rock effervescence of their previous band, the aforementioned Positive No, Outer World is a decidedly more mysterious postpunk project, one that reflects its initial inspiration in the forced seclusion of pandemic lockdown. However, there's still a lot of pop energy in Outer World's music, if you listen closely. As for Nicole Yun, the former frontwoman of Roanoke indie powerhouse Eternal Summers has a brand new solo album, Matter, that glows with all of the pop brilliance of her previous output while zoning in on a more jangly indie space than she previously held down with Eternal Summers. I am most definitely here for it. And you should be at Fuzzy Cactus for this show.
Friday, May 26, 7 PM
Black Joe Lewis & The Honeybears, Meadows Trio @ The Broadberry – $20 (order tickets HERE)
Ever want to feel old as heck? I have a few tips, and one of my most sure-fire ones is that you should discover a whole bunch of new music from the soundtrack of a TV show you're binging. That happened to me a couple years ago when the first season of Amazon's Reacher TV show came out (we gonna get a second season already, Amazon, since I know you're reading this to try and figure out what ads to target at me?), and Black Joe Lewis And The Honeybears were one of those new artists. I really dug their full-band sound, crammed with blustery swagger and celebratory blues-rock strut. The song I heard on the Reacher soundtrack was from their 2017 album Backlash, and I found myself shocked: how's an album this good been out for five years without me ever hearing so much as a note of it?
If you know Black Joe Lewis's music, you're surely grinning and shaking your head at me right now. And that's entirely deserved. However, if you're someone who still hasn't caught onto the vibe, then you really need to come out to The Broadberry this Friday night and find out why these guys have made so many fans despite existing relatively under the radar. Their music mixes classic rock and heavy electric blues with 60s soul arrangements and hip hop braggadocio for a sound that's relatively unique in today's music scene, and all the more remarkable for that fact. So hey, if you're sleeping on this one the way I was… time to wake up. If you knew what was up way before I did, I assume I don't even have to tell you what to do. Either way, get on with it, y'all.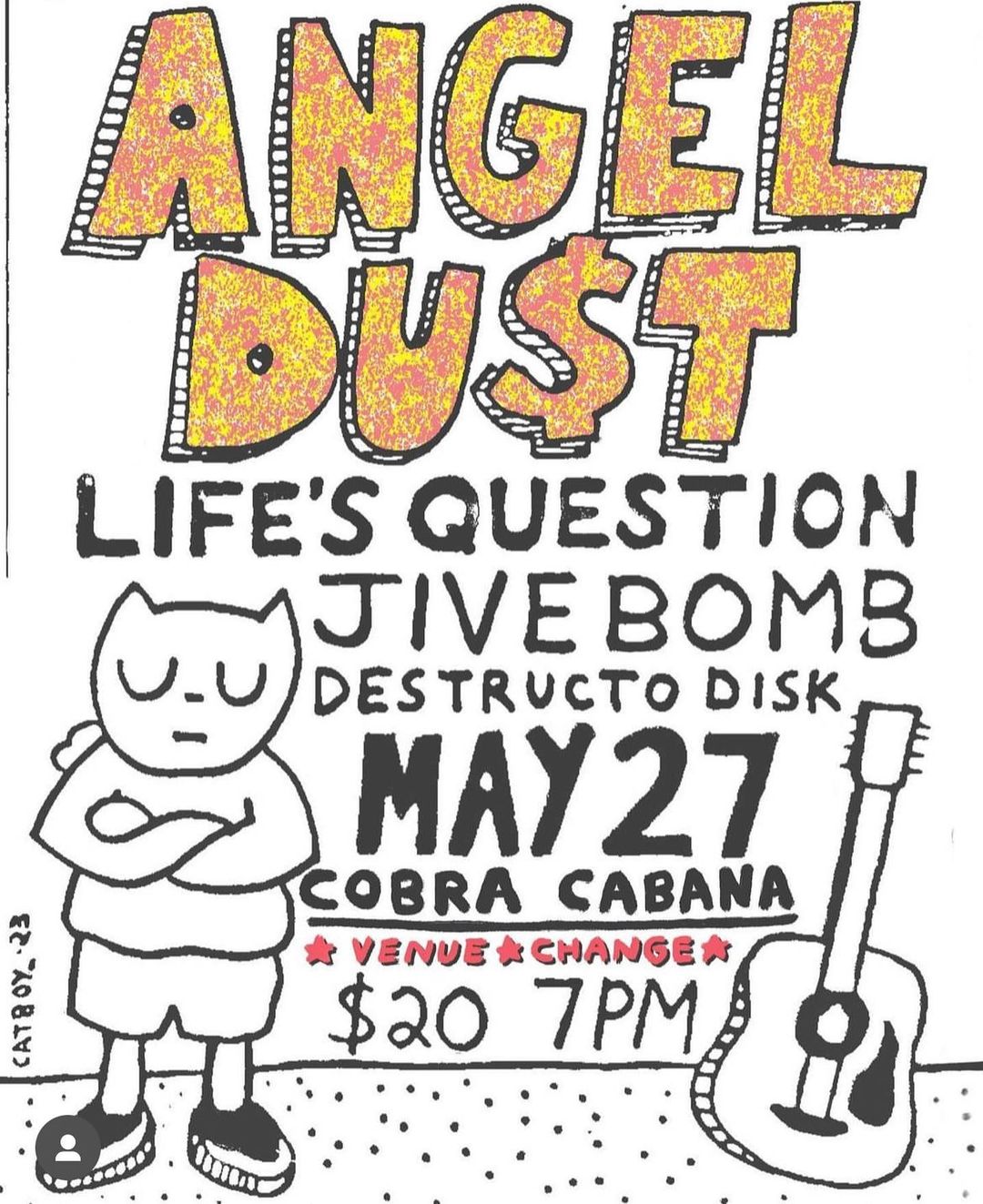 Saturday, May 27, 7 PM
Angel Du$t, Life's Question, Jivebomb, Destructo Disk @ Cobra Cabana – $20
Something I've always loved about the underground hardcore scene: it's very loyal. If a musician gains a whole bunch of fans in the hardcore scene, those fans tend to stick with them, even if they go in vastly different musical directions. Justice Tripp is a great example of this; the former singer of Trapped Under Ice gained fame initially by fronting a powerful hardcore band that wrote some of the most memorable anthems of the 21st century USHC scene. But when Trapped Under Ice became far less active a decade or so ago, hardcore kids had no problem following Justice as he turned his energies toward Angel Du$t. This quartet started out doing a more melodic take on hardcore, but by 2019's Pretty Buff, they'd become a full on power-pop band in which Justice often plays acoustic guitar. You might expect the mosh kiddies to turn their backs on anything along those lines, but they've stuck around, and you'll surely see plenty of tatted-up hardcore diehards at Cobra Cabana Saturday night when Angel Du$t hits town. However, you might be surprised at just how melodic and catchy the songs they're rockin' out to really are.
Angel Du$t's latest single, "Very Aggressive," is a great example: while the uptempo riffs and anthemic choruses are undeniable, there's a bubblegum sweetness to this tune that's just as likely to connect with fans of Cheap Trick or the Lemonheads as it will for OG Trapped Under Ice heads. Therefore, even if you're not necessarily the type to come out and represent the 'core, you should definitely give this one a chance. You might be surprised at how much you appreciate what you'll hear. Chicago band Life's Question will bring some more straightforward 90s-style metallic hardcore to the proceedings, while Baltimore ensemble Jivebomb keep things old-school with some fast, straightforward hardcore. Richmond punks Destructo Disk offer a more melodic element with their speedy, poppy punk tunes to kick the whole thing off. Sound like a good time? Well, at this point you might be able to run by Vinyl Conflict and score a ticket. However, my understanding is that those who didn't already grab an advance ticket will have to show up at Cobra Cabana early and hope to score one of the limited tickets available at the door. My advice: kick it old-school and queue up at Cobra Cabana at 4 pm or so. Trust me, it'll be worth it.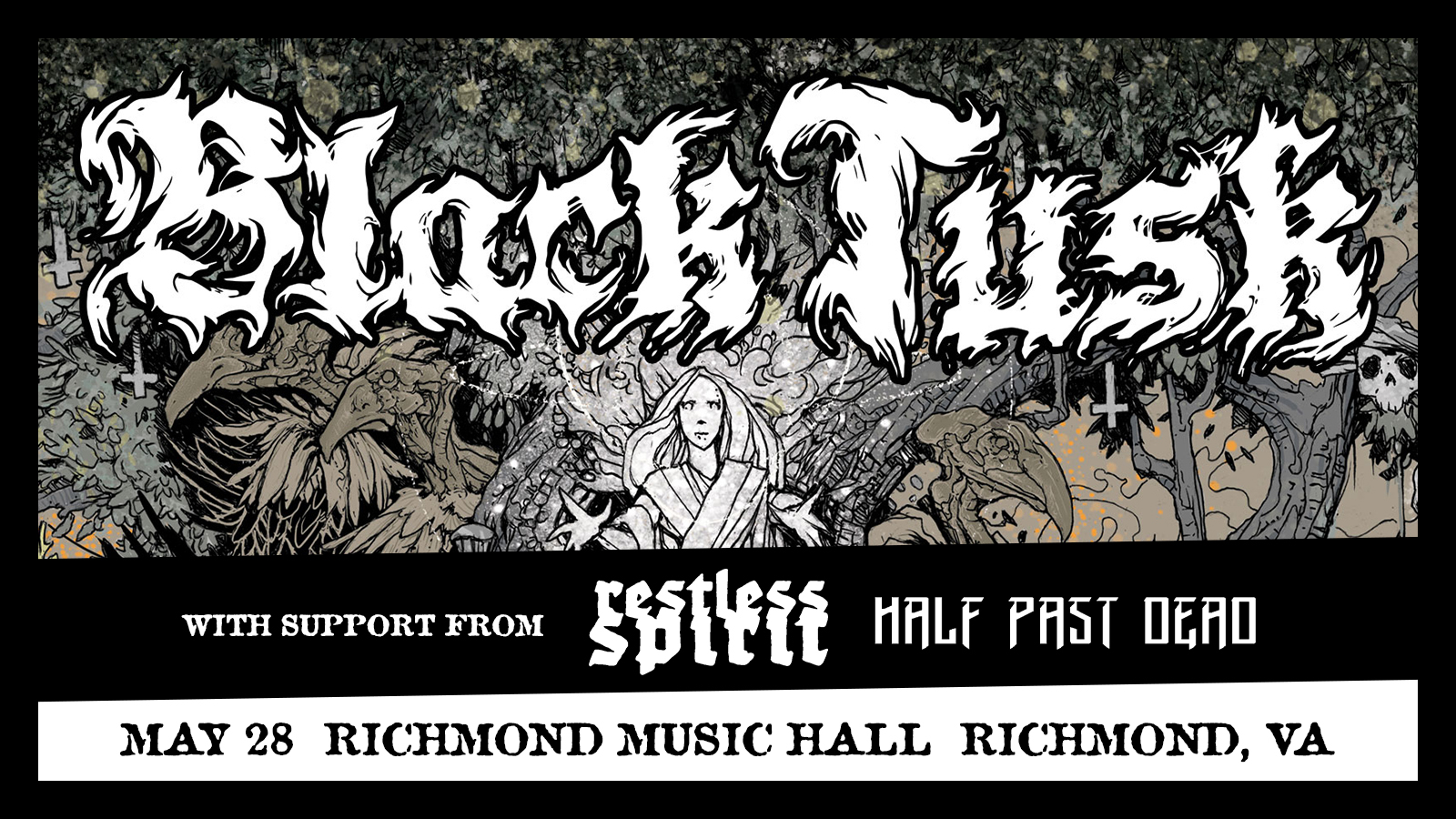 Sunday, May 28, 7 PM
Black Tusk, Restless Spirit, Half Past Dead @ Richmond Music Hall at Capital Ale House – $15 (order tickets HERE)
Let's end the weekend on a heavy note, shall we? Savannah's Black Tusk follows in the footsteps of some legendary bands from their hometown, including Kylesa and the original incarnation of Baroness. It's easy to consider them a sludge band, and many do, but when I listen and hear their speedy tempos and multiple vocalists that mix deep and more high-pitched screams and yells, I can't help but think of all the downtuned crust bands that appeared on the underground hardcore scene in the wake of legendary bands like Tragedy and From Ashes Rise. Black Tusk combines these two lineages on albums like 2016's Pillars Of Ash and 2018's TCBT, always to devastatingly heavy effect.
Of course, the band's been through their share of emotional heaviness as well. Original bassist Jonathan Athon was killed in a motorcycle accident right after they finished recording Pillars Of Ash, and while they were able to draft former Kylesa bassist Corey Barhorst to finish TCBT, they've since undergone further lineup shakeups, and haven't released any new material in the past five years. The version of Black Tusk that will visit Richmond this Sunday night is a new four-piece incarnation, and should bring a new power to the band's sound. But will they have new material to unveil for us? After half a decade, we can certainly hope so — and even if not, the prospect of a full set of tunes with a beefed-up dual-guitar sound from these guys is certainly tantalizing. So make sure you're on hand to pick up what they're laying down. New Yorkers Restless Spirit will also be on this bill, offering plenty of the epic heavyosity they displayed on 2021's Blood Of The Old Gods. Richmonders Half Past Dead will open things up with a blazing metal set sure to highlight their brand new single, "Unbreakable," so get there on time and don't miss a moment of this evening of brutality.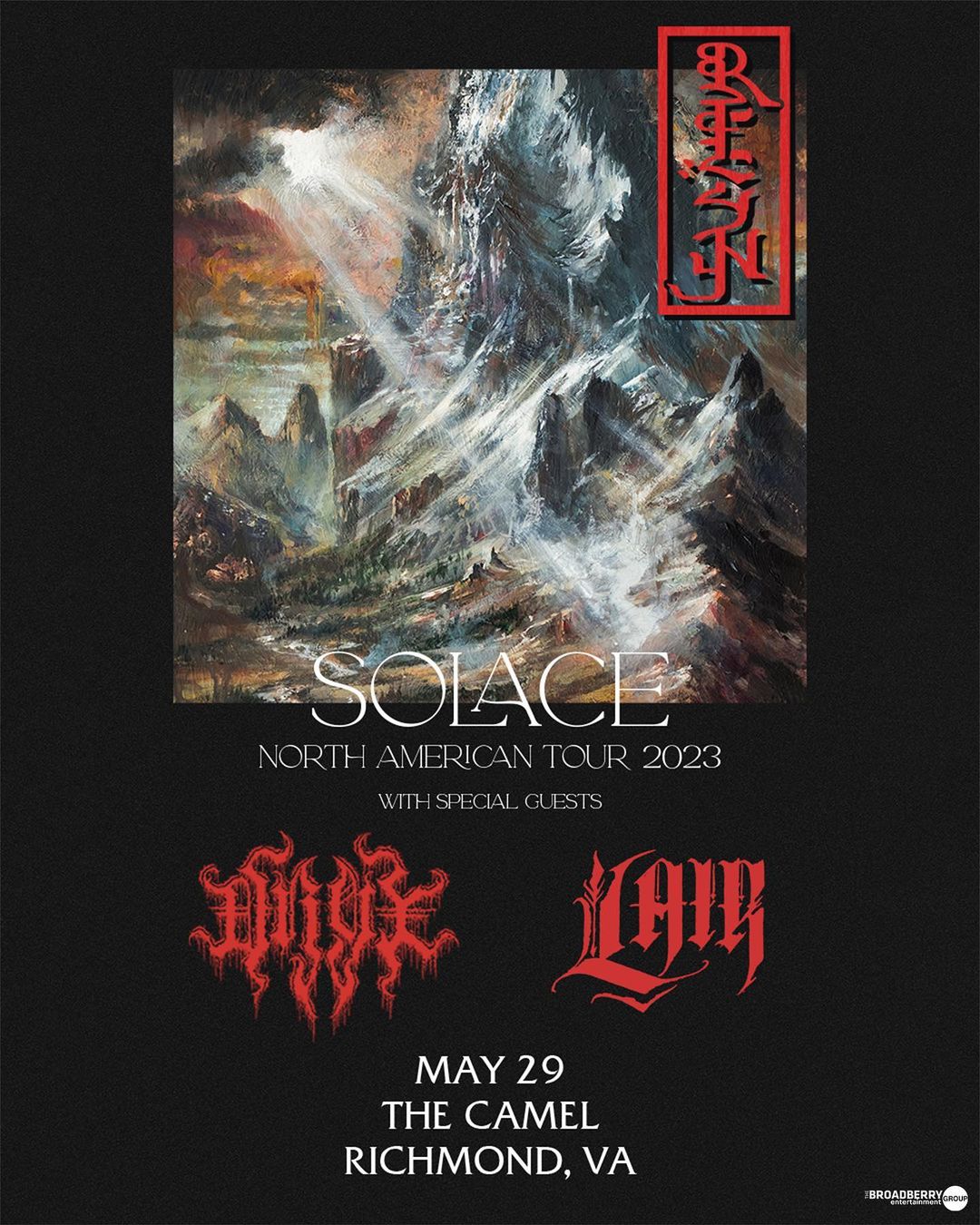 Monday, May 29, 7 PM
REZN, Oryx, Lair @ The Camel – $12 (order tickets HERE)
One good night of heaviness deserves another, right? So since this holiday weekend actually stretches into Monday for most of us, we may as well take advantage of a further opportunity to rock out like the weekend is continuing to roll on, right? REZN is here to give us the opportunity to do just that. This progressive metal band has a deep, layered sound full of melody and plenty of subtle heavy undercurrents, and they display just that on their new album, Solace. While it rarely explodes into full-on head crushing stoner sludge, the potential remains there even at the band's quietest and prettiest moments. And the band does a great job of building tension and creating a foreboding atmosphere as you wait for everything to blow up — just like the best horror movies.
As for Denver band Oryx, also on the bill, they do a lot less building of atmosphere, instead hitting you with the doom-sludge ferocity from moment one on their 2021 album, Lamenting A Dead World. While REZN might work up to their heaviest moments for several minutes at a time, Oryx is brutal and crushing straight out of the gate. And, as with the best doom-sludge ensembles, they have no fear of drawing things out — the longest song on Lamenting A Dead World reaches 15 full minutes in length. Expect to be hit with rampaging riff power early and often during this band's set. Richmond's own Lair will get things started on a properly gloomy note; this band's most recent release, 2021 EP At Our End, featured two songs and lasted 27 minutes. If that doesn't show where this band is coming from, I'm not sure anything will. So yeah, expect things to get heavy, epic, and sludgy at this show. And expect them to stay that way.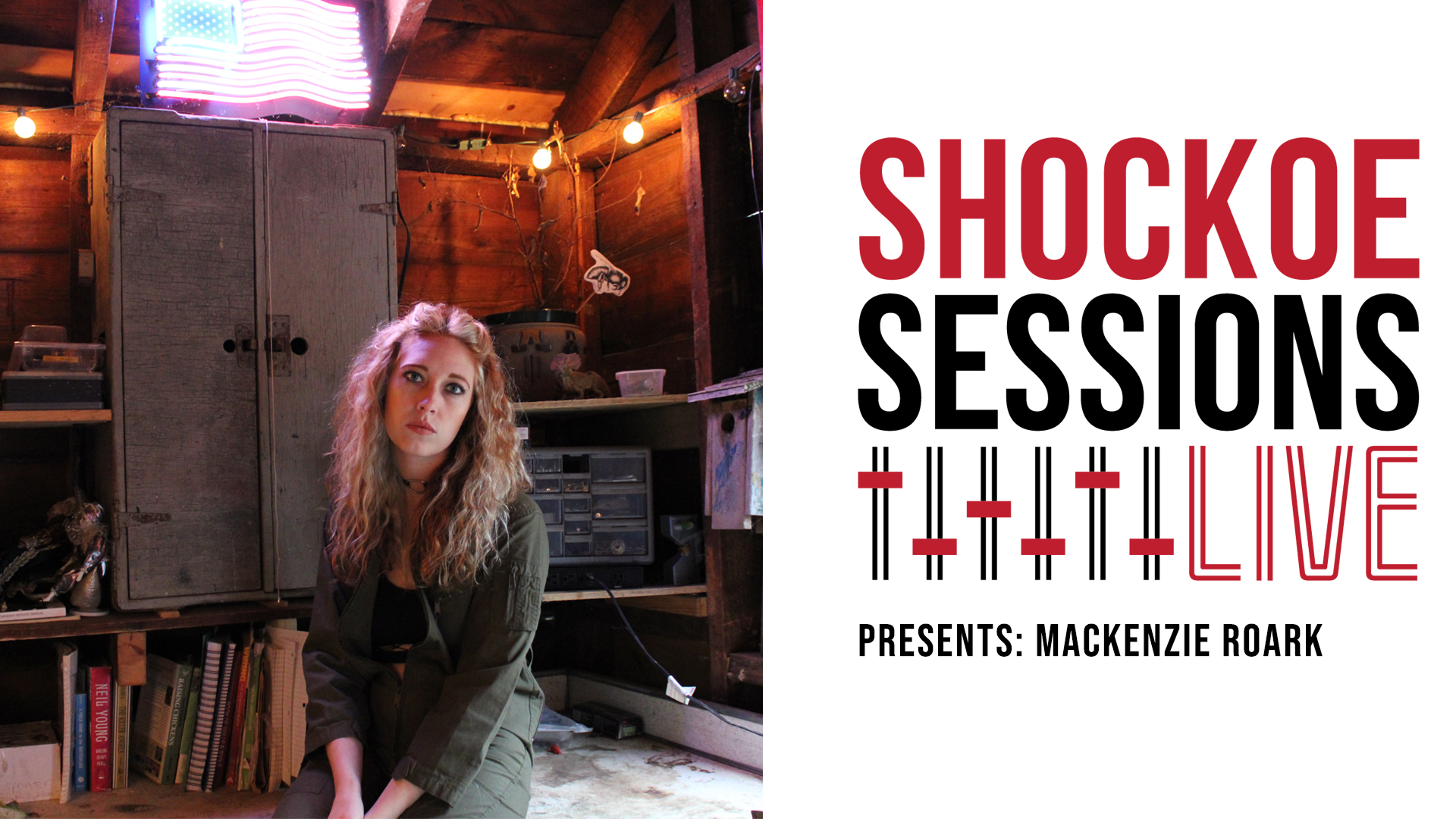 Tuesday, May 30, 8 PM
Shockoe Sessions Live presents Mackenzie Roark @ In Your Ear Studios – $15 (order tickets HERE)
I may not be the biggest country fan in the world, but when an artist from that genre catches my ear, they usually catch it pretty damn hard. Richmond's own Mackenzie Roark caught me in a big way with last year's Rollin' High, Feelin' Low LP. On that album, she avoids the dragging tear-in-my-beer balladry in favor of songs that chronicle the sort of messy moments too many of us want to pretend aren't a crucial part of normal adult life. Like I told a friend of mine recently, I'm a sucker for any singer-songwriter willing to say "I'm a mess, but fuck it, I'm just gonna keep living my life as best as I can." That's Mackenzie Roark all over. And I am 1000% here for it.
That's why I'm really excited about the idea of seeing Mackenzie do a Shockoe Session. These intimate performances in the main room at In Your Ear Studios are always worth tuning into from the comforts of your own home, but there's a special feeling that comes from being right there in the room for them. And when the performer is as talented and engaging as Mackenzie Roark, well, those are the ones you really want to be there for if it's at all possible. Even if you're tired after the long weekend of rockin' out, don't just watch this one on your phone in bed — grab a ticket and head over to In Your Ear Tuesday night. I assure you, you won't regret it.
---
Email me if you've got any tips for me about upcoming shows (that take place after the week this column covers -– this week's column has obviously already been written): rvamustseeshows@gmail.com
Still accepting commissions, so if anyone needs press releases, band bios, or even actual articles written, you should hit me up! Also, consider supporting my Patreon, where I'm documenting my progress on two different novels and writing about music of all types. patreon.com/marilyndrewnecci