RVA Shows You Must See This Week: August 30 – September 5
FEATURED SHOW
Saturday, September 2, 2 PM
Back To School Fest, feat. The Mitras, Bonemachine, The Background Action, Cassidy Snider & The Wranglers, Adi GuerrerX, FLKL, Dumb Waiter, Destructo Disk, Coral Moons @ Get Tight Lounge – $24.25 (order tickets HERE)
Ah yes, the storied tradition of "back to school" shows. A great opportunity to snag all the new and returning VCU and U of R students who don't have much of any homework yet and introduce them to a heaping helping of the local scene all at once. The bands have changed, the prices have gone up (inflation sucks, y'all), but the general idea remains the same. And that's because these shows work. People show up, people have fun, and a lot of kids who become core members of the local scene a few years down the road get their first taste of the local underground music scene. I for one hope this tradition continues forever.
I also hope The Mitras stick around for a long time to come. Over their first few years as a band, these guys have proven that they're willing to stick their necks out and go big. Sometimes that means throwing a big show that turns into an all-day fest (this is at least the third time I can think of where these guys have been involved with such a thing), and sometimes it just means the way they are constantly bringing out new material and pushing the limit of their sound and their creativity. You can hear them doing so on their recent three-song EP, Ripe, which runs the gamut from Nirvana-style angst-rock to lovelorn jazzy balladry. When they stretch out for a full set, they manage an even more widely varied sound, but of course it always contains a unifying thread that lets you know you're listening to one incredibly talented band with a diverse but cohesive approach to making music. If this show does nothing else, it should show a lot of new arrivals to Richmond that The Mitras are pretty awesome.
But there's a lot more for said new arrivals to learn that just that! For example, they'll discover the jangling, uptempo rock n' roll energy of Bonemachine, whose recently released debut LP, New And Improved Sleeping Positions, is a ton of raucous fun. Then there's FLKL (apparently pronounced by saying each letter individually, like "FBI" — anything else I may have said about this in the past should be stricken from the record), whose catchy power-pop sound gets the spotlight on their new album, Fistful (which I dig, even if the cover squicks me out a bit). Adi GuerrerX will air their big-beat bedroom pop jams and get everyone dancing, Dumb Waiter will remind us all once again that jazz and metal can sometimes be the same genre if you take the right approach, Destructo Disk will show us all that pop-punk can and should be joyous and irreverent without being dumb and childish, and the Background Action will demonstrate why punk rock is great even when it's a raw noisy mess. Plus, Cassidy Snider & The Wranglers will bring the whole show to another level with their unique 21st century take on old-time jazzy country blues. We'll even get a non-Richmond set from Coral Moons, who hail from Boston and New York, and have a gorgeous guitar-driven indie sound to share with us all. This one's gonna get the next school year started off on the right foot. Don't you want to be part of that? Of course you do.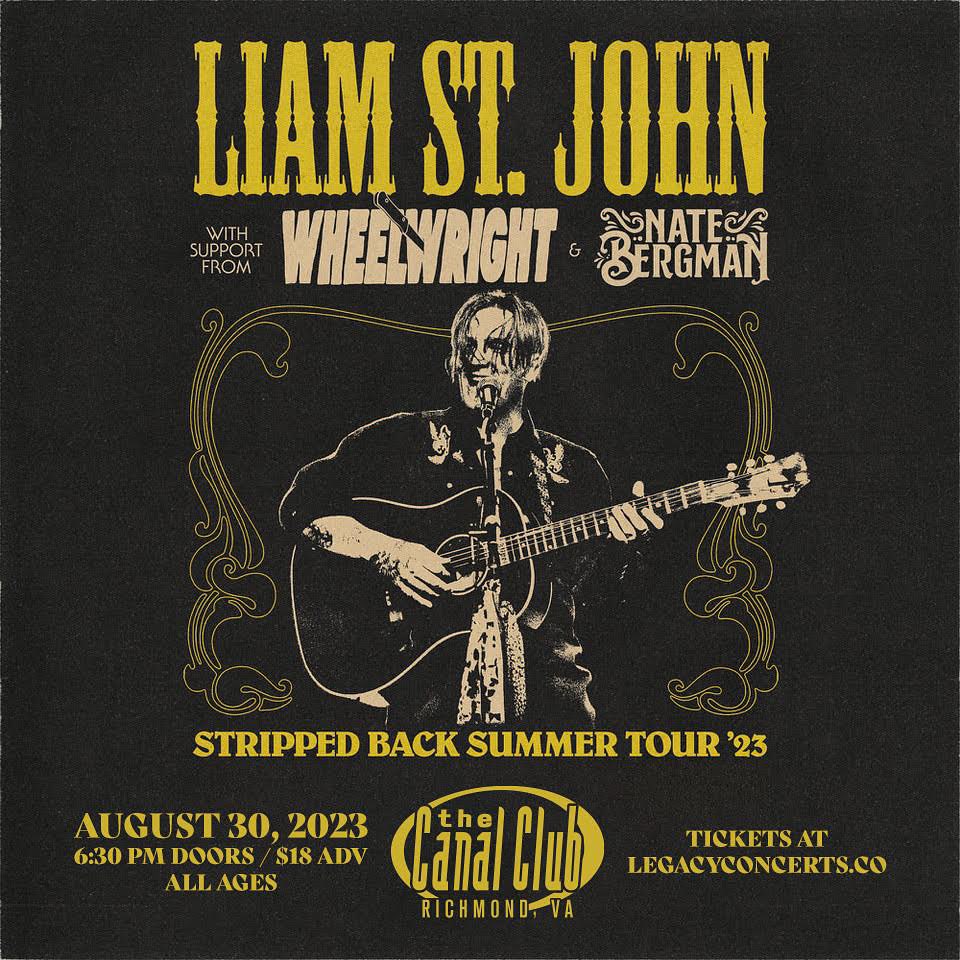 Wednesday, August 30, 6:30 PM
Liam St. John, Wheelwright, Nate Bergman @ The Canal Club – $18 in advance, $20 day of show (order tickets HERE)
Sometimes I forget that my cultural experience is really far from that of most Americans my age. Then something like this comes along and reminds me — a show at the Canal Club headlined by a blues singer who plays stripped-down acoustic tunes that usually don't even have drums on them. How, I wondered, could this guy have possibly gotten big enough to headline the Canal Club? Then I googled and figured out that Liam St. John was on season 19 of The Voice. I guess he was on Gwen Stefani's team? Whatever, I don't understand these gamified talent shows. What I do know is that anyone who has been through that kind of manufactured pop-star system usually makes fancy, glitzy mainstream pop music. That kind of thing is fine once in a while, but it's a lot tougher to make records like that and still keep people's interest.
Maybe that's why it seems the star machine is just letting Liam St. John be himself. He recently released his second album, All The Bad Things, and like his debut, Stripped Back, it's a collection of old-time blues and folk songs played with minimal instrumentation — just acoustic guitar and stand-up bass. That leaves a lot of space in the mix for St. John's powerful voice, and it dominates without overpowering, bringing us a succession of strong performances that should win over fans of folks like Robert Johnson and Leadbelly. This isn't the kind of music I'd think would work on prime time network television, so it's a credit to St. John that he found success there. But the two albums he's released thus far prove he has a lot more to offer. Whether you found him from The Voice or are just discovering him now, go to The Canal Club tonight and see him play live. It's better than TV any day.
Thursday, August 31, 7 PM
Strange Ranger, Feigning Grace, Ethanol @ The Camel – $15 (order tickets HERE)
While I didn't immediately recognize the name Strange Ranger, a quick perusal of the extensive Shows You Must See archives showed me that they've come through Richmond once every two or so years on average for quite a while now. However, I've never really done a deep dive into their work before, as they've never been a headliner before. I'm glad that has changed on this tour, as I've finally gotten a chance to learn exactly what Strange Ranger have to offer, and it's even more than what I already expected.
Before the pandemic, these guys were a much more conventional indie-rock group, and those sweet indie hooks and jangly guitars survive in their sound today. However, isolation seems to have inspired them to dabble much more extensively in electronic instrumentation, and on their brand new album, Pure Music, you can hear the results of that experimentation. It feels sort of like they've arrived in the same space M83 occupied circa Saturdays = Youth, even if they got there from the opposite direction. But where M83 harked back to 80s New Wave, Strange Ranger are dipping a little closer to the most rave-adjacent bands from the early 90s first wave of shoegaze. Think Chapterhouse, or Curve, or (to be a little less obscure) Jesus And Mary Chain circa Honey's Dead. Come prepared to move your feet, but expect plenty of ethereal pop melodies and hazy guitars soaring overtop the dance beats. It's gonna be awesome. Show up on time, too, because emo up-and-comers Feigning Grace and synth-pop loungers Ethanol will be ably representing the Richmond scene from their opening slots on this bill. You don't want to miss that.
Friday, September 1, 7 PM
Rikki Rakki, Pebbles Palace @ Révéler – $11 (order tickets HERE)
It can be tough writing about local bands who are at the height of their powers. Take Rikki Rakki, for example: I can't help but mention their name on a frequent basis in this column. Most of the time, if they're playing a show on a given night, it is indubitably the best show happening in town that night. So yeah, I'm obviously gonna send you there. That's what's happening this Friday night — Rikki Rakki are playing Reveler, and if you want some great live music, that's obviously your best destination. But what can I tell you about Rikki Rakki that I haven't told you already, multiple times? I suppose I could mention that the new album, Breaking Skin, is incredible, full of catchy songs with a lot of emotional depth. But I sent you to their record release show a month or two ago, so you know that already. I could say that they manage to straddle the line between uptempo indie rock and high-lonesome alt-country with tremendous aplomb, or that Erika Blatnik's lyrics are so sharp they'll cut you to the core if you're not careful. But I've said those things before too. If I haven't already convinced you to follow this band like your stoner uncle used to follow the Dead back when Jerry was alive, I don't know what more I can tell you now.
So let's try a different approach. Maybe I'll just tell you about the other up-and-coming Richmond band playing this show at Reveler in Carytown. That'd be Pebbles Palace, a band of extremely talented musicians that features multiple of the people who bring us Hourglass Sessions. They're fronted by Andrew Bonieskie, who has an excellent voice and loves to use it in dramatic and breathtaking ways. Musically speaking, Pebbles Palace channels all sorts of psychedelic, indie, and funk touchstones, from Pink Floyd to Queen to Sly And The Family Stone. And if that sounds a bit all-over-the-place, well… it kinda is, but in the most brilliant way. On their debut album, Long And Bygone Fame, Pebbles Palace prove that their musical talent extends to all sorts of different genres and approaches. It's a richer listening experience as a result, and their live show is sure to be incredibly fascinating as well. Those of you who've long since realized the brilliance of Rikki Rakki are gonna want to show up early for this one so you can be sure to absorb the full Pebbles Palace effect. And those of you who have somehow still missed what Rikki Rakki have to offer can come out to see Pebbles Palace and then hang around for the start of Rikki Rakki's set. Once you hear one of their songs, you're gonna want to stay for the whole thing. If you've never trusted me on anything else, you should definitely still trust me on this.
Saturday, September 2, 5 PM
Back To School Fall Brawl, feat. Rig Time!, Slugs, LCTR, Betty Grey, The Get Off, Bruiser, Slaat @ Another Round Bar & Grill – $15
OK, so maybe you read the featured show blurb up above, and you were totally down for an awesome back to school show to start the year off on the right foot. But maybe you couldn't help but think "I dunno, Drew, this doesn't sound like a very heavy show. I want it HEAVY." Well, don't panic, my friend, because I have a solution for you! Another Round Bar & Grill is presenting a Back To School Fall Brawl on the very same day, and it's loaded full of incredibly heavy awesomeness from far and near. For example, at the top of the bill is Rig Time!, a Wisconsin band with an aggressive, take-no-prisoners approach that's gonna have you headbanging and moshing like mad when they hit the stage. Then there's Connecticut's own Slugs, who draw in more melody and bring a darker feel to their music, as demonstrated on 2021's Escape. However, the fundamental truth remains: these guys are fucking heavy. You will bang your head.
Let's dig deeper into this bill, beyond the out-of-town headliners. LCTR are a relatively new band from the local scene, and I have no idea who's involved, but I do appreciate that their debut EP is called Goodness Won't Save You From The Fire. As you may suspect from such a dark invocation, this band is downright brutal, punishing in their downtuned death-metallic breakdowns and monstrous, evil-sounding vocals. Then there's Betty Grey, a band that matches groove-metal riffs with hardcore rage and a sardonic attitude, all to excellent effect. The Get Off are probably the most melodic band on this bill, but that doesn't mean they can't bring the pain; their driving hardcore punk is full of nail-spitting rage. Bruiser bring the most traditional sound to this bill; their old-school hardcore vibes will make fans of legends like Negative Approach and first-LP Cro-Mags smile. And of course, Slaat goes for the gusto with raw metallic thrash attacks that will please those whose favorite era of death metal was the late 80s. Scream bloody gore, indeed. If you want a heavy heavy start to your heavy heavy semester, come to this show. And don't worry about a bangover — classes don't start back up 'til Monday.
Sunday, September 3, 7 PM
Fall Staff Pick Residency, feat. Sifter, Orbweaver, Roughshod @ The Camel – $10 (order tickets HERE)
It's time for another of the quarterly Staff Picks residencies over at The Camel, where the folks who take door and tend bar at the clutch Broad Street venue pick a local band they love to headline a month of Sundays. This time around, it's Sifter, a band who hasn't been around too long but has jumped to prominence in the post-pandemic era with their snotty, antisocial rock n' roll. So far, all they've released is their six-song debut EP, Nobody Asked, but it's an excellent introduction to a band that surely merits further attention. From the raucous ACAB anthem "RPD," which opens things up on a note of high aggression, to the speedy, frenetic "Narcissist" to the surprisingly surf-punk inspired closer, "Dwarf Planet," Nobody Asked gives us all plentiful reason to believe that Sifter can absolutely carry a month's worth of shows.
Their choice of locals to share the bill with also speaks well for their taste. For this first show, they've brought in Orbweaver, who have already changed their name once since moving to Richmond and should maybe consider changing it again to avoid confusion with the Florida math-metal band. Regardless of what they're called, though (hint: they're still listed as "Wilma" on Apple Music, though I think the name change has gone through over at Spotify), this band is a real ripper, with some heavy rock riffs and powerful vocals that make me think of Soundgarden circa Badmotorfinger (don't get it twisted, folks — that's a compliment. I loved Soundgarden back before they were getting radio hits). And of course, Roughshod are also on this bill. I'm always stoked for anything Austin Ruhf is involved in, and not just because we used to play in a band together; from Doug's eternal faves The Talkies to his early involvement in Car Seat Headrest, everything Austin gets involved with is awesome, and Roughshod's vaguely new-wavey indie-rock is no exception. Driving, energetic, and catchy as hell, Roughshod is a band worth showing up on time for. Don't blow it.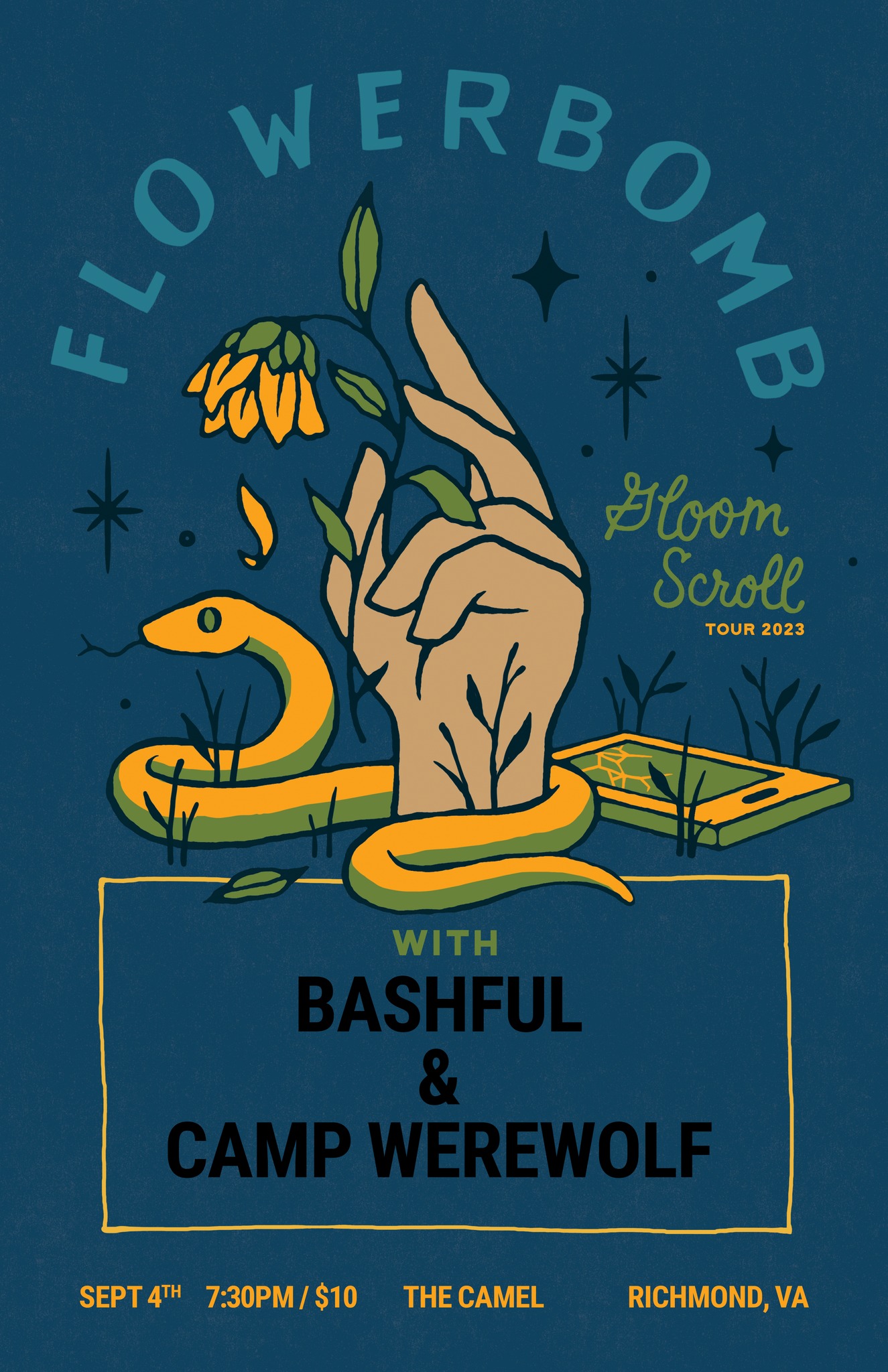 Monday, September 4, 7 PM
Flowerbomb, Bashful, Camp Werewolf @ The Camel – $10 (order tickets HERE)
It's super cool that the Camel will get a visit from Washington DC's Flowerbomb this Monday night. For one thing, because it singlehandedly redeems the toughest night of the week for high-quality live music in Richmond. For another, because Flowerbomb are just a great fucking band that a lot of people here in Richmond might be sleeping on. Granted, they've only released two songs since their debut album, Pretty Dark, came out in 2020, at the height of the pandemic. If anything's gonna make it harder for people to wake up to a band's brilliance, it's that particular set of circumstances. However, we're well past time for a Flowerbomb renaissance, and it can easily start right here, with us. All it'll take is one night in the company of this killer band; tunes like "One Of Three" and "Sorry" display their incredible facility with a killer indie-pop tune, and the many catchy choruses they're able to enchant us with. So show up at The Camel this Monday night and fall under their spell.
And hey: make sure you show up on time for this one, because it'll feature a rare live appearance by local punk rockers Bashful. If you missed these guys a few years ago when they released their debut LP, Driving, it's not that big a surprise: that record came out only a month before the pandemic shut down the world. But it's worth revisiting, because Bashful brings back together 3/4 of legendary Richmond pop-punkers Hold Tight. Or at least it did on the LP — all I can tell you for sure about Bashful circa 2023 is that Jake Guralnik is still fronting the band. But that's all you really need to know in order to be sure you're going to get a double dose of melodic punk brilliance. This one will open up with a set from local emo kids Camp Werewolf, who will definitely tug at your heartstrings but are also capable of getting you all stirred up when they set their minds to it. Get stoked for this one.
Tuesday, September 8, 7 PM
Your Neighbors, Point Blank Society, Colpa Mia @ Richmond Music Hall at Capital Ale House – $18 (order tickets HERE)
I remember back in the mid-00s when I knew a guy online who had a blog called "Teaching The Indie Kids To Dance Again." Based on the kinds of bands I hear coming out of the indie scene these days, I have to figure that if even he wasn't successful at his mission, someone was: a lot of indie bands circa 2023 know how to get the dance party started. Your Neighbors are a great example of this; on their 2021 debut album, Love Your Neighbors (I know, I think it's clever too), they mix a lot of great electro-pop grooves and disco-fied beats into their indie melodies and bouncy hooks. Things even get downright hip hop at points, but thankfully without ever losing track of their pop foundations.
Since their debut album, Your Neighbors have kept a steady stream of singles coming, each one fun and memorable in its own unique way. When they come to Richmond Music Hall this Tuesday night, they'll bring plenty of outstanding grooves with which to get the indie kids dancing. They'll also be joined by Austin, Texas-based project Point Blank Society, which is the musical alter ego of a guy named Cullen King. He also has a good grasp of that thin line between indie and dance-pop, and he straddles it with aplomb on his many killer singles, sometimes going downright R&B ballad with it, while at others cranking out picture-perfect indie pop tuneage. It'll all blend together into an excellent opening set this Tuesday night. With Richmonders Colpa Mia on hand to add a strong dose of bouncy indie pop played entirely on analog instruments, this night will be a well-rounded example of the broad spectrum of sound that gets indie kids to move their feet. Come get the party started.
---
Email me if you've got any tips for me about upcoming shows (that take place after the week this column covers -– this week's column has obviously already been written): rvamustseeshows@gmail.com
Please consider supporting my Patreon, where I'm documenting my progress on two different novels and (sometimes) writing about music of all types. patreon.com/marilyndrewnecci