RVA Shows You Must See This Week: March 1 – March 7
FEATURED SHOW
Tuesday, March 7, 7:30 PM
Shockoe Sessions Live presents: Quatres Femmes, feat. Sophie Colette, Alex J. Dimas, Tess Fisher, Kailey Conner @ In Your Ear Studios – $15 (order tickets HERE)
It's not often that I feature a show with a capacity under 50, but it's also not often that said show can be watched live over your WiFi connection even if you can't be there in purpose, so I suppose it all balances out. If you read this column consistently, you already know that Shockoe Sessions Live are always worth keeping up with; on a night early in the week that is more often than not dead in terms of live music, the Shockoe Sessions at In Your Ear are a perpetual bright spot. They started back in the depths of COVID quarantine, when there were no shows to be had and the only way to see performers do their thing live and uncut was to watch a livestream. Once restrictions relaxed and shows started to happen again, they started allowing people to come down and watch — not a ton, just a couple dozen — and it's been an opportunity to see a whole different kind of live performance. Almost like what I imagine it felt like to be on set for an MTV Unplugged taping back in the day.
Despite the fact that Shockoe Sessions Live is always one to watch on a Tuesday, this show in particular stands out. Taking place the night before International Women's Day, this show sees Shockoe Sessions Live breaking their usual format, in which one band plays a long set and gives an extensive interview between songs, in order to present a program called Quatres Femmes: literally, four women. The four local female singer-songwriters on this bill are from varied backgrounds: some newcomers on the scene, some veterans with strong reputations; some poppy songbirds, some raspy crooners. What all of them have in common, aside from gender, is talent. Lots of talent.
At the top of the bill is Sophie Colette, a pop artist with some catchy, danceable tunes that feature subtle emotional depth. She recently relocated to Richmond from Brooklyn and her new single, "Don't Worry," is a great example of her style, one that's sure to sound brilliant in the live environment. Alex J. Dimas is a local artist who got back into writing songs and playing music during the pandemic. Since then, she's released several promising guitar-driven indie singles with a wistful feel and a strong melodic sense. It'll be very interesting to hear what she does with the live-in-studio setup Shockoe Sessions presents. Of course, if you've been paying attention to the local music scene for a while, you should know Tess Fisher. She first grabbed attention fronting the doom metal band Petrichor, but has focused on her solo career in recent years, catching everyone's ear with her powerful blend of dark Appalachian folk and apocalyptic country blues. She doesn't have anything out yet, but she's signed to up-and-coming Richmond label Vocal Rest Records, so it seems it's only a matter of time. Finally, Kailey Conner will round things out with some fine country-tinged pop melodies, as typified by her recent debut single, "Sensitive." Overall, we can expect this edition of Shockoe Sessions Live to be even more worth the watch than usual, even if you're just streaming it on YouTube at home. But listen — if you have the opportunity, the best move is to grab a ticket ASAP so you can be in the room. TV broadcasts are cool, but they can never equal the way it feels to be there live and in the flesh.
Wednesday, March 1, 7 PM
Woman Crush Wednesday, feat. Trash Rocket, Caroline Eve, Kailey Conner @ The Camel – $7 in advance, $10 day of show (order tickets HERE)
I'm on record as being a fan of Bri Bevan's monthly showcase of rising female musicians, Woman Crush Wednesdays. These shows are forever turning me on to some cool new band or artist that I hadn't previously heard of. That's why I pay attention when the next one comes around, even when I don't know the names of any artists on the bill. Finding out what's new and on the come-up around the city and the state is the best part. And knowing that the artists in question will be predominantly female, in a music scene that still remains predominantly male, is an excellent bonus.
This time around, the main artist I'm learning about for the first time is Fredericksburg postpunk band Trash Rocket. Anytime a band has a name that good, I'm sure to give it a listen, and checking out the three songs Trash Rocket currently have uploaded on Bandcamp (all uploaded since the beginning of 2023 — clearly, this band is in an active period) provided a musical experience every bit as cool as their name would lead you to expect. Mixing upbeat punk rock riffage with squiggly synth lines and snarky lyrics, this combo has exactly the sort of vibe I'm looking for. Trash Rocket are joined on this bill by young singer-songwriter Caroline Eve, who is currently unfamiliar to me but will be playing this show at the head of a trio featuring Russell Lacy (Virginia Moonwalker) and Ben White (Former Champions, Mekong Xpress), so she's clearly got some chops to draft such well-known local talents. Rounding out the bill will be singer-songwriter Kailey Conner, bookending the week and bringing her strong pop sensibility to this bill as well as to Shockoe Sessions later on. This one's gonna be a blast.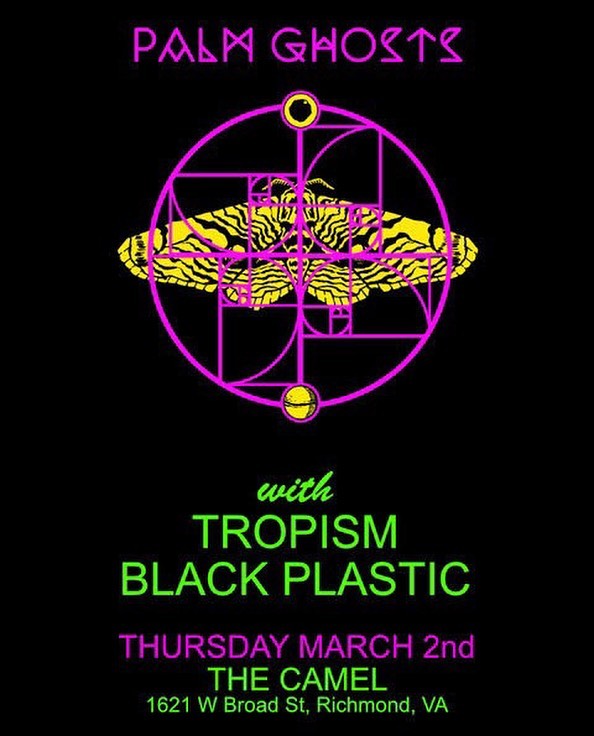 Thursday, March 2, 8 PM
Palm Ghosts, Tropism, Black Plastic @ The Camel – $10 (order tickets HERE)
Here's one for everyone who's been known to wear their sunglasses at night. Palm Ghosts are a talented alternative rock group who've been doing their thing for over a decade, first in their native Philadelphia and more recently in their current home base, Nashville. Hardly the city you'd expect a record layered with the icy chill of early 80s postpunk and New Romantic vibes to emerge from, but hey, stranger things have happened. Palm Ghosts' latest EP, Cold Spells, is catnip for the black hair dye-loving goth freak inside us all. That said, the melodies that this quartet comes up with are sure to appeal even if you don't have a single Joy Division record in your music library. (That said, if you don't, what's wrong with you?)
Palm Ghosts are joined on this bill by two Virginia bands. The first, Tropism, comes from just up 95 a piece in Fredericksburg. Where Palm Ghosts' musical darkness comes from their evocation of 80s postpunk and gothic new wave, Tropism attain a similar musical mood with a hefty dose of gloomy metallic instrumental vibes, of the sort that will remind those of us haunting the metal scene in the mid-00s of Pelican. Richmond's own Black Plastic takes things in a different direction from both of the bands they're playing with, but lands in a similar place, regaling us all with their vaguely dissonant take on post-VU indie alienation. None of the bands on this bill sound like each other, but all of them capture a similar feeling, which makes this one of the most pleasantly paired triple bills this city has seen in a good while. I shouldn't need to tell you what to do next. But here's a hint: go to this show!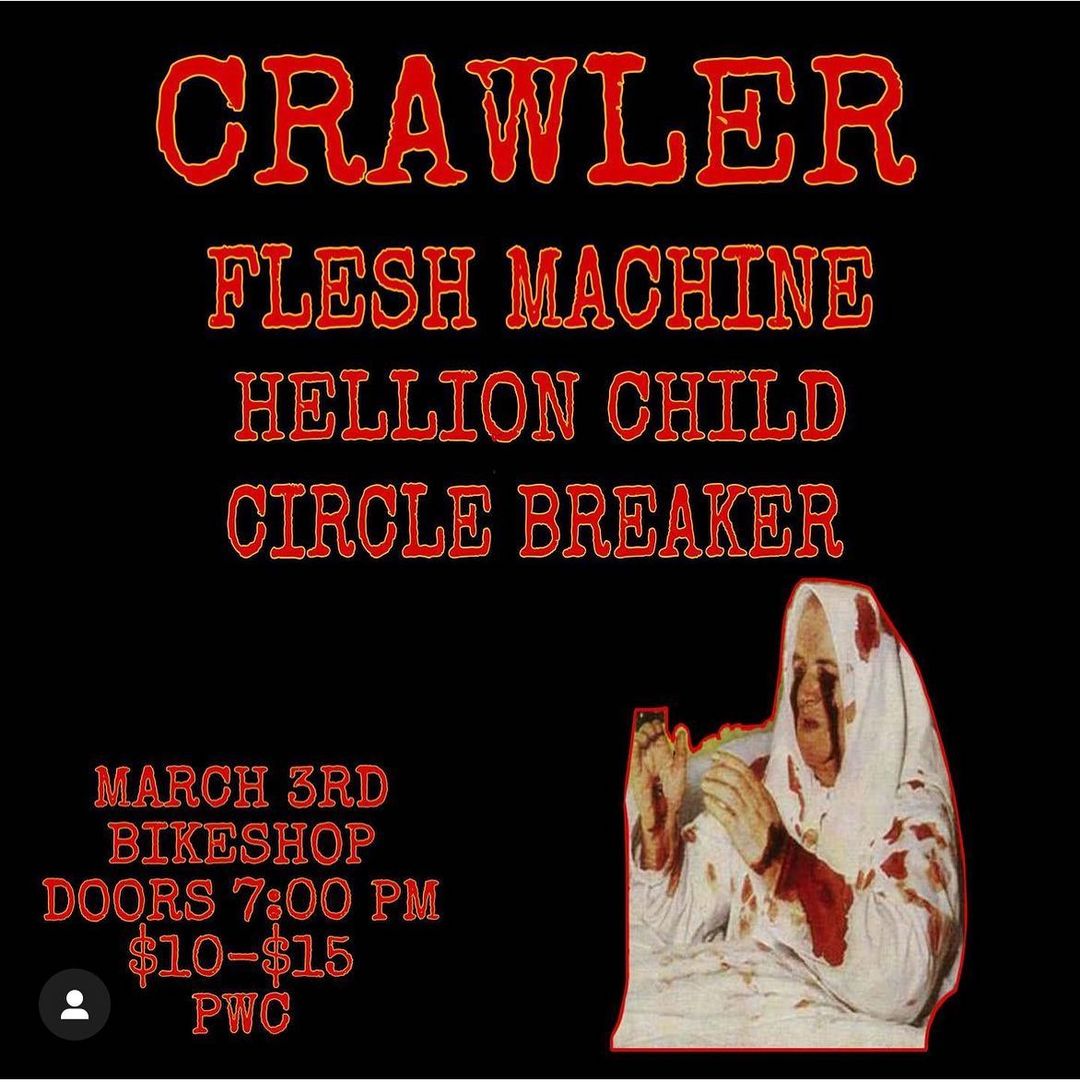 Friday, March 3, 7 PM
Crawler, Flesh Machine, Hellion Child, Circle Breaker @ Powers BMX – $10-$15
This Friday, Maryland is bringing the noise chaos to Virginia, as Baltimore's Crawler invades Powers BMX to lay down a scorched-earth set guaranteed to take out all comers and leave even the most diehard of Richmond metalheads blown right out of their shoes. You might see the word "doom" associated with Crawler, but please don't expect ten-minute sludge gloom epics from these guys; they aren't bummed — they're fucking PISSED. That becomes abundantly clear in a single listen to 2019's Womb EP, which shows Crawler just as likely to put the pedal to the metal and level the place with some scathing blast beats as they are to drop into some sort of epic sludge breakdown. All of those tools and more are available in their arsenal, though, and when they put them all to use, the result is quite the thing to see. Which is a great reason for you to make it out to Powers BMX this Friday night.
It's not the only one, though! Flesh Machine is also on this bill, and I've been trying to hype people on this Richmond band for a while now. Last year's Pray To The Hive EP was a great demonstration of their capabilities, showcasing their chaotic, off-kilter sound in a manner that is both less heavy than you might expect and way more likely to induce spastic headbangs of the sort that might give you a bangover in the morning but will feel absolutely perfect in the moment. Go with that feeling, readers. Do it for your 47-year-old chronic-pain-infected correspondent, so I can live vicariously through you all. Hellion Child are also on the bill, and while I haven't listened to their 2022 record, Infernal Ascension, as often as I've played the Flesh Machine record, I love it no less. Its mix of black metal rage, grinding blastbeat fury, and Envy-style epic screamo moments is just about perfect, and it's sure to connect with you no matter what type of heavy music you dig the most. Circle Breaker, a relatively new band featuring members you'll know from elsewhere around the scene, start things off with a sound somewhere between grind, hardcore, and black metal. It'll rip — just like this entire bill will. Get there.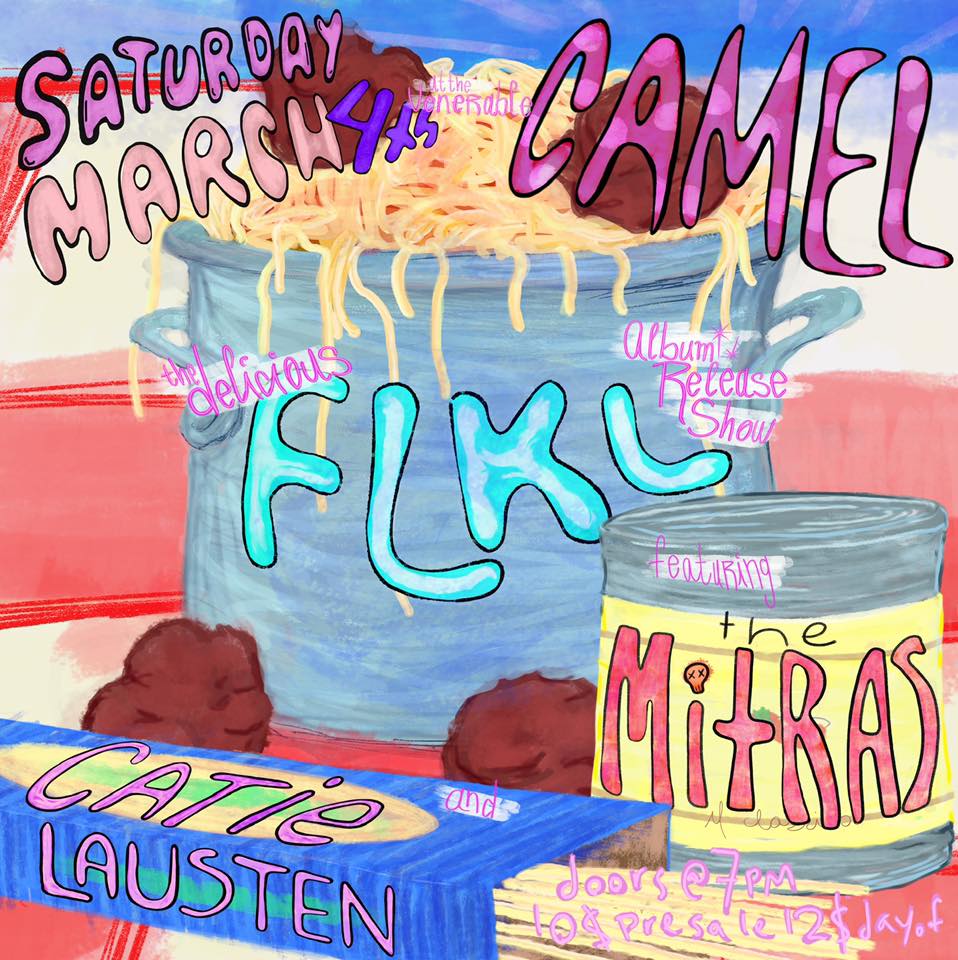 Saturday, March 4, 7 PM
FLKL, The Mitras, Catie Lausten @ The Camel – $10 in advance, $12 day of show (order tickets HERE)
Something I am only just learning is that FLKL is not an acronym, which is to say: you're supposed to pronounce it by saying each letter individually. A fun game will be to see how long it takes me to stop thinking "fill kill" whenever I see their name written anywhere. I'm setting the over-under at two years. But it's not FLKL's name we should spend the majority of this blurb talking about; instead, we really need to talk about what makes this show so exciting: the fact that it celebrates the release of FLKL's second album, Fistful (the followup to excellently titled debut Songs For Your Dogs), which will enter into the world on the very day of this show.
I may not know exactly what Fistful sounds like as of right now (I get advance promos sent to me on an occasional basis AT BEST — Richmond bands, send me your tunes!), but I have checked out the first two singles from Fistful, both of which hit the streaming services a month or two ago, and they've led me to expect very good things. (Editor's note: check back here on Friday for more on the record!) Indie rock melodicism with an intriguing multi-layered twist, pulling influences from prior eras forward to give the whole thing a sort of gothic-cabaret feel — a feel only enhanced by song titles like "This Body Is A Dime Novel." I'm looking forward to hearing what else FLKL has in store for us this year. Who knows? If all of it is as great as the stuff I've heard thus far, I might even learn to pronounce this band's name accurately. Local favorited The Mitras and Catie Lausten fill out the night and will probably help pack the house at The Camel so get your tickets in advance if you can!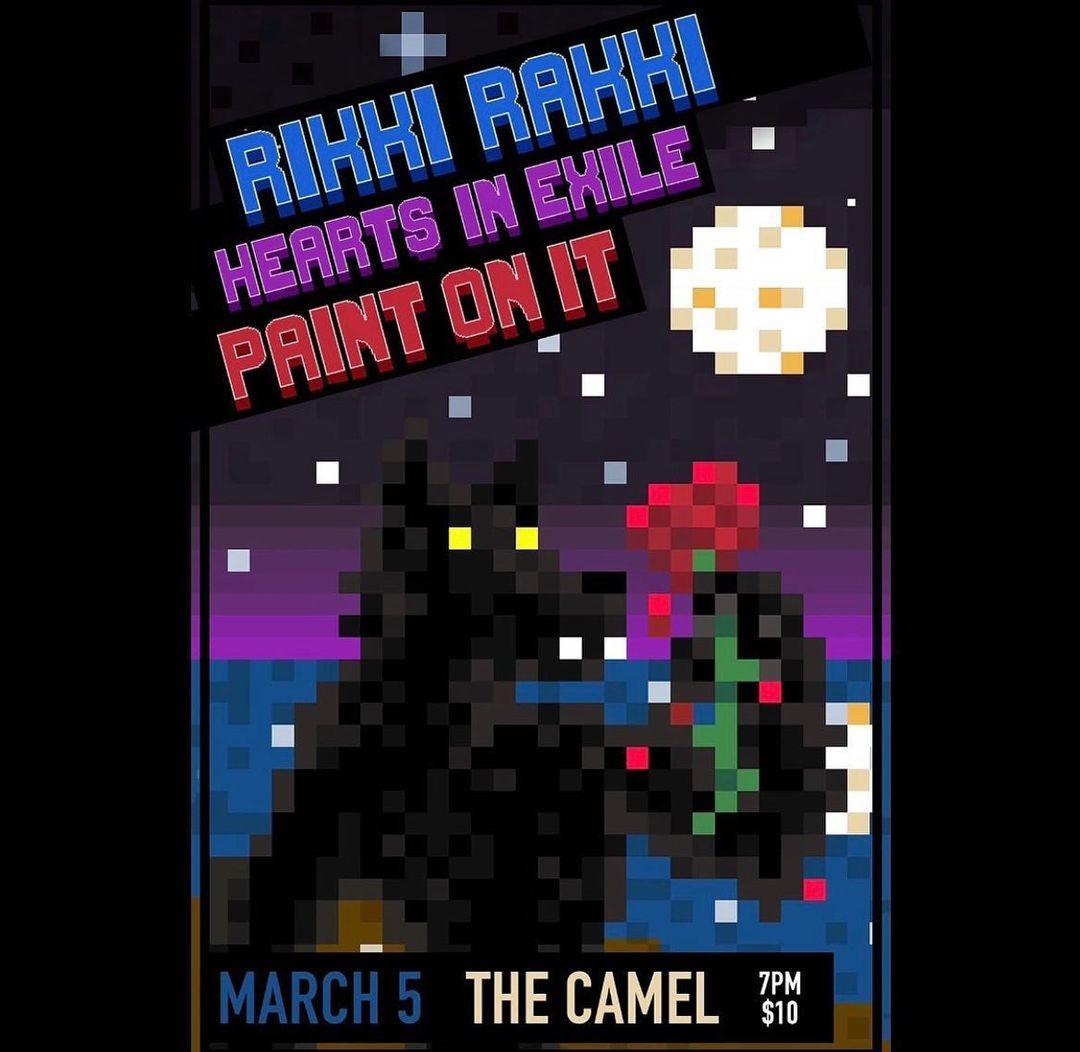 Sunday, March 5, 7 PM
Rikki Rakki, Hearts In Exile, Paint On It @ The Camel – $10 (order tickets HERE)
It's been interesting to watch the various ways the Richmond music scene has reordered itself in the post-pandemic era. I haven't always been stoked about it — seeing bands that went away with the pandemic quietly break up without ever bothering to play a final show is always a bummer — but I've always found it informative. And it's hard to feel anything but positively about the young bands who've stepped in to take the place of the bands that quietly faded away during that year and a half when no one could play shows. Rikki Rakki is one of those bands here in Richmond, and they've picked up quite the buzz over the past year or so, as they followed up their Quarantine Songs EP with an incredible two-song live EP originally recorded for WRIR DJ Shannon Cleary's Commonwealth of Notions radio show. The energy and hard-hitting delivery those two songs get is more than enough to convince those who haven't definitely jumped on the Rikki Rakki bandwagon that now is the time.
Just last week, Rikki Rakki released their first new studio effort since Quarantine Sessions, a new single called "Cryin' In The Uber" — named for a relatable experience I imagine everyone's had at one time or another. This single might be Rikki Rakki's best tune yet; it retains the energetic indie attack that made the live Commonwealth Of Notions EP so invigorating while also hitting us with a powerful country twang in both the vocals and guitars. The result is akin to Hop Along jamming with Mazzy Star on a particularly energetic day; nothing you want to miss, under any circumstances. This bill is rounded out by Hearts In Exile, a brand new band from right here in Richmond featuring the former frontman for Harrisonburg's Flyying Colors fronting a new psych-rock quartet that's sure to bring a smile to the face of any Brian Jonestown Massacre fan. As for Paint On It, their keyboard-based indie rock tunes should click for you if you dig what people like Ben Folds were up to at their best moments. It all adds up to a great reason to feel stoked even on a Sunday night, right before it's time to go back to work. Amazing!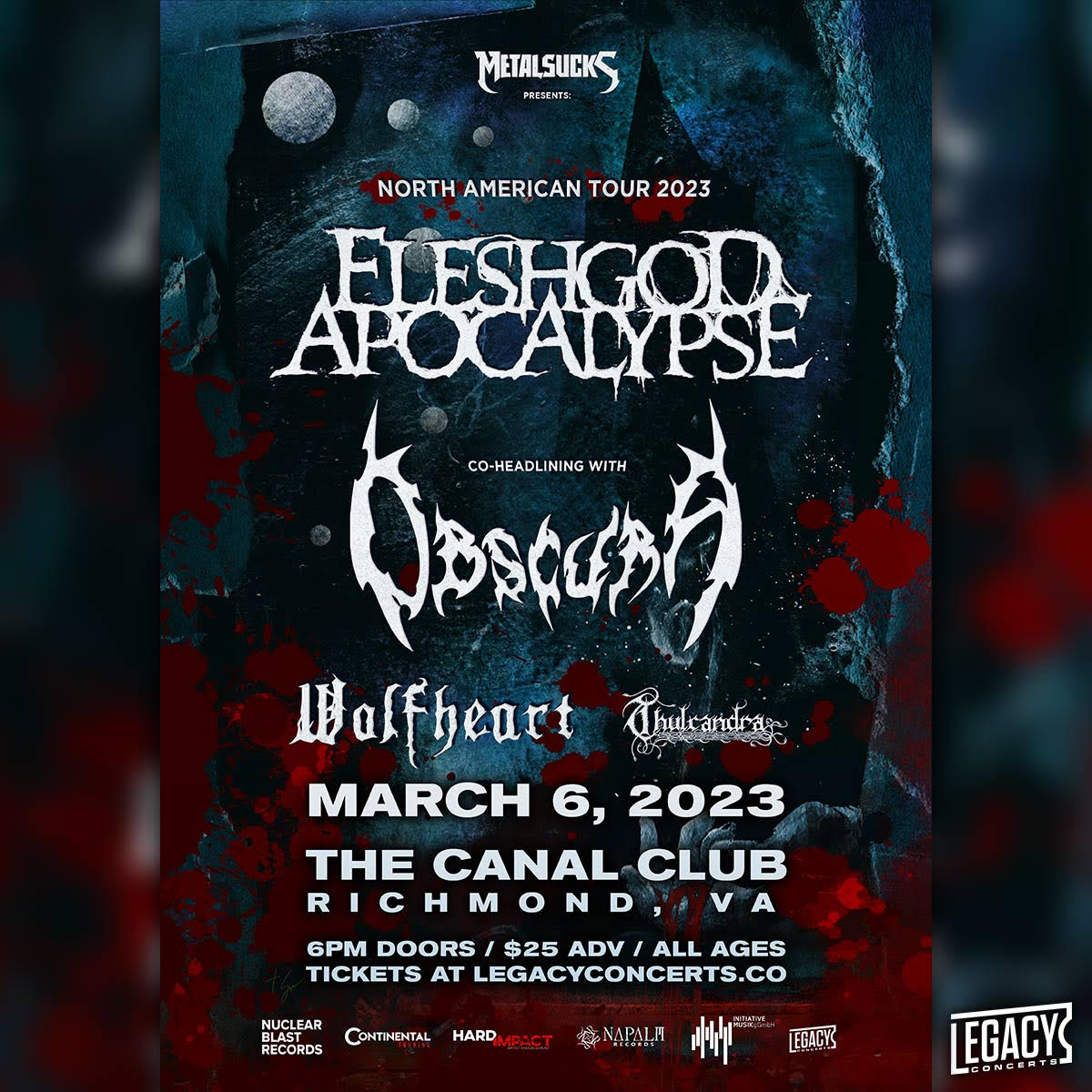 Monday, March 6, 6 PM
Fleshgod Apocalypse, Obscura, Wolfheart, Thulcandra @ The Canal Club – $25 in advance, $30 day of show (order tickets HERE)
Between the names of the bands on this bill and the wild fonts they're written in, you surely know what you're getting into the second you check this one out: this is death metal, in all its fierce glory. That said, it's not just any old death metal; Italy's Fleshgod Apocalypse in particular brings an unusual twist to the genre based in guttural vocals, rumbling double bass beats, and choppy staccato guitar riffs. Specifically, Fleshgod Apocalypse are a symphonic metal band, a band whose music attempts to incorporate the stately flourish of classical music into the unrelenting power of death metal riffage. If it seems like the kind of thing that could easily fall on its face, I must say I agree! However, Fleshgod Apocalypse have been managing to thread this needle with perfect aplomb, always staying just on the good side of ridiculous and creating albums with all the drama of Beethoven's "Ode To Joy" even as they knock you on your butt with their killer riffs.
Co-headliners Obscura, who hail from Germany, don't really mess around with symphonies. That said, they're not any less epic than Fleshgod Apocalypse. On 2021's A Valediction, Obscura alternate between progressive metal moments of glory and straight-ahead death metal that has no interest in anything other than ripping out your throat. While Fleshgod Apocalypse is something you might be able to play for your Beethoven-obsessed uncle, Obscura is strictly for the headbangers among you. And as much as I do love Fleshgod Apocalypse, I definitely do mean this as a compliment. The bill is rounded out by Finnish metal masters Wolfheart, whose tendency toward epic moments puts them in good company on this bill, and comparatively straightforward German black metallers Thulcandra, who are definitely worth showing up in time for. You know what to do.
Tuesday, March 7, 7 PM
Begonia, Kotic Couture, Erin Lunsford @ Richmond Music Hall at Capital Ale House – $10 in advance, $15 day of show (order tickets HERE)
I'm sure some Deadheads out there took one look at the headliner's name on this show and thought of "Scarlet Begonias." However, this show's got nothing to do with Jerry Garcia; instead, it features Alexa Dirks, the Canadian singer-songwriter whose solo project is known as Begonia. Having initially gained fame within the Canadian vocal group Chic Gamine, Dirks began Begonia in 2017 and released her debut album, Fear, in 2019. It got some attention from both the Polaris Prize people and the Juno Awards. More importantly, its layered, emotional synth-pop made a strong impression on Canada as a whole.
We here in the US are still a little behind the curve on Begonia, but we'll get the chance to make up for all that with her second full-length, Powder Blue, which was actually just released last week. It's quite a listen, full of powerful emotional crescendos and moving musical moments as well as times when you just want to hit the dance floor and move your body. How you react to Begonia is really up to you; what's important is that you venture down to Richmond Music Hall this Tuesday night and give yourself a chance to fully take in the grandeur and beauty that is the music of Begonia. You'll be glad you did. Rounding out this bill is Baltimore DJ and musician Kotic Couture, who's down to pump up the vibe on a weeknight, and local favorite Erin Lunsford. We mentioned the Polaris Prize earlier when talking about Begonia and Erin Lunsford's band Erin & The Wildfire is up for our own local Newlin Music Prize. Check her out opening the night and hear exactly why she's being celebrated as one of Richmond's best!
---
Email me if you've got any tips for me about upcoming shows (that take place after the week this column covers -– this week's column has obviously already been written): rvamustseeshows@gmail.com
Also, I'm a freelancer now, and I'm looking for commissions, so if anyone needs press releases, band bios, or even actual articles written, you should hit me up! I work cheap.