Back Into The Fray
Releasing an album should be a joyous occasion, a celebration of all your hard work, a high you ride for quite a while. But a satisfying return is never guaranteed, and it's this hard truth that musicians struggle with after putting so much of their life into their art. They write the lyrics, they pick the tempo, and they craft the melodies. They record vocals and guitar parts and drum sessions, tweaking and editing them over and over again until they land on a version matching the sound in their head. They doubt every decision, obsess over every detail, and panic that it will never be finished. Then process is repeated until they have enough tracks for an album.
Those who manage to keep their sanity throughout the process hold on to the prospect that it will lead to something bigger and better. Maybe supporting tour dates with a surging band. Perhaps some influential radio host will start playing the lead single on repeat, or one of the deeper cuts will be featured in a scene on the next breakout TV show. Whatever the circumstance, the hope is that being able to put out an album will lead to the next big step in your career and give you the confidence and motivation to keep going. But that's not always the case. Sometimes what should be a momentous occasion becomes anticlimactic and winds up setting an artist back instead of propelling them forward.
This was the position Tyler Meacham found herself in when releasing Into The Fray in February 2022. An adventurous and inspired ten-song release, it was the culmination of a journey that began when Meacham moved back to Richmond in 2017 and began to write and perform. Her previous work had garnered attention and acclaim, but on Into The Fray, she seemed to take that coveted next step with an effusive sound that bolstered her earnest melodies and perceptive lyrics. She blew past her singer-songwriter roots and established herself as a musician with a clear artistic vision that could be brought to life through sharp and profound talent.
Into The Fray ended up being one of the 20 albums nominated for the 2023 Newlin Music Prize, but in the year between the album's release and that distinction, Meacham faced loss and uncertainty that turned what should have been a triumphant victory lap into a bittersweet period of reflection. "Everything just fell apart," Meacham says. "What should have been a time to celebrate just became a period of grieving." 2022 became full of unrealized dreams and conflicting emotions for Meacham as she watched Into The Fray's momentum get derailed.
As the year came to a close, Meacham wasn't quite ready to close the book on the album. She began listening to different mixes from the album's recording process and even thought about some of her older compositions and how they might sound today. Recording, remixing, and remastering sessions followed before six recordings emerged that offered her a way to reclaim the lost momentum. Set for release on Friday, March 10th, the Anniversary Edition of Into The Fray combines the original ten songs with new recordings and alternate versions of songs from her back catalog. The complicated emotions attached to last year's release are still there, but with this re-release, Meacham hopes to breathe new life into the record and end this period of her musical career on a peaceful and honest note.
Reclaiming The Narrative
It was June 10th, 2022 and Tyler Meacham was a few months removed from the release of Into The Fray. After months of runaround and hard work, it was finally time to celebrate the vinyl release of the record at Gallery 5 alongside her five-piece band who helped her cultivate and define her sound since moving to Richmond. It should have been a glorious moment in the album cycle for Into The Fray, but what no one in the audience knew was that this would be the last time Meacham's full band would play together in Richmond. Shortly before that show, with a tour already scheduled and more planned for the rest of 2022, some of Meacham's band members informed her that they would be leaving the group, news that devastated her.
"It was really, really hard," Meacham explains. "I was playing music with the same people for years since I moved here, since I started writing music and gigging in general. The timing was really bad and it was just hard to deal with in general." Cancellations followed, plans shifted, and Meacham found herself unmotivated at a time when focus was still needed to promote Into The Fray. "I ended up spending the summer grieving that," she continues. "Feeling like the album that we made lost a lot of its heart and soul. I wasn't as excited to promote it and I wasn't as excited to try and put shows together. I had every intention of spending last year going as hard as I possibly could to promote this thing, because we spent so much time on it and so many hours on it and it meant so much to me. It was a really big investment, emotionally and financially and all of the above, but halfway through that whole process, everything just fell apart."
Frustration. Disappointment. Regret. Meacham went through all these feelings as she faced a problem without a clear solution. "As an artist, you just feel like what you're trying to do is impossible and the doors keep closing. You don't understand why and you just take it personally," she remarks. This feeling persisted for much of 2022 until Meacham landed on the idea of a re-issue to help give the album one final push.
"Doing this re-release and adding these new tracks and really pushing it one more time, it's just me giving every ounce of what I have left, after coming through that process, one last time," she describes. "I'm very proud of Into The Fray because it sounds like a record I would listen to. If it wasn't me performing, I would still listen to that record and that was my intention from the start. Just make something that people want to hear. So here's one final push to put it out there so people can hear it."
The anniversary edition will be available digitally and physically, released as a cassette through the Utah tape label Far Out Cassette Club. People who previously bought the album on vinyl will receive a tape for free, but Meacham has also planned other special things for the re-release. "If someone wants to buy the full package, each record is going to have this sticker that's on the album art that's going to say anniversary edition and the sticker is going to be a NFC tag," she lays out. "You hold your phone to it and it's going to bring up all sorts of behind-the-scenes content like lyric sheets. Cool exclusive stuff that no one else gets to see. Similar to the idea of buying a vinyl and getting digital downloads, but instead, you're buying a vinyl and getting an extended experience. Like the actual deluxe edition or deluxe experience."
Doing something like this isn't unusual for Meacham, who regularly promotes her music from multiple platforms. You can find her posting quick videos promoting shows or news on Instagram and TikTok, and she also keeps up regularly with Patreon and Substack to provide more content for her audience. Meacham admits there's more to be done though, which speaks to the fraught relationship artists have with generating content for the never-ending news feed.
"There is the thought of 'I need to be doing this' or really just feeling like I'm never doing enough," she admits. "I really respect, admire, and envy people that can plan and be strategic. I think I had that amount of focus for the full-length record because I had to, but for the deluxe edition, I only knew I wanted to do it a couple of months ago, so a lot of the recordings were done in a few weeks around December and January."
Re-releasing isn't the only thing helping Into The Fray stay in the news cycle, though. Announced as part of the short list for the 2023 Newlin Music Prize (which honors the best album from the Richmond-Petersburg metropolitan area), Into The Fray is one of 20 local records reaching new and different ears throughout February and March as jury members and the general public cast their votes. Helping connect these artists with new audiences is one of the goals behind the award and something that Meacham hopes will overcome the difficulty musician face. "I hope the Newlin Prize just means there are more people that are going to hear it because it's hard. It's really, really hard to find an audience," she reveals. "If you're not performing live, it's almost like screaming into the void when you post something new. Sometimes when you are performing, it's like screaming into the void too, depending on where you're at."
Despite immersing herself in promoting a release and finding an audience again, Meacham admits that this doesn't erase any of the conflicted emotions from last year. "I'm always going to have these feelings towards the band breaking up," she says after a long pause. "There's a lot of emotion around it and there always will be, and that's okay. I'd rather feel strongly about a piece of art, even if it's not a positive feeling, than feel nothing at all."
Today, Meacham is still looking for the best way to perform live with her music, whether with a new group, by herself, or even as a duo with her partner Chip Hale. "Chip has been the most supportive partner," she says. "He has learned how to play parts that he would never play before just so he can do an acoustic set with me."
Putting a new band together carries its own set of challenges, for both Meacham and her prospective bandmates. "It is a weird way to play music, being in a band behind a songwriter," she observes. "It's different than being in a band, like Moosetrap for example. They make decisions as a unit because they are a band. This is a singer-songwriter with a band. Which I believe gives me more freedom with who I play with in general, but it's still just different. Really different."
Still, the idea of a band calls to Meacham. "I miss having a band so much," she sighs. "Every time I perform and every time I book a show, I just think it would be so much better with a group of people. When the band broke up, I firmly believe we sounded the best that we ever had. There are recordings from the brief tour that no one has heard because it hurts too much, but when I hear it, they sound incredible. I also just miss those people, but I'm working to accept that there's got to be a different way to do it right now, and that's what this re-release hopefully points to."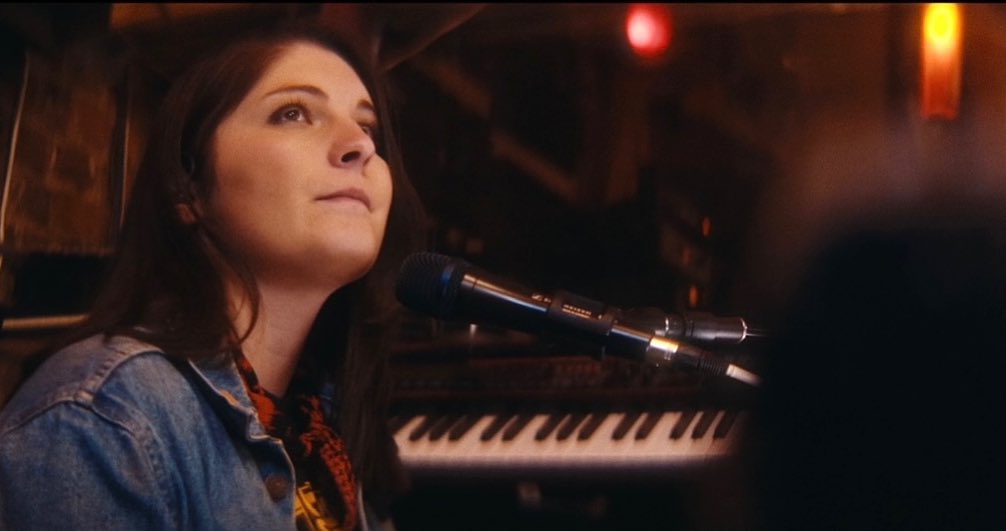 Snapshot In Time
Typically, deluxe versions of albums include demos or outtakes from the recording process. For the re-release of Into The Fray, Meacham cast a wide net over her entire catalog, which helps frame all this music as one phase in her career — one that was coming to a close. "It is definitely a snapshot in time because it encompasses that era of writing and recording music. The entire first five years as an artist for me here in Richmond," she reveals.
Two of the new tracks come from the original Into The Fray track list: an acoustic version of "Unknowing" recorded by Mitch Clem at Go West and an alternate take on "Waiting Place" that Chip Hale had initially pushed to include on the original album release. "'Waiting Place (Take 2)' is the take everyone besides me really like," she teases before just admitting the difference in taste is "her own perfectionism."
"Nightwalking," first released as a single in late 2020, offered Meacham and Hale an opportunity to re-do what they considered to be rookie mistakes. "We were experimenting a lot back then," she says. "The original recording was the first thing we tried to do in our home studio as relatively inexperienced production people. Since then, it's been several years and we've had a lot of experience." Meacham further jokes that she could barely listen to the original single anymore since she would be flooded with thoughts of "what could have been better." This new version rights all those perceived wrongs and presents the track as a clearer example of the duo's production style.
The last three tracks all come from the Property EP Meacham first released in 2019. "You Know Nothing About Me" was tracked live from scratch at Minimum Wage Recording in January 2022, "Say Yes" was remixed by Adrian Olsen along with a new vocal track, and "Moving On" was completely re-recorded, something Meacham notes was very intentional for the bonus content. "Some of the songs on those bonus tracks, I've been performing since I first went to an Open Mic night here," she notes. "There are people that have been listening and been fans of music since that time. Before moving on from all of that — moving on literally — I felt like making sure I knew that those songs sounded like me now and putting them out the best way possible in a way that I am most proud of."
Looking back on Property, Meacham says that she never intended it to be viewed as a cohesive part of Into The Fray, but the bonus material afforded a unique opportunity to revisit this significant group of songs. "It was my first studio experience really," she recalls. "I've been in studios my whole life in various forms, but not with my music, and I learned a lot. I was happy with Property when it came out, but as I've grown and as I've become more experienced and honed what I do a little bit better, that kind of dissatisfaction tends to creep in. I made this full album that I'm really, really proud of. But I was proud of those songs too. So how can I transform them to make them fit a little bit better with who I am now and represent this moment in time?"
This snapshot in time harkens back to a period between 2017 and 2018 when Tyler Meacham was part of a teeming singer-songwriter crowd in Richmond that included notable musicians like Andrew Rohlk, Colleen Christman, Jonathan Facka, Joel Worford, and Little River Creek Police (now known as Dead Billionaires). "Everybody was there and we were all growing and coming into it together," she remembers. "I think about those times a lot because it felt like it was really special. I remember thinking somebody should make a documentary about it because it felt rare. The list was so talented all the way down."
Intimidated at first, Meacham joined the scene just to avoid a feeling of being left out or unfulfilled. "I really popped up into the scene out of fear that if I didn't try, I would be sad forever," she says with a quick laugh. "I remember going to The Camel's Open Mic for the first time. I got there late and it was my first time attempting to go to an Open Mic and I didn't get on the list. I was devastated and so upset. The next night, I went to Carytown Coffee and it was a completely different experience and I started to learn the ropes a little."
It was Carytown Coffee where Meacham got the most support and encouragement early on, thanks to Linwood Boswell, who hosted the night and always made a point for the audience to watch and listen, no matter who stepped up to the stage. "That was always such a kind gesture," Meacham says with a smile. "It's kind of awkward to ask people to do it because people just want to socialize, but it made all the difference."
Alongside these musicians, Meacham was playing Open Mics every night of the week, "except for Friday and Saturday when you would go out and see shows or play a concert," she notes. As the artists got more comfortable and established, they started to branch out all over the city, helping to infuse Richmond's music scene with more collaboration and encouragement than it had seen in previous years. As Meacham continued to perform and earn a reputation around town, she sought to bring this sentiment to other outlets. The Offset series at The Camel was one of these outlets, something she hoped would help marginalized artists. It unfortunately ended prematurely as a result of the pandemic, which Meacham believes made the scene lose "a sense of community and camaraderie across the board."
Since returning from virtual sets and socially distanced shows, Meacham has noticed that more pockets are forming within the music scene. "It feels natural though," she notes. "I just feel these pockets develop over time and you just need something to really break through that, whether it is a group of people coming up through Open Mic or shows that would just put people in positions they wouldn't normally be in. I'm definitely eager to see what comes next to help shake up the scene and inspire newer musicians."
Closing The Chapter
On March 3rd, Meacham released the alternate version of "Moving On," a song she describes as "the one that started it all for me." The original version released on the Property is a striving, triumphant declaration that was an early example of Meacham's gripping and invigorating songwriting. The new version retains that melodic force but reimagines it in a hazier setting that allows the song to feel pensive and reflective, offering a different outlook on what's coming next while still celebrating everything that came before.
Mixed into the song's opening moments are sounds from a voice memo that captured an early rendition of the song at Carytown Coffee's Open Mic Night, which she pointed to as a pivotal moment in her early musical career. "People really latched onto ['Moving On'] and they really got into it," she remembers. "It was a huge motivator for me even though [the song] was raw and I was really young and I was really just trying to figure things out." To Meacham, that reaction was an open invitation to continue to perform and write, and to just explore her own musical identity.
Over time, "Moving On" came to define this period of Meacham's life and became a "totem," something always present and always comforting. "It's something that I always come back to," she adds. "It always feels familiar and it feels like when people hear it, they'll just connect with it."
In addition to celebrating a piece so personal, Meacham also recognizes the literal nature of the song's message. "It should signify what the bonus tracks are about," she explains. "Ending the chapter. Here's a little bit of an encore and let's literally move on to whatever comes next."
For Meacham, what comes next is the big question. This re-release of Into The Fray closes the chapter on that time in her life. As she stares down the blank page of what comes next, the answers aren't so clear even if there is still music coming through. "I'm writing songs that I know," she details. "They are not Into The Fray. They have the hooks and the style I write in and all of that. But I'm not going to say the next batch of songs has any kind of through line of abject positivity. There's definitely a little bit more of that realness and the acknowledgment that things are just sad sometimes, and they have been."
Presenting "Moving On" in this new light points to the wistful remembrance that replaces the overwhelming confidence of the original. That push for confidence is something Meacham is beginning to push back on. "Artists are encouraged to be as positive and confident as we can be about our music. Because we have to be," she observes. "I love making music and I'm really fortunate to have a job where this is what I can do. But it can also be really sad sometimes and those heartbreaks are still there even when you're living your dream."
For Tyler Meacham, being herself means being honest. Not just about the pain from losing bandmates after years of hard work, but also about her life in general. "Life has ups and downs," she says. "Every other day is going to be different. You just have to keep going, even though I'm not very good at that. I can write it into a song and be really encouraging and believe it for a moment and hope that the audience is believing it. But the reality is that I struggle too. With grief, illness. It's been two years of struggle and pain and being honest is the way I see out of that."
Meacham persists in the struggle, even as some things remain unresolved. Still looking for new musicians to partner with, Meacham is finally recognizing that her music can resonate even when she plays by herself, like she did all those years ago at Carytown Coffee's Open Mic. She pointed to a recent solo set she did at The Camel opening for Susto. "I just had to embrace the idea that it's going to feel really uncomfortable for me," she details. "But if I can get ten of these people to hear a story that resonates with them, even if they've never heard my songs before — and I played a lot of new stuff that night so no one had ever heard it before — then that's the best thing I can do right now. I'm just hoping someone can say 'I heard this girl sing and it had a story behind it and it really touched me.' It doesn't matter whether there's a six-piece band on stage or just one person. As long as the music resonates, that's good to me and that's what I'm holding onto right now."
That spirit embodies the extra content contained in Into The Fray's Anniversary Edition. It shows Meacham how a song can resonate, despite what it sounded like before or what it sounds like today. Even though this chapter is ending, it's not being forgotten and it will inform her music moving forward.
"I just wanted to celebrate this period in my life and also say goodbye to it," she reflects. "I know what I have coming next is going to be different and that's okay. It's still going to be me. I'm just excited to look back fondly one more time before I take that next step."
The Anniversary Edition of Into The Fray will be released Friday, March 10th on all streaming platforms, which you can pre-save today by clicking here. The Anniversary Edition will also have a physical release on cassette tape (and bundle options with vinyl or CD), which you can pre-order by clicking here.
Tyler Meacham will also be celebrating the Anniversary Edition release with a concert at Tabol Brewing on Saturday, March 11th from 7 PM to 9 PM. Entry is free and for more information on the show, please click here.
Cover photo by Joey Wharton