RVA Shows You Must See This Week: September 20 – September 26
FEATURED SHOW
Saturday, September 23, 7 PM
The Auricular 5th Anniversary Celebration, feat. Drook, Rikki Rakki, Strawberry Moon, Hotspit @ Richmond Music Hall at Capital Ale House – $12 (order tickets HERE)
Sunday, September 24, 4 PM
The Auricular 5th Anniversary Finale, feat. Tyler Meacham, Keilan Creech, Kailey Conner, Gary Luong, Rine @ Rare Olde Times – Free! (table reservations encouraged)
OK, yes, it is maybe a little predictable for me to make the show we're throwing to celebrate the fifth anniversary of this website also the featured show in the column this week. But listen, seriously: if you care about indie music out of Richmond in 2023 at all, Saturday night's show at Richmond Music Hall is a must-see bill consisting of the the best local indie rock has to offer at this point in the city's musical history. And that would be true even if it were a celebration of… I dunno, the first weekend of fall. It does happen to be a celebration of the first five years of The Auricular's life, though, and Doug has done a great job putting together a lineup of bands that we're all absolutely gonna want to see.
In fact, let's talk about those bands, beginning with Drook, who'll be capping off the evening with a set of their memorable and invigorating alt-rock/shoegaze stylings. If you missed last year's outstanding Life In Estates EP, you really need to go back and discover one of the best albums to come out of Richmond in 2022. And if you were on board for that EP, I sure hope you've also checked out the recent Drook follow-up EP, Mr. Fisher's Dirty Club Mix, featuring a more electronically-infused but still catchy as fuck track called "If U Think It Could Be Love." I don't know if we'll hear that song Saturday night, but whatever we hear from Drook is sure to be great. The same could be said of guitar-driven indie rockers Rikki Rakki, whose powerful, emotional take on the pastoral indie sounds of the 80s and 90s is truly unmissable. Check their new album, Breaking Skin, if you need a preview of what's on offer. Or just go in fresh, and be prepared to be blown away. I assure you, it'll happen.
The bill is rounded out by Strawberry Moon, who recently followed up 2022's excellent Habitual Creatures with a new single called "It's Not About Me" that adds a slight retro-80s rock n' roll feel to their overall vibe; and Hotspit, whose stretched-out, atmospheric guitars and quietly emotional vocals verge on Red House Painters-style slowcore. All these bands are great, and if you come out and see them, you'll also get a chance to bug Doug and I about whatever you want relating to The Auricular — though we'd probably rather talk about wrestling (Doug) or novels with trans characters (me). Seriously, come say hi. And if you're looking for something to do Sunday afternoon and this show isn't enough Auricular-related celebration for you, you can always head out to Rare Olde Times in the West End for a free dinnertime acoustic show featuring our favorite guitar girl Tyler Meacham, as well as several other talented local singer-songwriters. Reserve a table for that one — the food's worth every penny you'll save thanks to admission being free.
Editor's Note: Everyone in attendance at the Richmond Music Hall on 9/23 will receive a FREE copy of The Auricular's compilation, The Richmond Sound: 2013-2018, featuring 150 songs from local musicians!
Wednesday, September 20, 6:30 PM
Squeeze, The Psychedelic Furs @ VACU Live – $51-$107 (order tickets HERE)
Classic 80s UK pop and indie sounds invade the racetrack tonight, and I definitely am looking forward to hearing "Black Coffee In Bed" and "Love My Way" filtering over the trees into my northside neighborhood. But let's be real: that's not the ideal way to hear legendary bands Squeeze and The Psychedelic Furs as they grace our town with their presence tonight. The ideal way to do it is to pay your admission, get right down front, and get stoked, because this is going to be an evening of classic sounds. Legendary new wavers Squeeze are at the top of the bill, and if you're anything like me, you grew up hearing songs like "Tempted," "Hourglass," and the aforementioned "Black Coffee In Bed" on the radio. These days, you can still hear them at CVS when you're shopping for Robitussin and Ricola on a random afternoon (allergies really are terrible, aren't they?), and they still sound great — as do the many, many Squeeze tunes that hit it big in the UK but never quite made it across the pond. Still headed by founding singer-guitarists Chris Difford and Glenn Tilbrook, Squeeze will keep us all dancing all night with a ton of great tunes that any Anglophile is sure to know and love.
Then there are the Psychedelic Furs, mainly known here in the United States for their eponymous tune for the John Hughes movie, "Pretty In Pink." Which is a great song, but again, represents the tiniest fraction of the many outstanding songs founding brothers Richard and Tim Butler (vocals and bass, respectively) have been responsible for. I mentioned "Love My Way," which everyone who used to watch late-night MTV 30 years ago will surely remember, but there are so many other Psychedelic Furs classics to celebrate: "Into You Like A Train," "The Ghost In You," "Heartbreak Beat…" so many others. If you don't know the Psychedelic Furs sound, but you are a fan of bands like The Cure and Love And Rockets, you'll probably dig what they're doing. If even those reference points are unfamiliar to you, think moody synth-pop of the mid-80s given a strong jolt of postpunk darkness and another of heartfelt emotion that made this band an unexpected touchstone for quite a few 90s and 00s alt-rock bands (Jawbreaker, Buffalo Tom, Foo Fighters, and Counting Crows all covered their songs, among quite a few others). Between these two bands, there's a wealth of UK new wave/goth pop brilliance on offer at VACU Live tonight. You should definitely partake.
Thursday, September 21, 6:30 PM
Thursday, Gel, Koyo, Vinnie Caruana @ The Broadberry – $35 (order tickets HERE)
From new wave legends of the 80s to emo legends of the 00s, this week is full of performances by classic bands coming through town to enrapture us all with their many memorable tunes. Thursday, who broke up about a decade ago but have been back in action as full-time road warriors ever since live music returned in the post-pandemic era, are coming through Richmond on the perfect night: not only Thursday night but the last Thursday of the summer. The band is currently focusing on their classic third album/Island Records debut, War All The Time, which was actually released twenty years ago this week. On a personal note, I gotta tell ya — this was a big one for me. I remember walking around my neighborhood listening to a crabby dub tape of this album in my Walkman, getting emotional over raging post-hardcore classics like "Division St." and the title track. It feels weird to realize it's been so long since those days, but one thing that hasn't aged a bit is the urgent power of Thursday's music. They'll hit the stage of The Broadberry this Thursday night to remind us all that the power of positive music still has the power to shine a light in dark times.
Better yet, they'll bring us a trio of supporting performers that will ensure none of us think this night is just about nostalgia. The peak of Thursday's career may have been two decades ago, but for New Jersey hardcore band Gel, the peak is right now — and indeed, this band's best work may still be ahead of them, though based on their recently released debut LP, Only Constant, it's hard to imagine what they could possibly do to surpass what they're capable of now. An absolute ripper of a band, Gel will connect with all fans of loud, fast, harsh music, whether you're more into Negative Approach, Bikini Kill, or Motorhead. Get ready for a sick mosh pit during this band's set — just make sure you save some energy for getting emo during Thursday. Speaking of getting emo, youthful Long Island emo-pop band Koyo are sure to make a big impression on the city from their support slot, which comes only a week before the release of their debut album, Would You Miss It? Based on the advance tracks I've heard from this one, it's gonna be outstanding, and you couldn't ask for a better preview than their set at The Broadberry Thursday night. Not to be outdone, legendary Movielife/I Am The Avalanche frontman Vinnie Caruana will start the evening with a solo set that's sure to get everyone's blood flowing. Don't miss a second of this one.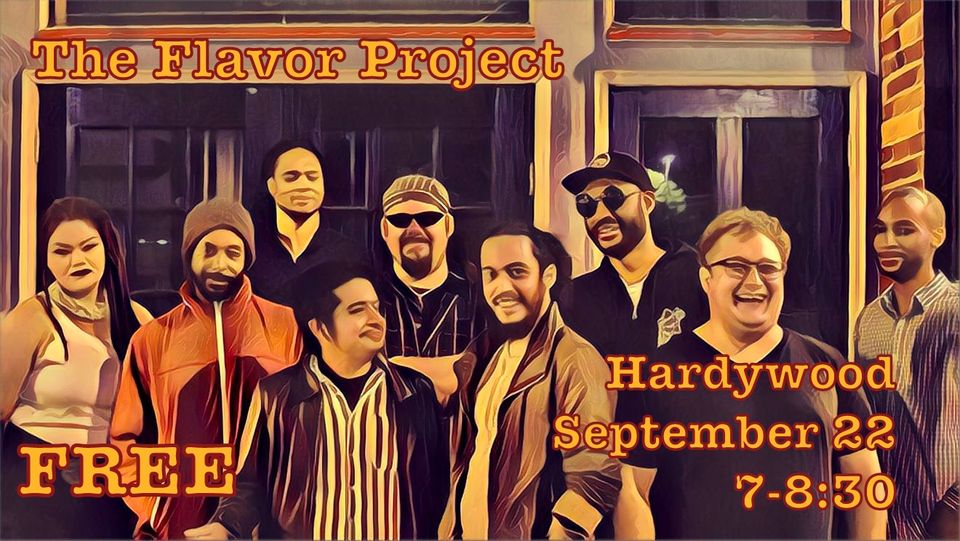 Friday, September 22, 7 PM
The Flavor Project @ Hardywood – Free!
This might not be the most hyped-up show happening in Richmond this Friday night, but if anything that's even more reason for me to hype it up: because whether you know it or not, the Flavor Project's Hardywood takeover this Friday night is a big, big deal. First and foremost, because it's pretty much the first time The Flavor Project have done a full-scale live show since the pandemic shut everything down back in 2020. At that time, they were almost done with their long-awaited sophomore album, Food For Thought, which finally came into the world in August of 2020, when live shows were pretty much impossible. The pandemic killed their momentum, and this show is really the first time they've all come back together as a unit. So the question is: can they pick up where they left off back before everything shut down?
Certainly one would hope so. The Flavor Project is an ensemble overloaded with talent. Bassist and chief songwriter Gabriel Santamaria is the band's ringleader, but he couldn't achieve half as much without several other core players. Those include vocalists Armando Munoz and Buttafly Vasquez, who provide sharp-tongued rhymes and soulful crooning, and guitarist James Seretis, who acts as both songwriting foil for Santamaria and the studio whiz who kicks everything up a notch. Does this performance count as a reunion of the extended Sabor ensemble? Or, as the Facebook invite wryly notes, is it actually a long-delayed album release show for Food For Thought? Who the heck knows? The important part is that Flavor Project are together once again, and Hardywood's gonna bounce and groove to their funky soul sounds this Friday night. You'll definitely want to be there for this one.
Saturday, September 23, 7 PM
Karina Rykman, Guerilla Toss @ The Camel – $18 (order tickets HERE)
Bassist-singer Karina Rykman is an interesting artist, but not one that's easy to categorize. When you look over her extensive resume — playing in Marco Benevento's band, opening for Khruangbin and the Infamous Stringdusters, getting guest spots on her debut album from members of Phish and Disco Biscuits — you might think she's straight out of the jam-band scene. But while she definitely has links to that world, and you can hear it at times in her music, someone who has only listened to her debut album, Joyride, would be forgiven for thinking that she's just a talented instrumentalist playing catchy pop tunes — much closer to Haim than Vulfpeck. Really, though, it's all in there. Early singles like "Dirty South" and "City Kids" show the funky-jam side of her music in greater detail, and live performance videos make clear that Rykman's current trio is by no means averse to taking 15-minute improvisational thrillrides in the midst of songs that seem much more conventionally pop in their early moments.
It's tough to say exactly where on the spectrum between improvisational experimentation and straight-up pop bliss Rykman's performance Saturday night will land, but it's most likely to stretch across huge swaths of the entire thing. And if you ask me, that's far more interesting than anything you can hear from conventional pop or standard jam artists. It also puts her on par with openers Guerilla Toss, who've created quite the career for themselves by veering back and forth between postpunk experimentation, psychedelic jams, and indie-pop catchiness. They followed up last year's Famously Alive LP with a collaborative single with Krautrock legends Neu!, so if you were wondering how impressed you should be with Guerilla Toss, I'd say the answer is "very." More importantly, though, they'll get you dancing with their difficult-t0-categorize experimental epics, and that's what this Saturday night is really about. Isn't that all you really need?
Sunday, September 24, 8 PM
Fugitive Bubble, Muck, Ultra Bleach, Headscratcher @ Bandito's – $10
Assuming you don't have the scratch to get into Tegan And Sara's big Pridefest-related blowout (and who does?), your Sunday night will probably be better served by hitting up a total punk rager like this throwdown at Bandito's featuring Olympia, Washington crew Fugitive Bubble. Having recently followed up a couple of cassette-only EPs with their cassette-only debut full length, Delusion, Fugitive Bubble are bringing their hectic old-school punk sound to Richmond and we are all the better for it. I hear people throwing around the meme-term "egg punk" in describing this band's sound, and while I will agree that they've got a bit of an oddball/art-punk edge to their sound, this is way too straightforward to fit in with all the Devo-influenced stuff that usually gets lumped into that nebulously defined term. I'd say Fugitive Bubble are really closer to a lot of bands from the late 70s second wave of UK punk, when people started taking that whole "anyone can do it" maxim more seriously and bringing quirky, unique takes on fast, simple rage into the punk world. All that stuff was great, and wouldn't you know it, Fugitive Bubble is great too.
So are the bands from right here in Richmond who provide support on this bill. Well, I know for sure Muck is. The demo they released earlier this year gave a relatively unadventurous old lady like myself the opportunity to hear a band who's been creating a ton of buzz on the local house show circuit. Muck lives up to the hype: this is furious hardcore punk with a raw energy that just can't be denied. Indeed, the same could be said of Headscratcher, the openers who are playing their first show as part of this gig. Featuring members of Fracking and Dysphonia, Headscratcher is a bassless trio playing punk rock so raw it at times verges on the sort of noise you might expect from musicians with this band's background. If you love three-chord rage with tons of queercore energy, you're gonna enjoy these folks. As for Ultra Bleach, well, they're in the same place for me that Muck was a couple of years ago; frequent house-show habitues seem hella stoked about em, but I'm having to take everybody's word for it. That certainly worked out well with Muck, though, so I'd say Ultra Bleach being yet another killer Richmond punk band is a very safe bet.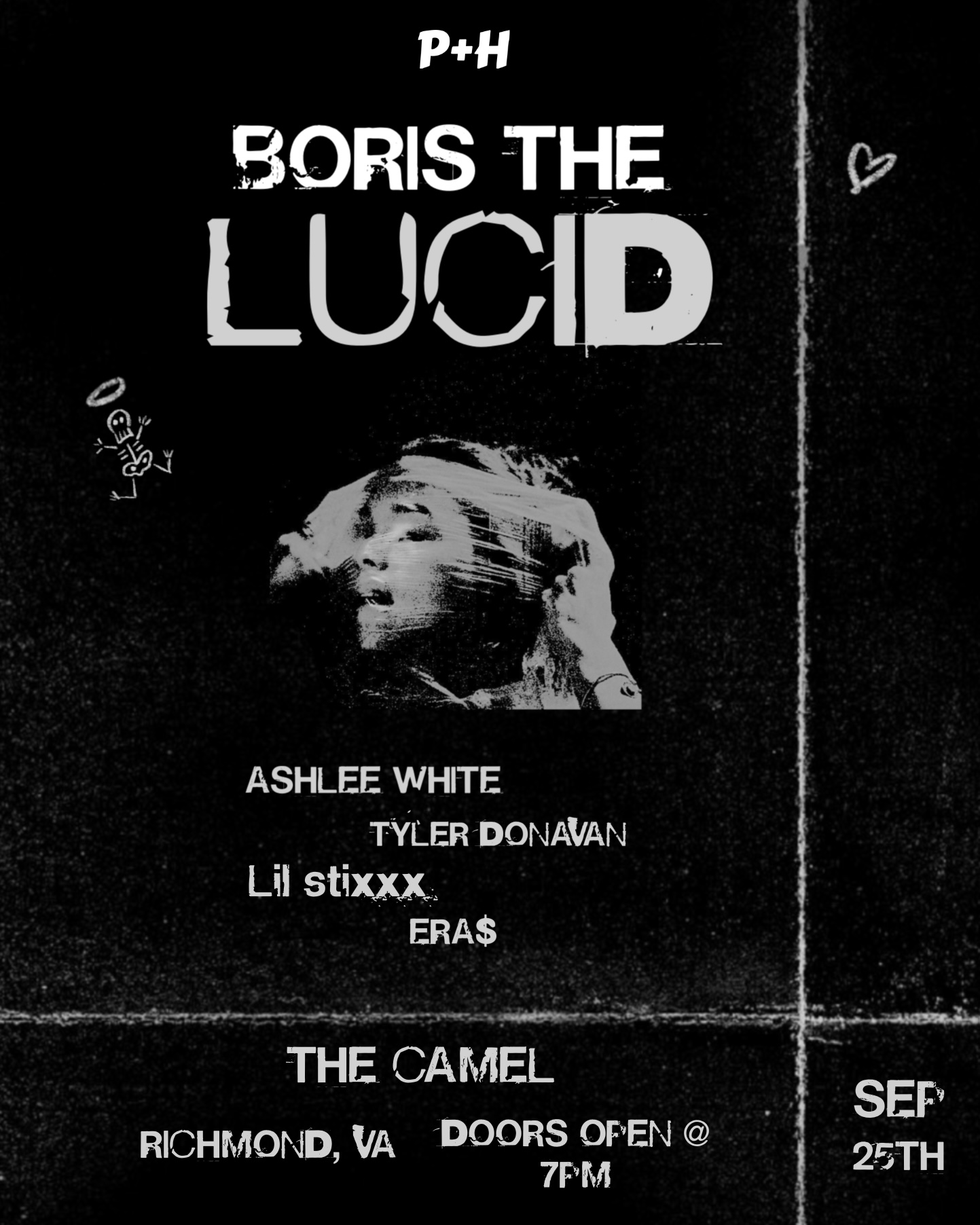 Monday, September 25, 7 PM
Boris The Lucid, Ashlee White, Tyler Donavan, Lil Stixxx, Era$ @ The Camel – $12 in advance, $15 day of show (order tickets HERE)
This Monday night, it's time to venture into Zoomer territory once again, as we explore a local scene that I'm not even sure how to properly genre-tag. "Hyperpop" feels more like an internet trend, "vaporwave" seems very last-decade, and "modern hip hop" certainly won't prepare you for how weird a lot of this stuff is. So instead of further concerning ourselves with what catchy buzzwords to throw around, how about we engage with these five artists on their own terms? Start with Boris The Lucid, whose name makes me think of a Who song that's probably from before this artist's parents were born. His latest EP, Whatshewants, is full of spaced-out electro grooves that dabble in R&B and pop sounds but always feel like they're filtered through a downer haze. Listening through headphones creates an undeniable warm glow that it's very easy to sink into, and if he plays loud enough at The Camel Monday night, you'd be safe assuming Boris The Lucid will do something very similar in a live performance.
Ashlee White is a much more conventional hip hop artist, of the sort who should connect with folks who enjoy what Richmond rookie sensations Kidz At Play are up to. I'm one of those folks, and I'm really digging what Ashlee White does on recent singles like "La La Land" and "Fate," spitting hard-as-hell rhymes over atmospheric beats that add a different texture to a lyrical flow that could feel aggressive with standard boom-bap beats behind it. As for Tyler Donavan (no I didn't misspell it), this rapper just released an excellent album called Gasping4air, which finds him busting out a wordy, quirky flow over synth-heavy cloud-pop sounds that should definitely work for fans of Richmond's own Alfred. Up-and-comers Lil Stixxx and Era$ round out a bill full of new sounds you definitely need to get down with if you want to know where music's going in the brave new Zoomer world.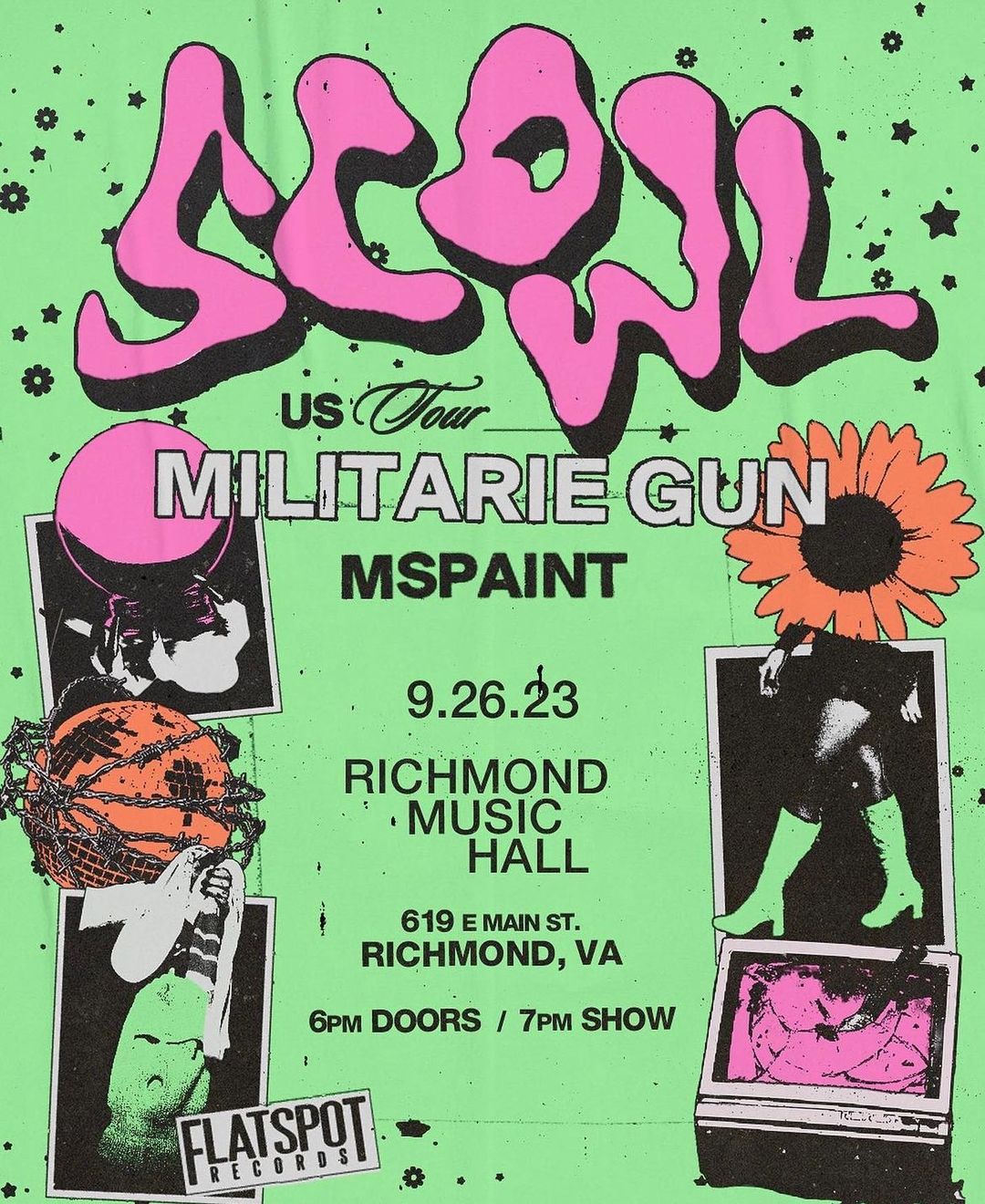 Tuesday, September 26, 6 PM
Scowl, Militarie Gun, MSPAINT @ Richmond Music Hall at Capital Ale House – $20 (order tickets HERE)
Scowl's really been fucking shit up in the hardcore world recently, and I for one have really loved to watch it happen. Part of it is because, after establishing themselves as a fast, harsh, noisy hardcore band with earlier releases like 2019's Reality After Reality EP and 2021's How Flowers Grow LP, Scowl flipped the script in a big way on their new EP, Psychic Dance Party. Vocalist Kat Moss showed the world that she could sing as well as she could scream and snarl, and songs like "Opening Night" and the title track proved that this band could write raging alt-rock anthems in the vein of Live Through This-era Hole or Veruca Salt as well or better than they could crank out straightforward hardcore ragers. Then they got "Opening Night" into a Taco Bell commercial a couple months ago, and that REALLY broke the hardcore internet. Of course, if you ask me, the new EP is their best work yet, and I will certainly not complain if they become the next breakout hardcore band a la Turnstile.
The fact that they seem fully prepared to do so once they release another album makes me think that we'd all be best served to go see Scowl NOW, when they're playing a relatively intimate space like Richmond Music Hall, before they get too big for such things. They've always been a killer band to see live, and success hasn't changed them a bit where that's concerned, so even if the songs are catchier now, you can expect their set to go hard as hell regardless. They're coming through town with Militarie Gun, a melodic post-hardcore band whom I've praised previously in this column. Since that happened, they've released Life Under The Gun, an incredible new album that takes everything they were already doing so well to a whole new level. So you'll definitely want to see their set too. And with up-and-comers MSPAINT rounding out the bill, you'll definitely need to get there early — this Mississippi-based noise-core act has impressed a lot of people with their 2023 debut album, Post-American. Find out why — show up on time for this show. And then stick around til the very end, because every moment of this one will be unmissable.
---
Email me if you've got any tips for me about upcoming shows (that take place after the week this column covers -– this week's column has obviously already been written): rvamustseeshows@gmail.com
Please consider supporting my Patreon, where I'm documenting my progress on two different novels and (sometimes) writing about music of all types. patreon.com/marilyndrewnecci